A Little History.
Scientific choke boring of barrels has been with us since 1874, when fellow Birmingham gun-maker, W.W. Greener announced in 'The Field' that he could make a 12-bore gun capable of placing 210 No.6 pellets in a 30" circle at 30 yards. No other gunmaker had, until then, bettered 127 in trials and many challenged the claim.
This led to the 1875 'Field Trials', in which choke-bored guns indisputably proved their worth. From that point on, every gun ordered required the sportsman to decide what choke he wanted in each barrel. Tight chokes for long range, open chokes for wider spread. Like many other elements of shooting, choke became the subject of hot debate and a great deal of experimentation. 
'Choke will lengthen your range but lighten your bag' was a well-known refrain, indicating the advantages to the shooter of keeping a pattern close for longer shots but the increased likelihood of missing at normal ranges with a gun constructed with tight chokes.
The natural solution to the Victorians and Edwardians was to order a gun with two sets of interchangeable barrels. We still find these occasionally on the secondhand market; one set tightly choked and one with open chokes. 
Until 1959 that was the only (very expensive) option. Then, Winchester began making screw-in choke sections for their semi-auto, which developed into the 'Winchoke' system in the early 1970s.
A decade later, Beretta debuted the 'Mobilchoke' system in their over & unders and Nigel Teague introduced his after-market precision chokes, determined to perfect the concept and create products that would make multi-chokes the norm, rather than a luxury.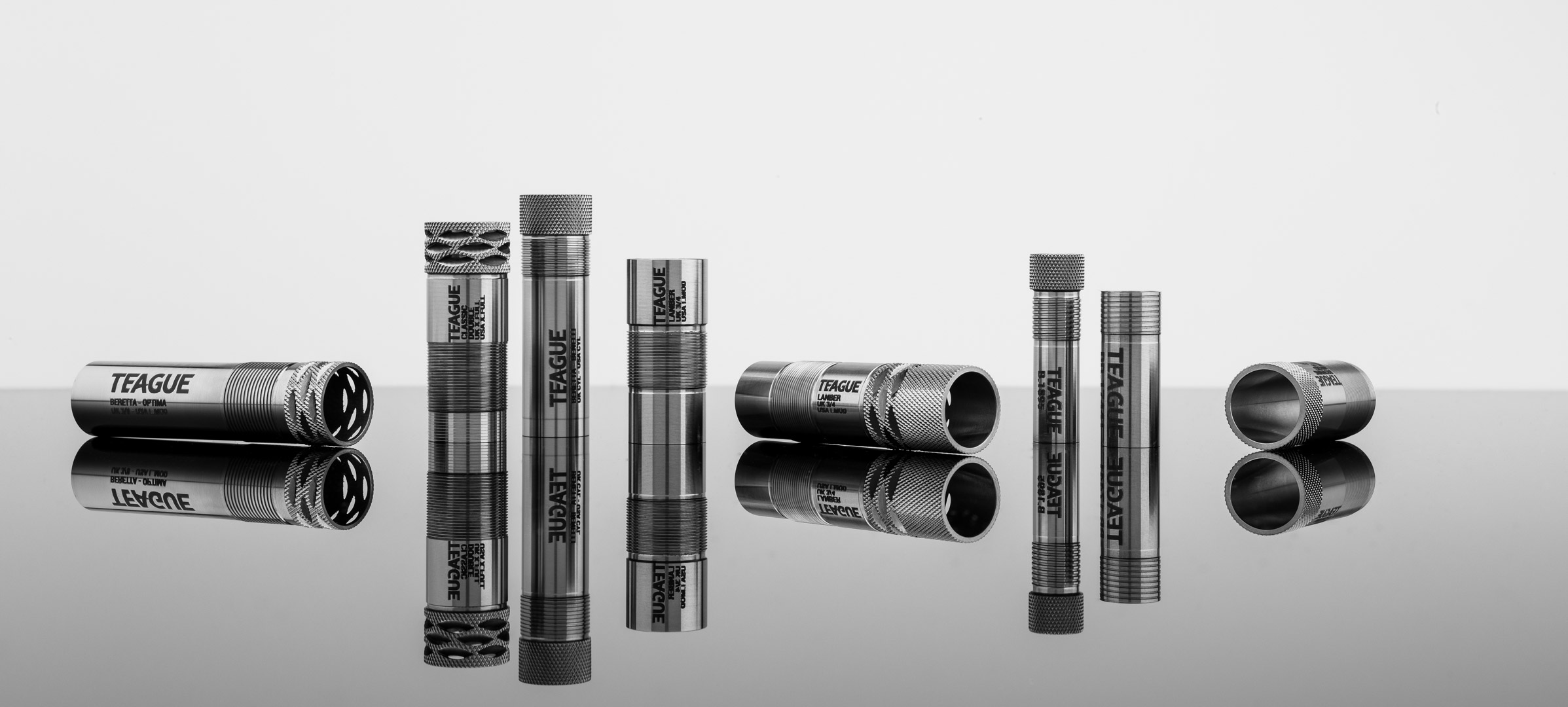 Teague Makes an Impact
Since 1980, Teague chokes have been used by Olympic champions, top game shots and keen pigeon shooters all over the world, fitted to every major make of shotgun, both over and under and side-by-side.
Today, Teague is the premier manufacturer of multi-choke systems, with flush-fit , extended and ported varieties and a choice of titanium or stainless steel as material. The introduction of titanium chokes lightens the muzzle, making them especially suited to light, lively game guns and side-by-sides. 
Teague thin-wall chokes can handle steel shot and the flush-fit type is virtually invisible when fitted, providing fully-interchangeable chokes to the user of traditional British 'best' game guns, without compromising their looks or handling. These chokes can even be fitted to Damascus barrels.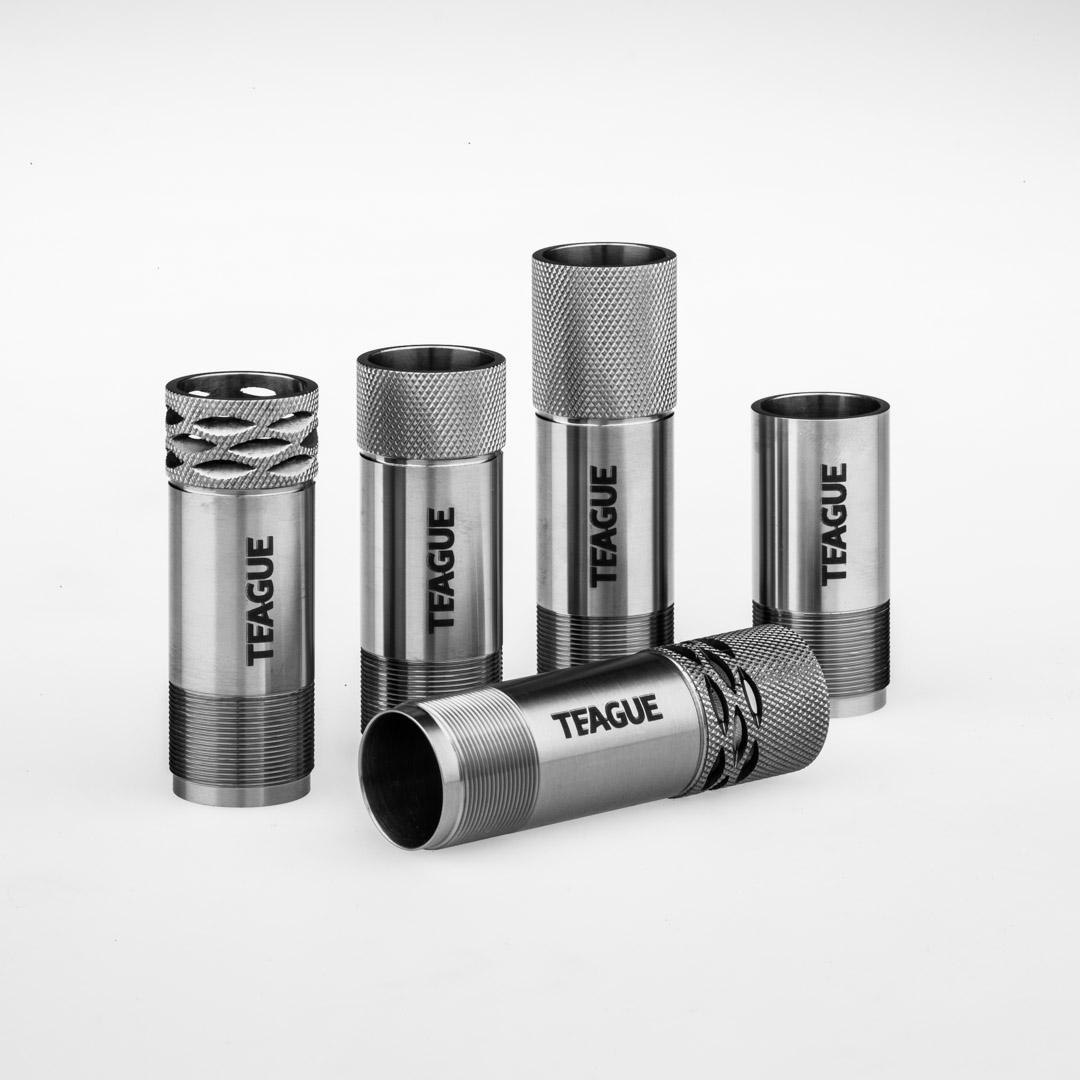 Westley Richards Takes Over
Teague is now owned by Westley Richards and our shared ethos of uncompromising quality, precision, and the ambition to make the best product that can be made, has ensured the two companies stand together, proudly as the best in their sectors.
Steel Shot Preparation
The swap to steel shot for game shooting requires that many guns currently in use be adjusted to become compatible with commercially produced steel-shot cartridges. 
Teague can thoroughly check your gun, particularly the barrels. Any necessary adjustments to forcing cones can be made and a set of steel-shot suitable chokes made to measure, giving the shooter the widest range of choke options available (from Skeet to Half Choke) and the peace of mind that Teague's assurance provides.
Whatever your shotgun, whatever your sport, Teague has a bespoke choke solution for it. With prices from £330 to multi-choke both barrels and individual chokes costing from just £46, Teague choking is a far more economically viable prospect than a new gun or new barrels.