Whilst the latter is largely redundant in discussion today, during the golden age of big game hunting from the late 1890s to the 1950s, these two topics dominated the sporting press and fireside conversations around the world, and even today the former is still hotly debated. From a purely professional point of view, at the turn of the last century two very unique individuals strongly represented each side of this debate, namely W.D.M 'Karamojo' Bell and Captain James H. Sutherland.
Bell was an exponent of the small calibre – .256, .275, .303 and .318 – magazine rifle, and was unquestionably one of the greatest shots who ever lived or hunted the great continent of Africa.  He accounted for over 1,000 bull elephants with small calibre rifles, often taking several from a herd, one shot after another, sometimes using a pair of magazine rifles. He was extremely precise in his shooting style and practiced religiously. Original letters written by Bell describe how he shot 6,000 rounds of .318 Nitro Express through his Westley Richards magazine rifle at flying cormorants, just so he could perfect his shots on moving game!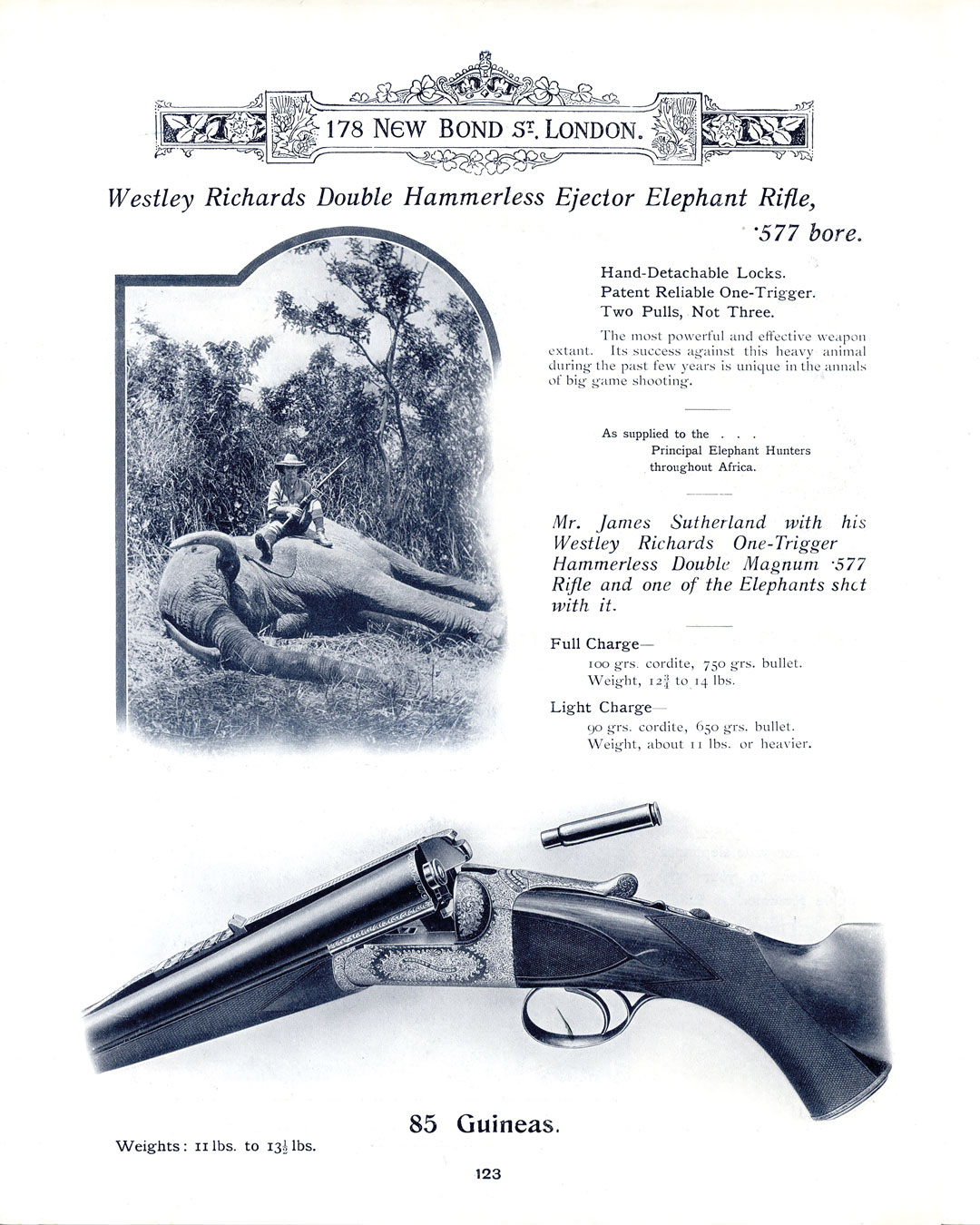 Meanwhile, Sutherland, the other acknowledged expert of the time, was a fanatical large calibre rifle man who placed his faith in the power of the .577 3'' Nitro Express cartridge in a double rifle built by Westley Richards. He was extremely tough and fearless in the face of dangerous game, accounting for over 1,200 bull elephants in his long career, and was considered by many contemporaries to be 'the dean of elephant hunters'. Whilst he did use Westley Richards small calibre rifles for the occasional long shot on dangerous game, their use was principally limited to shooting plains game to feed his retinue of camp staff.
The truth be told, the two men hunted in completely different environments, Bell in the virgin open country of the former British Uganda Protectorate, now Uganda, whilst Sutherland made his name in the thick bush country of German East Africa, now Tanzania.
It was this thick bush country that very clearly influenced Sutherland's choice of calibre; indeed, this was the case for many professional ivory hunters of the time.  Whilst the .465, .470, .475, .476 and .500 group of calibres were all very capable of dealing with dangerous game, the expert's choice was the .577 3'' Nitro Express which propelled a steel jacketed 750gr bullet at 2,050fps, generating a whopping 7,020ft lb of muzzle energy.  In thick bush it had few equals, particularly in a well-balanced double rifle and was capable of phenomenal penetration from almost any angle.
Completed in September 1906, Sutherland's order consisted of 'one best quality double hammerless ejector rifle with one trigger and hand detachable locks .577 bore and arranged for 100 grains Axite powder and 750 grain bullet'. It came complete with an oak and leather case with waterproof cover, additional cleaning kit, extra cased pair of detachable locks, spare foresight beads and strikers, a leather full-length rifle slip, and, most importantly, 400 rounds of Axite loaded cartridges with solid bullets, and 100 with capped bullets. The whole package was shipped c/o German East Africa Co., Kilwa, German East Africa and arrived later that same year. Clearly Sutherland was taking the business of professional ivory hunting very seriously!
Sutherland's choice of a Westley Richards hand detachable lock double rifle was indeed a wise one. Without a gunsmith easily to hand, he would have been very capable of maintaining the rifle himself, particularly with the extra hand detachable locks, strikers and foresight beads that came with the rifle.  Even today, the rifle is in remarkably good condition considering the life it has had, which is testament to both Sutherland's care and the quality of the rifle. Ultimately, his life and livelihood depended on the rifle's reliability and accuracy.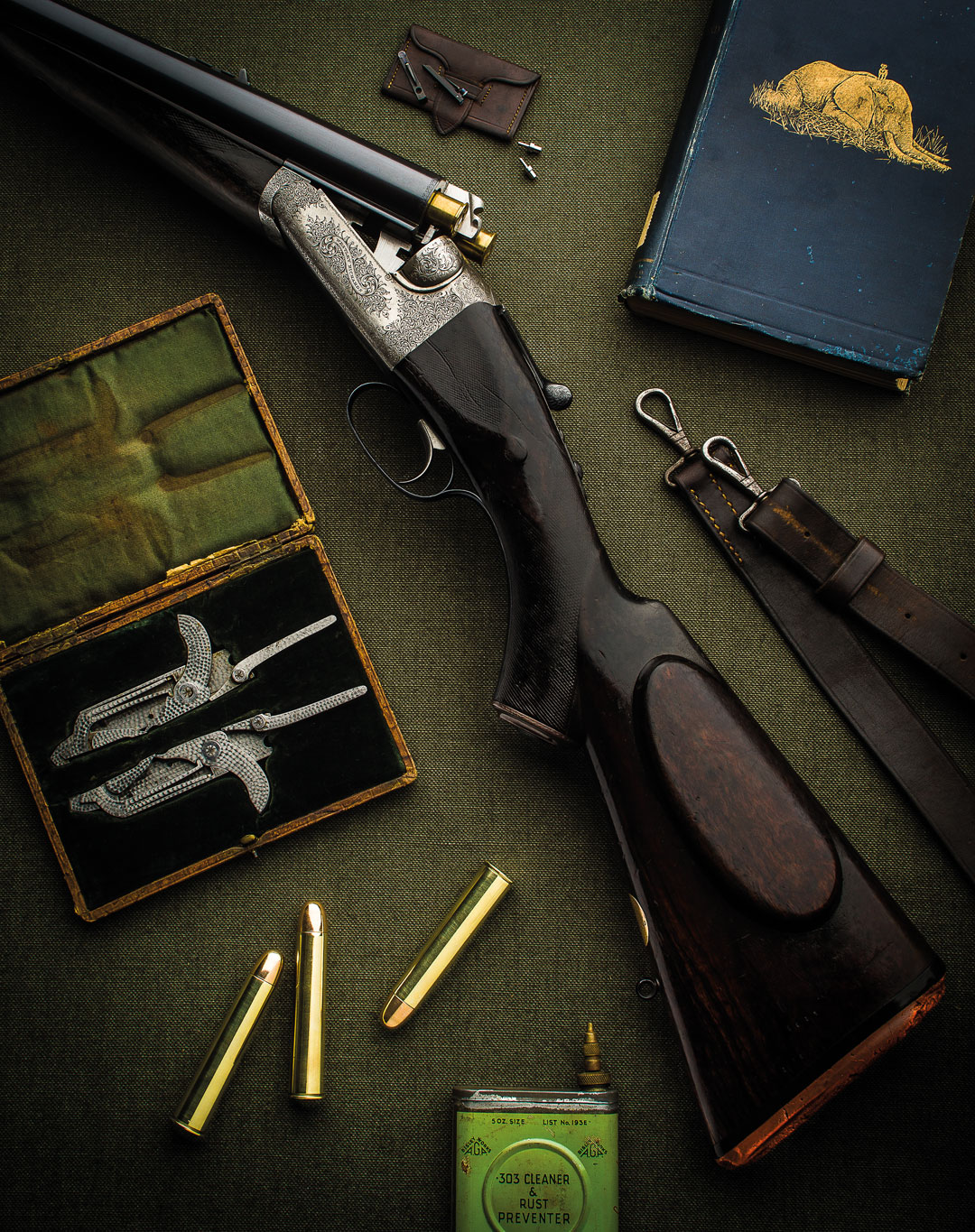 Thankfully, Sutherland recorded some of his adventures with this rifle in his excellent book The Adventures of an Elephant Hunter, published in October 1912. It is a stirring account of a profession long since vanished, that was both grueling and rewarding for those who pursued it. He was an ambassador for the Westley Richards brand, long before such things became fashionable, and was clearly held in high regard by the manage-ment of the time. Sutherland passed away in 1932 and bequeathed his rifle to another great African hunting legend, Major G.H. 'Andy' Anderson, so continuing its long and rich history.
Today the rifle takes pride of place at the Westley Richards factory along with a signed copy of Sutherland's book of 1912, where it continues to ignite great interest in a whole new generation of sportsmen, hunters and collectors.