My Father has been collecting photographs from India for many years now, he has always been my source for the many images we have around the factory and those I have used here on the blog. His collection is substantial and of a very good quality. Rareindianphotographs.com
As a sort of 'swan song' to his collecting years he has decided to host a selling exhibition of his images of India at a 'pop up ' gallery in London for a week at the end of this month. The exhibition will be held at The Royal Opera Arcade Gallery, 5b Pall Mall, London from 25th May - 30th May. There will be about 140 images on show and I hope that anyone who has an interest in this subject will take the time to visit and see the collection.

An attractive group portrait of the young Maharaja of Rewa, Venkat Raman Singh, with his sirdars, courtiers and retainers, circa 1880. The image records a scene from one of the old-style rajput courts which was quickly receding into the past. Indeed, some of the elders in the group were undoubtedly mutiny veterans, retainers of Venkat Raman Singh's father, Raghuraj Singh, who had remained loyal during the mutiny. The unfortunately Falstaffian image of Raghuraj Singh is well-known, crown slipping off his head, sitting under the burden of his title, his spreading costume and his sickness - leprosy. He appears to glare balefully out at the photographer, face painted to disguise his unhealthy palour caused by his medication – daily doses of dilute arsenic; hands and feet clothed in jewel-covered gloves and slippers to disguise the scars. The photograph was taken the year he died, 1880, when the 4 year-old Venkat Raman Singh succeeded.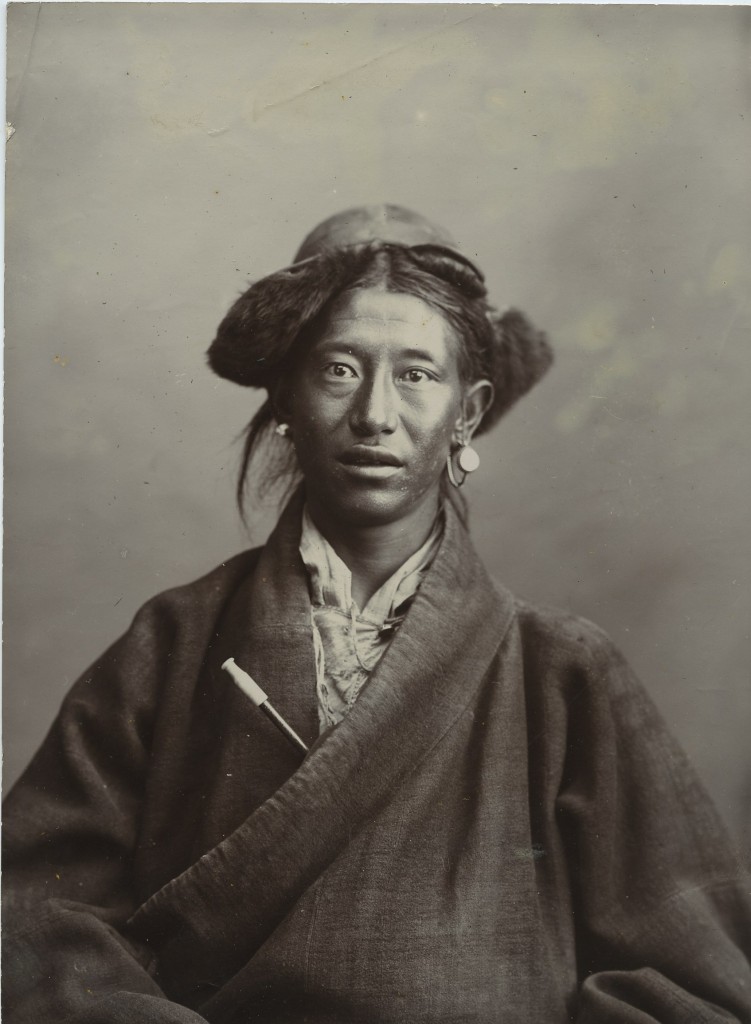 ANONYMOUS PHOTOGRAPHER, c. 1900s, portrait of a Tibetan servant.The servant wears a fur-lined cap and a heavy woollen tunic/coat over a white shirt, he has a flute with an ivory mouthpiece stuck in the coat, he wears an ear ring on a chain around his ear.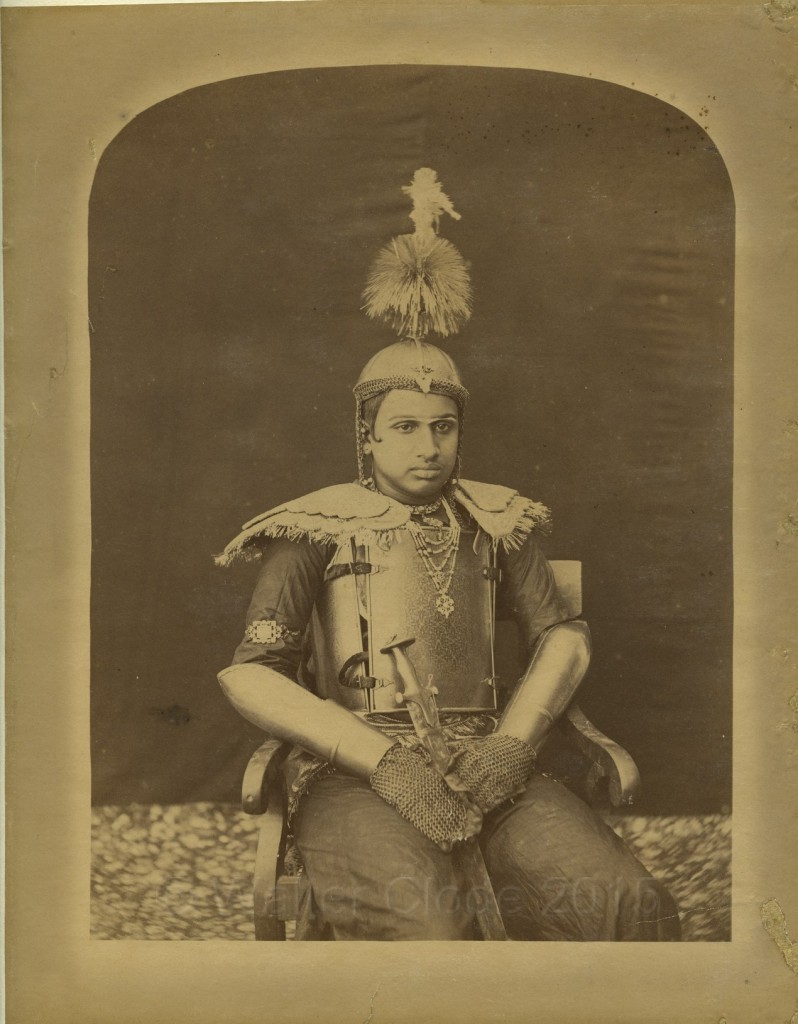 Studio portrait of Kishan Singhji, Rawat of Bijolia c1870s, seated in an armchair, wearing full protective armour, gold damascened 4-piece char aina cuirass body armour, secured with leather straps, ensuite damascened dastana arm guards with chain mail gauntlets, padded shoulder protective epaulettes, kula khud helmet with camail and sliding nasal, surmounted by horse hair spray and peacock feather finial, he wears a bazu band jewelled armband and jewelled necklaces with pendants and he carries the traditional Rajput tulwar sword.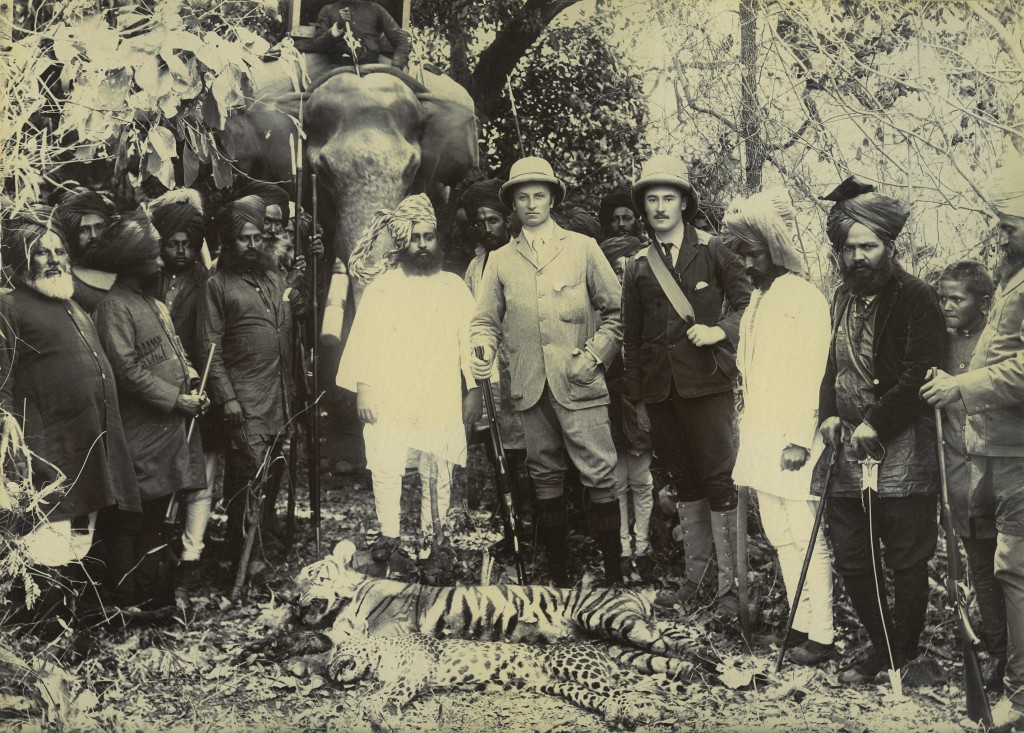 ANONYMOUS PHOTOGRAPHER, possibly Herzog and Higgins of Mhow, June 1903, shikar trophy group portrait, Lord Curzon, Maharaja of Rewa, Captain Wigram ADC, Rewa retainers, trophies of a tiger and a leopard lying in front, a row of elephants behind in a forest setting.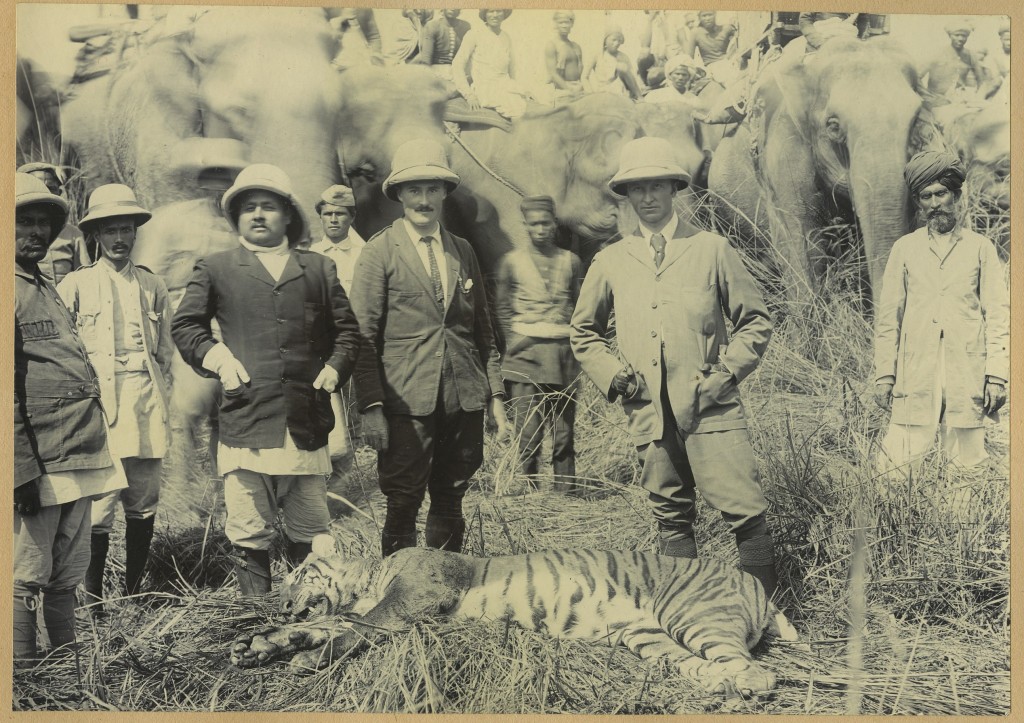 ANONYMOUS PHOTOGRAPHER, BUT PROBABLY HERZOG AND HIGGINS OF MHOW 1901, shikar trophy group portrait of Viceroy Lord Curzon, Maharaja Chandra Shamsher of Nepal and Captain Wigram ADC with a row of elephants behind, Nepal retainers and beaters, tiger shikar trophy lying in front of the group.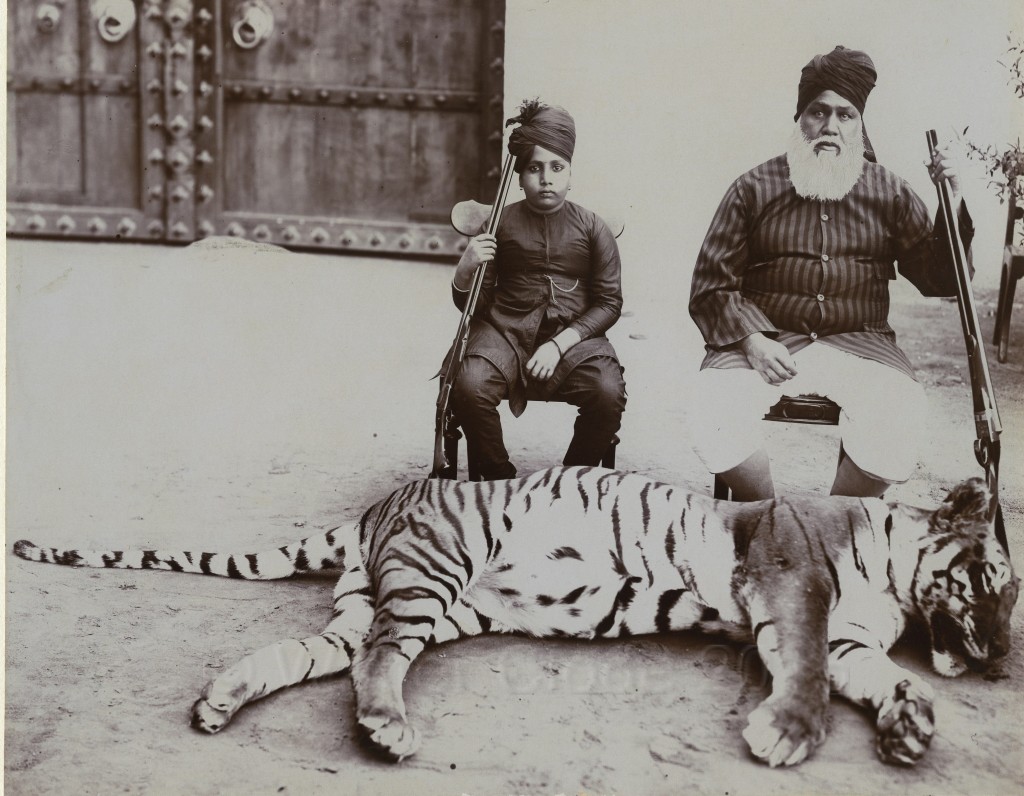 Shikar trophy portrait of Madho Singh II, Maharaja of Jaipur and a young boy c1910s. They are seated by the elephant gate of Amber fort, each holding a shotgun, with the tiger trophy lying at their feet. Maharaja Madho Singh II had no children by his official wives hence no legitimate heir. However, he had 60 children by his numerous concubines, of which the boy in the portrait may be one, possibly even a favourite, of the Maharaja's. The same princeling appears in two earlier shikar group portraits of the Maharaja and his ADCs with a group of foreign guests. To ensure the legitimacy of the succession to the throne of Jaipur, the Maharaja adopted, as he himself had been, Sawai Man Singh from the Isarda Thikana, who succeeded to the gaddi on the death of Madho Singh in 1922 and was later celebrated as the suave, polo playing husband of the beautiful Maharani Gayatri Devi.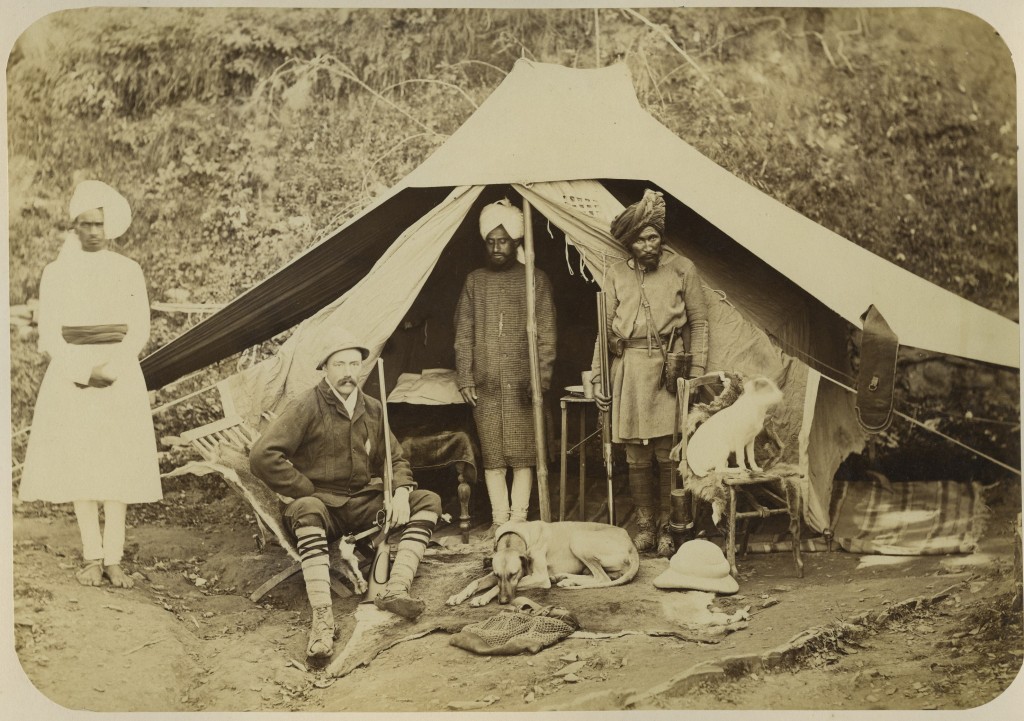 Portrait of a European/English Shikari at rest in his hunting camp with his servants, set on a level area below a scrub hillside, he wears a soft cloth cap, his sola topee pith helmet is on the ground nearby, he wears a jacket, puttee protective cloth windings around his legs, ankle-height laced overshoes, he holds his gun and rests on a deerskin-covered wood folding chair, his hunting hound rests on another deerskin on the ground while his fox-terrier sits on another deerskin-covered chair, his barefoot Cook stands on his right, in his white turban, kurta tunic and churidar pajamas, his gun-bearer stands to his left, gun in hand, he wears a turban, kurta tunic with a cartridge belt, water bottle, a skinning knife slung from his shoulder, he wears puttees and overshoes, the hunter's sparse furniture can be glimpsed through the open tent flap, a bed and folding bedside table with shaving bowl and glass.