Wildfowling or Waterfowling as it is known by our colleagues in the US, is one of those fascinating pursuits carried out by all manner of sportsman. This is not a sport defined by wealth or class, but one that allows all comers the opportunity to experience some of the finest sport found throughout the world.
From my own perspective the joy of wildfowling lies in the pursuit of a truly wild quarry in some of the most stunning and merciless environments there are. Few normal people relish an early rise in the cold, dark wet of winter, yet wildfowlers thrive on it. The harshness is only part of the test. Mental alertness and serious fieldcraft can make the difference between success and failure, yet there are no guarantees. Anybody who doubts the lengths a man may go to for a shot at a duck or goose need only look at the respective outlay on guns, cartridges, decoys, clothing, calls, craft and a myriad of ancillary objects to appreciate how serious a breed wildfowlers are!
The guns for the pursuit of wildfowl have always by their very nature been big. Whilst most armouries of old contained a 3" magnum fully choked 32" gun, this was always the minimum requirement and whilst effective, it was the 10, 8 and 4 bores that became the tool of the serious wildfowler, especially if high flying geese were in consideration. A wildfowler may only get one, with luck two shots at a high flying skein of geese and so guns capable of firing 2, 3 or 4 ounces of large size shot became almost a necessity.
As with all things shooting, the British had to be seen to building the very best and whilst nearly every noted maker of the pre war era at one time or another offered wildfowling guns of varying degrees of quality and price, the notable makers including Holland & Holland, James Purdey, W.W.Greener and our own Westley Richards built some of the finest wildfowl guns on their 'best' action designs.
One such example of this pre-war workmanship can be seen in the magnificent 8 bore hand detachable lock shotgun illustrated here. Words cannot in truth sum up how elegant this gun is considering its huge size and fabulous handling. Originally ordered in 1911 by Lyon & Lyon in Calcutta, India, the gun was gifted to none other than the Mahrajah of Patiala who in his own right was one of Westley Richards largest patrons. Whilst India had a fantastic reputation for big game hunting, its bird shooting, particularly duck shooting was probably the finest in the world at the time. Huge shoots were held at the Princely estates were many thousands of ducks could be shot in a single day.
The gun has all the fundamentals of a classic Westley Richards shotgun including single selective trigger, model 'C' dolls head fastener with snap action lever work, finest quality damascus barrels, super deluxe grade pistol grip stock and wonderful deluxe scroll with games scenes of ducks and geese. In essence a wildfowl's dream!
The barrels measure 34" bringing the finished weight to a hefty lb ozs, yet you would never think this when you start swinging the gun around.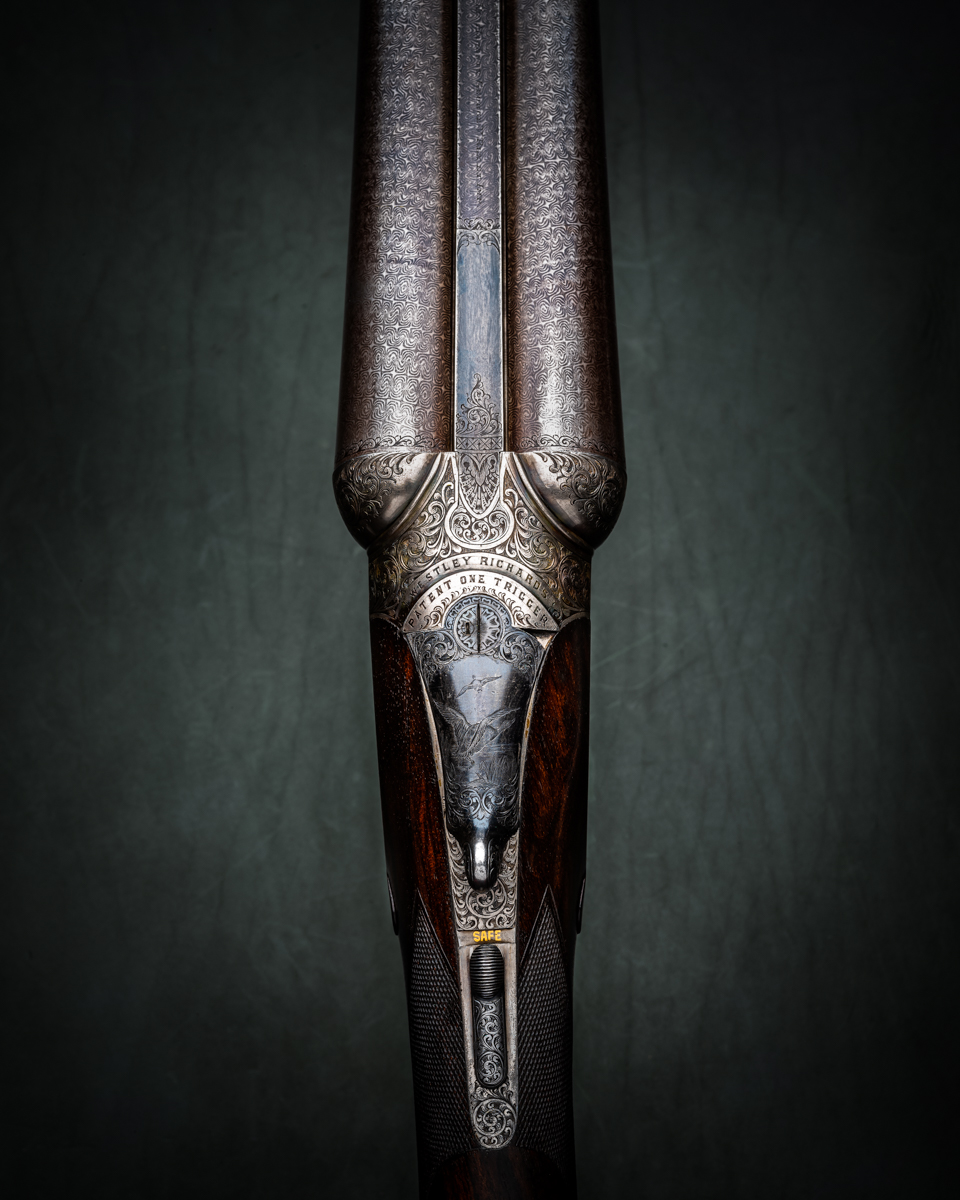 Whilst huge compared to a modern 12 bore, the lines of the gun are absolutely superb and the balance of the gun makes it totally manageable on high ducks and geese.
The pistol grip stock has a quality of wood that compares to anything we would stock a gun with today. For the period this would be exceptional.