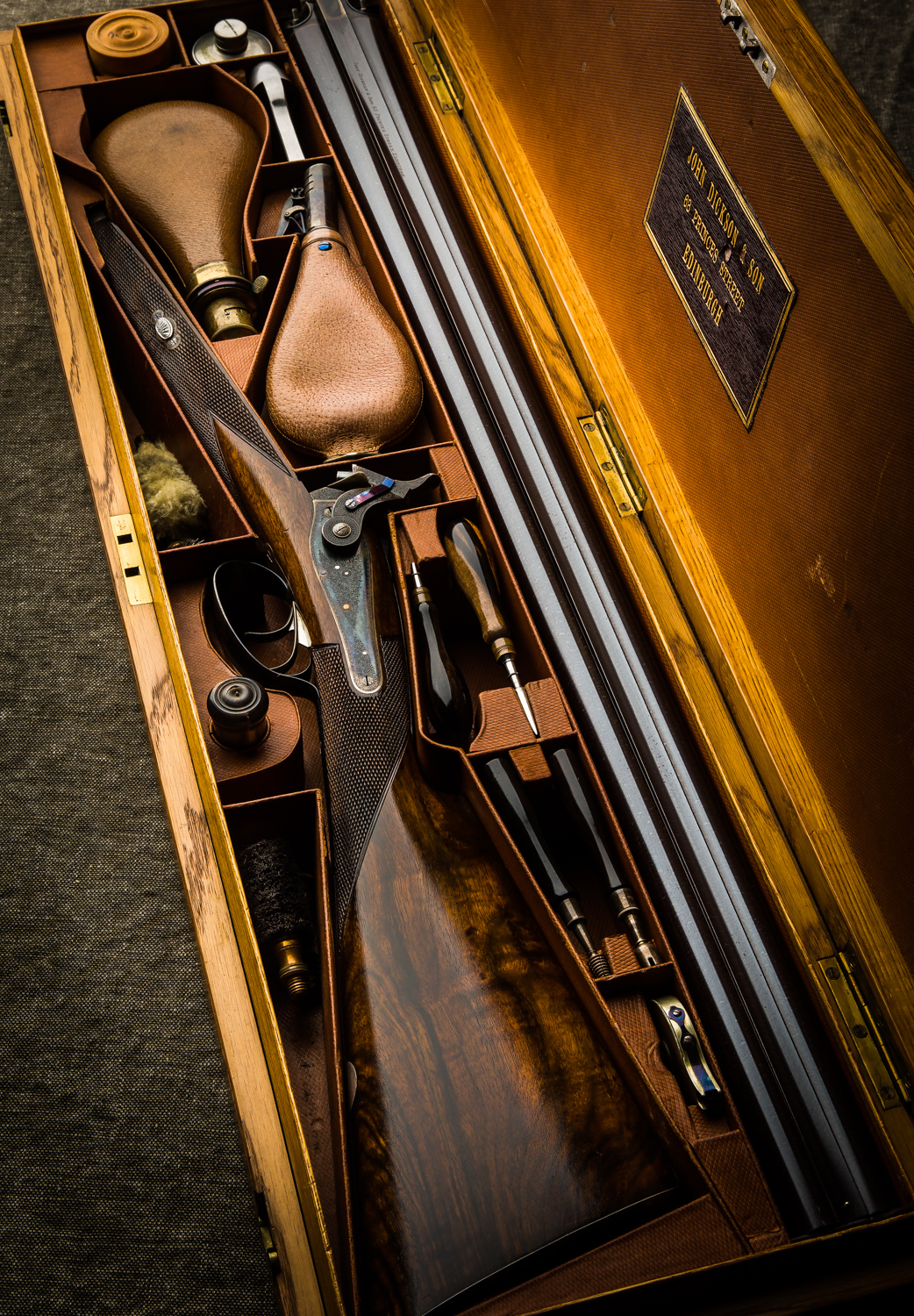 What really stood this eccentric, often mad Scottish gentleman out from all the rest was his insatiable appetite for ordering new weapons built on old designs, over 50% of the pistols, guns and rifles being muzzleloaders at a time when the hammerless breech loader was unquestionably at the fore.
To pick any one of the magnificent guns that he had built is always going to be tricky, but illustrated here is one of the five 8 bore double percussion shotguns that he had built.  This particular example was ordered on 25th October 1883 and is still in unfired condition complete in its case with all the accessories.  The quality of work is simply outstanding and pays tribute to the skill of the gunmakers at the time.  You need to put in perspective that in 1875 Westley Richards had patented the first hammerless breechloading gun, yet here 8 years later John Dicksons were building a hammer percussion 8 bore with detachable hammer noses!  The proportions of this gun are wonderful and even from a modern gunmaking point of view the whole cased package is inspiring.
Charles Gordon would end his days in lonely seclusion, mentally unsound in 1918.  Whilst his extravagant spending and at times illogical purchasing almost bankrupted the man, he left one of the greatest legacies in fine gunmaking that has ever been seen. The guns he commissioned still bring huge enjoyment to a diverse group of collectors today and the fact that so many are in pristine unfired condition only adds to the desire to own one.
For the complete history of John Dickson & Son see Donald Dallas book 'John Dickson & Son - The Round Action Gunmaker'