...without the key people in place to manage our gunmakers and leatherworkers by improving processes, developing new skills and introducing new blood, the company wouldn't tick along as smoothly as it does, and there would be little chance of achieving the ever-increasing number and quality of our products that we are asked to make.
Today, we interview one of those key members, Jonathan Hay, who is the gunmaking production manager here at the Westley Richards factory.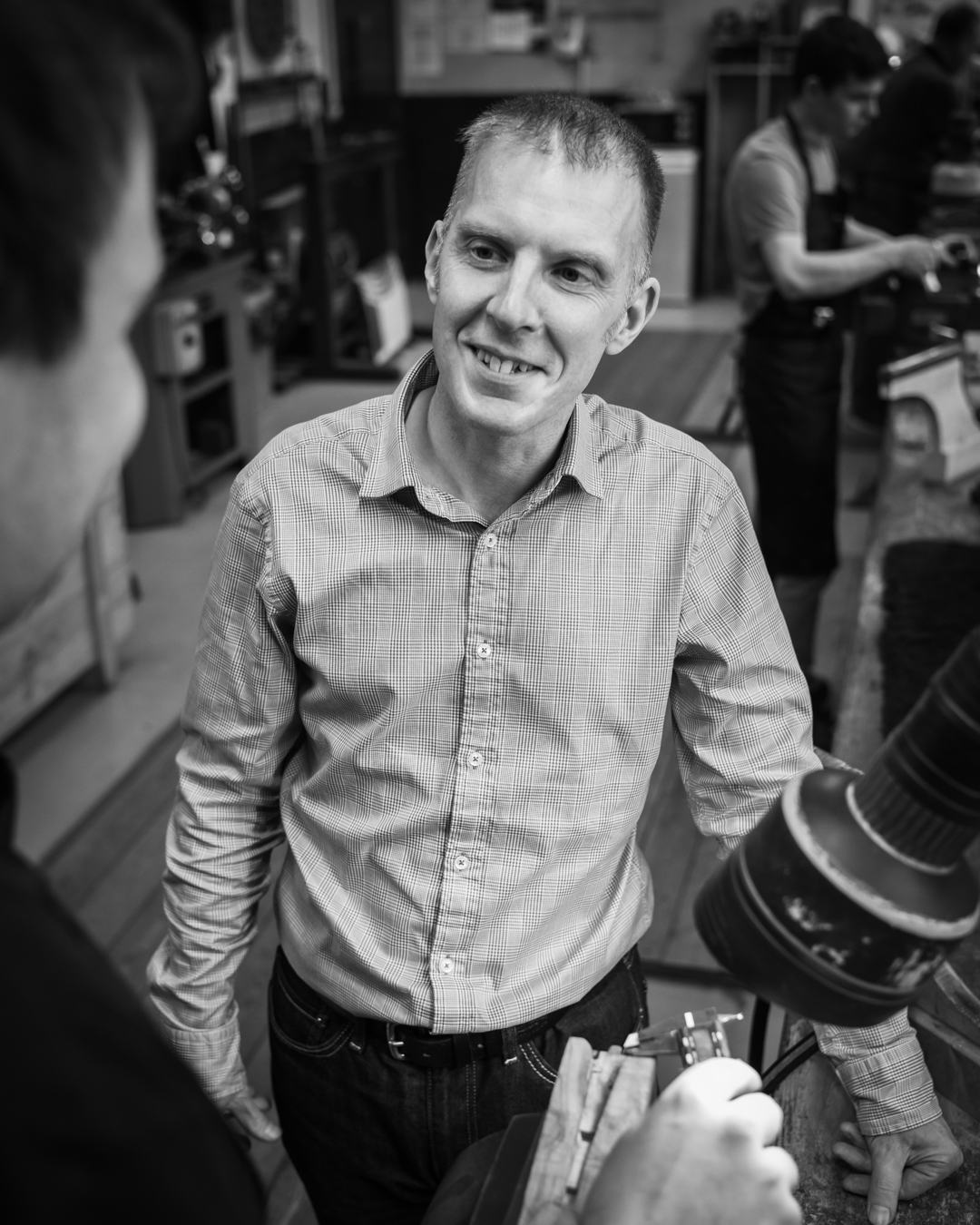 Where did you grow up?
In East Devon, a small town called Colyton.
Did you always want to work in gunmaking?
I was always into guns from a young age – my dad and my grandpa both shot, it was a rural community with a lot of farmers who all shot, so there were always guns around. My first guns were my dad's Webley Junior pistol, my grandpa's .177 Original air rifle followed later by my grandma's little .410 "poachers" gun when I was 13 (yes, she shot too when she was younger!). Tied into that I was (and still am) particularly fascinated by British military breechloading small arms, along with guns in general and how they worked.
As I grew up, I was always mechanically minded and became a mechanical engineer, so in answer to the question itself, I never thought I would get into gunmaking but am pleased to have arrived here.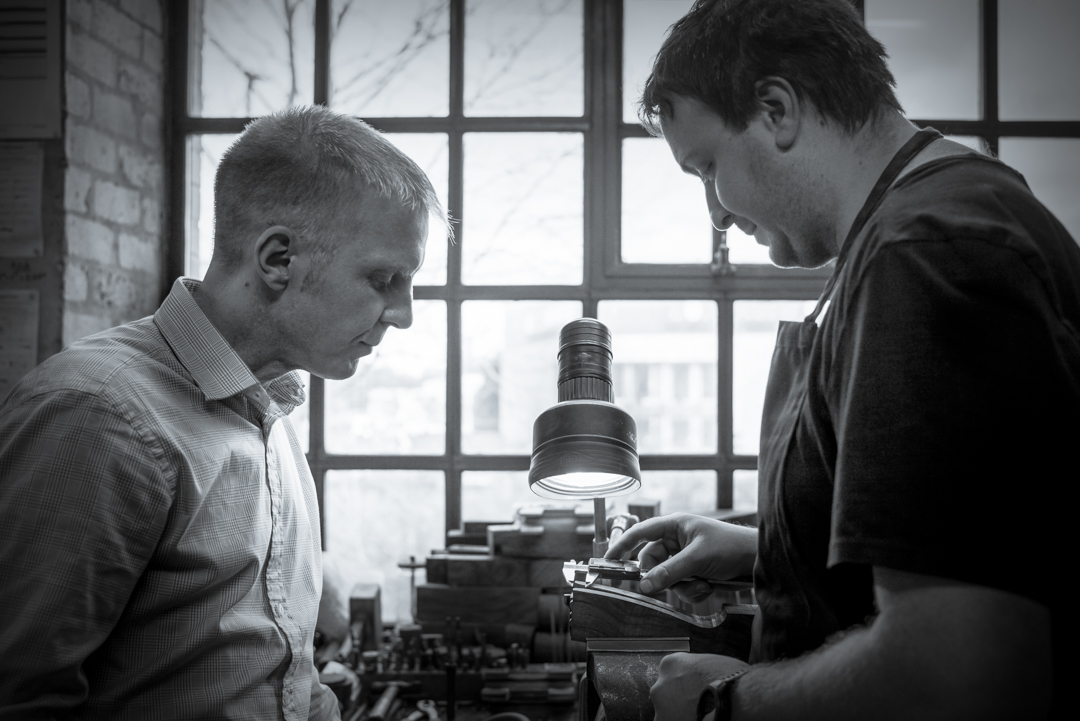 What did your engineering apprenticeship entail?
I did a mechanical engineering degree at Hatfield Polytechnic, although when I finished it had changed into a university so I can claim a university degree!
I had a year out in industry and went back to the same company when I finished. They were based in Waltham Cross and due to lack of space we hired some of the old buildings and units on the old Royal Small Arms Factory at Enfield, which I got to visit a few times (although small arms production had moved away by then).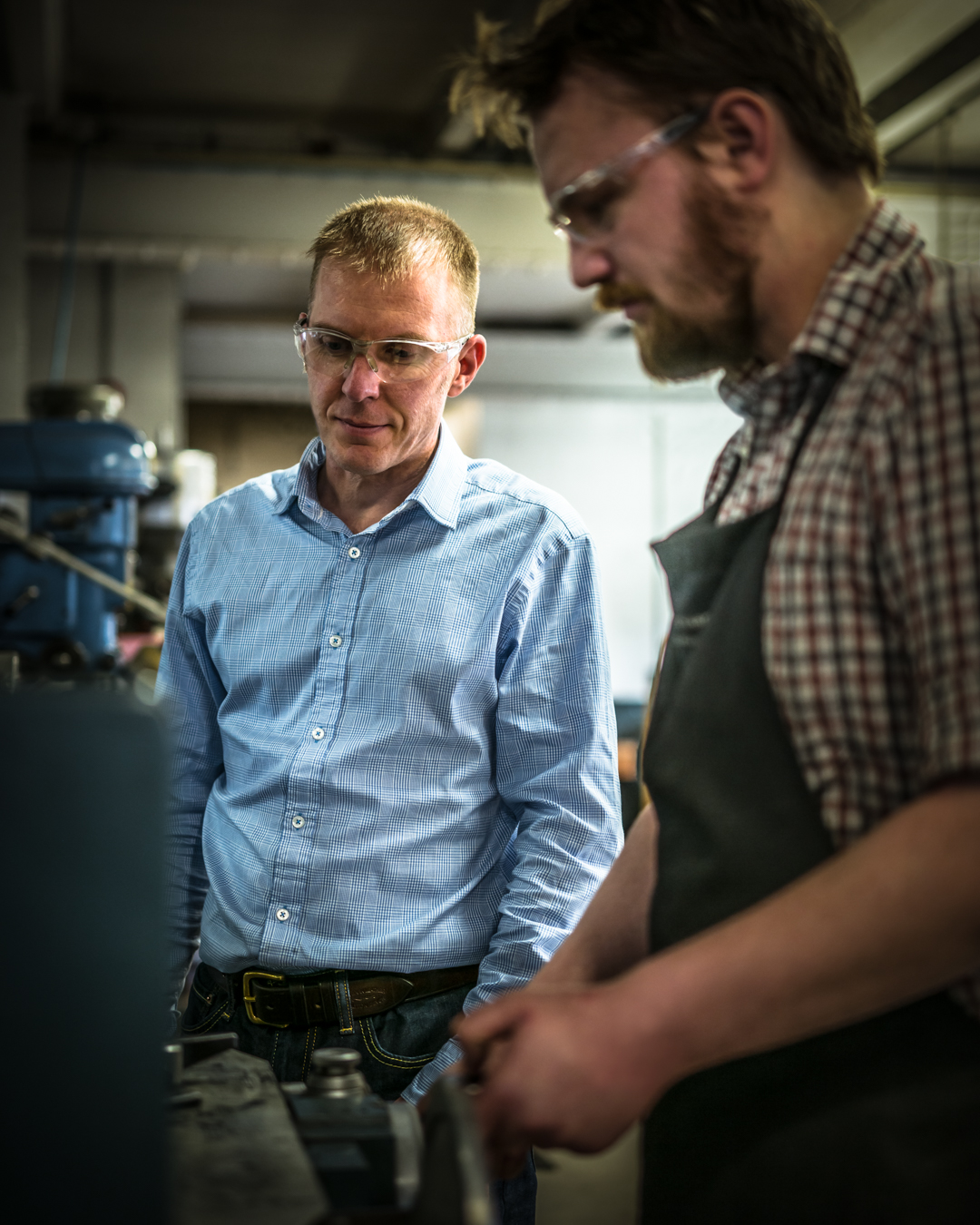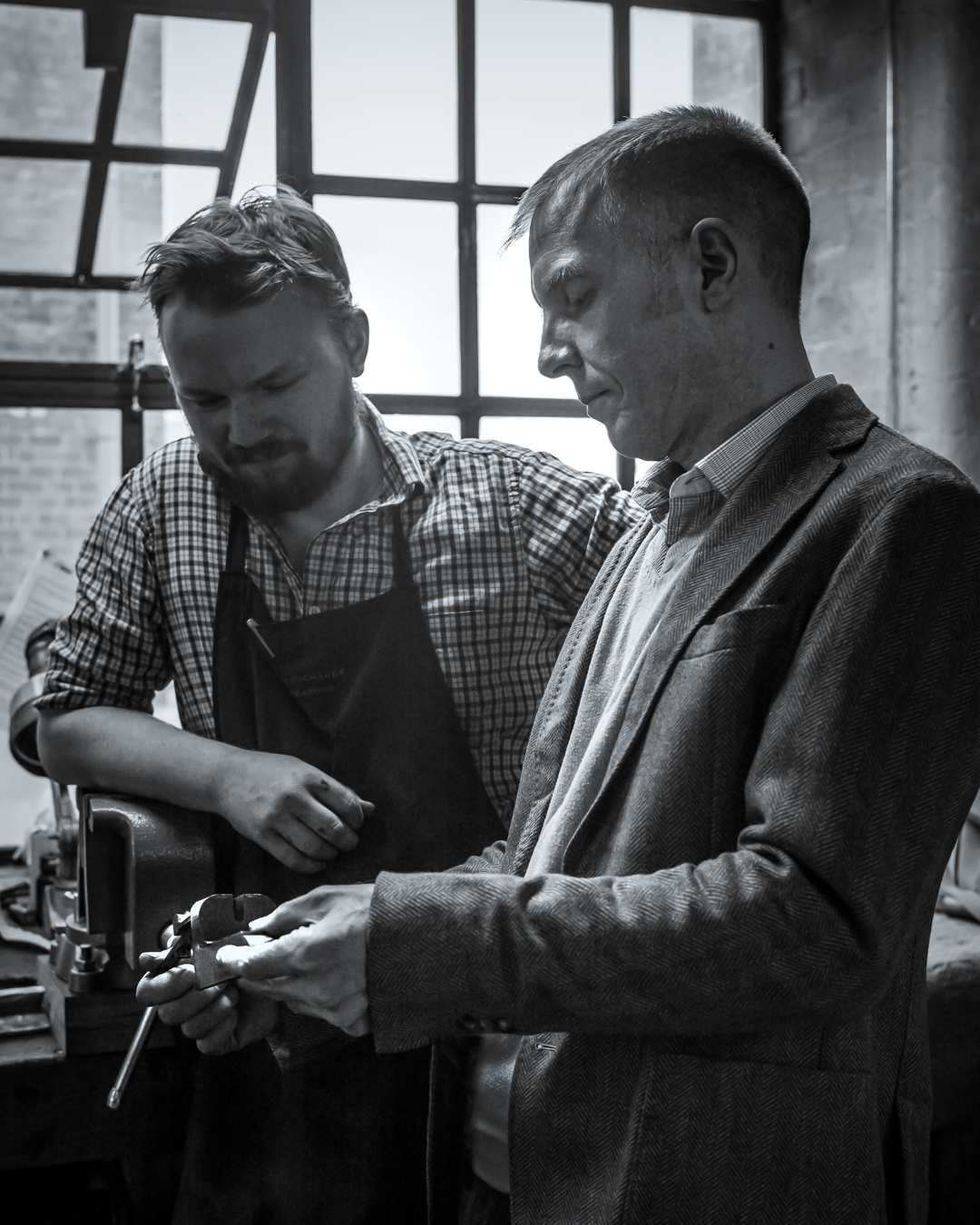 Who would you have counted as mentors in your career to date, and why?
Plenty of people over the years – some have been mentors in how to do my job and be better at it and others in how NOT to do it! I have been lucky enough to work with some great people and tried to take on as much of their advice as possible.
From outside gunmaking, two people that stand out are my first main boss Tony Cox, who I didn't always see eye to eye with at the time, but as the years progress, I realise I have taken a lot from him in how to be a production manager. Plus Tom Welch who taught me the importance of positivity in a management position and leading a team firmly without being a bastard.
In gunmaking, a multitude of people and too many to name, however Trigger has been an immense help in getting me bedded in and on track and he is always to hand. Also, David Williams who wrote the book on the Birmingham Gun Trade and its impact and influence on manufacturing in general, has always been very generous with his time.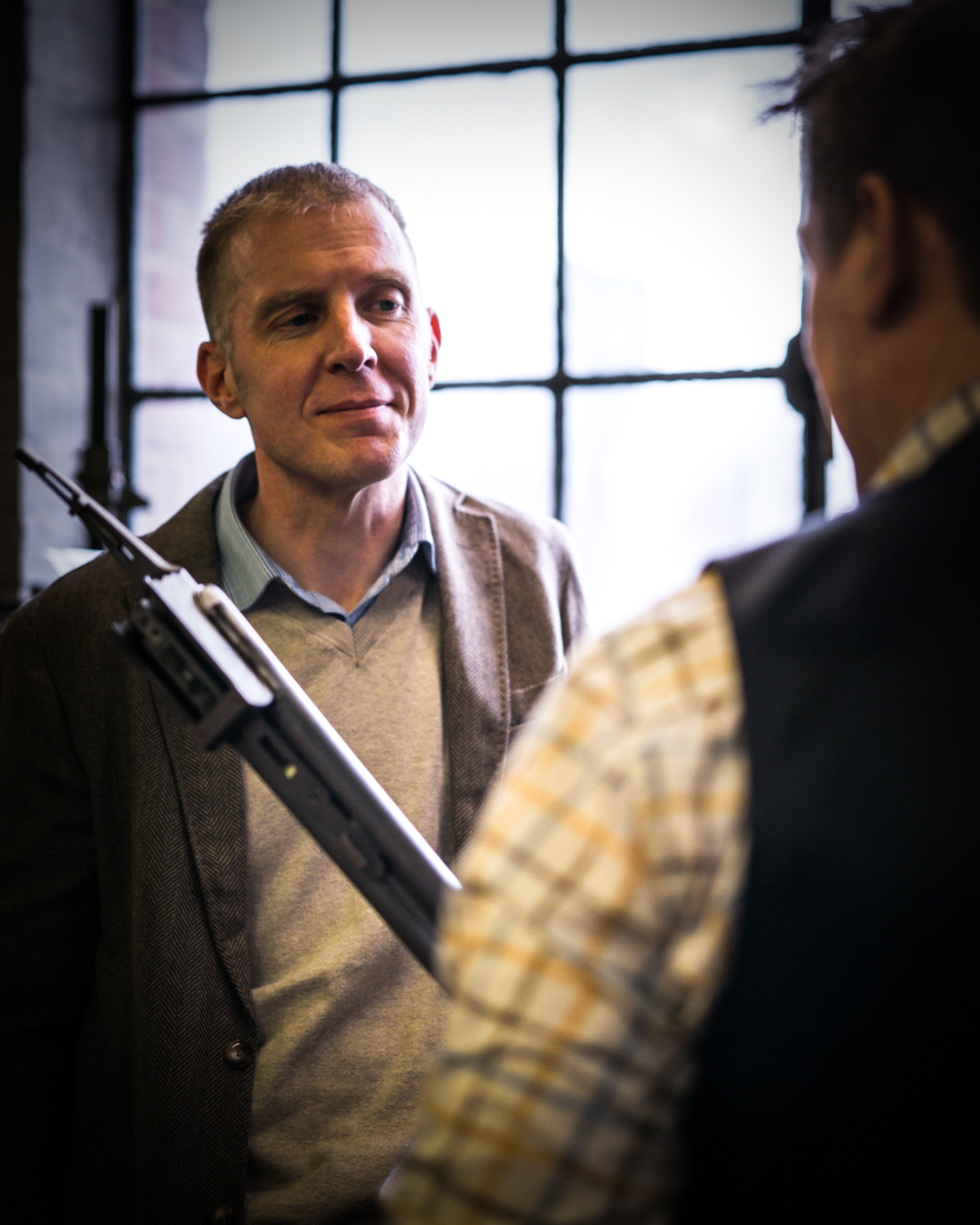 What drew you to the world of gunmaking?
I worked around the country and in several sectors – generally managing factories in high end, bespoke manufacturing environments, working to high standards and with high customer expectations. I had settled in Birmingham and got into target shooting more specifically with a local rifle and pistol club, so was still shooting a lot for leisure but not expecting to get into it as a livelihood.
Westley Richards had an advert that came up for a Production Manager's position. Three interviews later, including a lot of nail-biting, fraught nerves, sage advice, anxious waits and my first meeting with Trigger, I was lucky enough to be offered the job.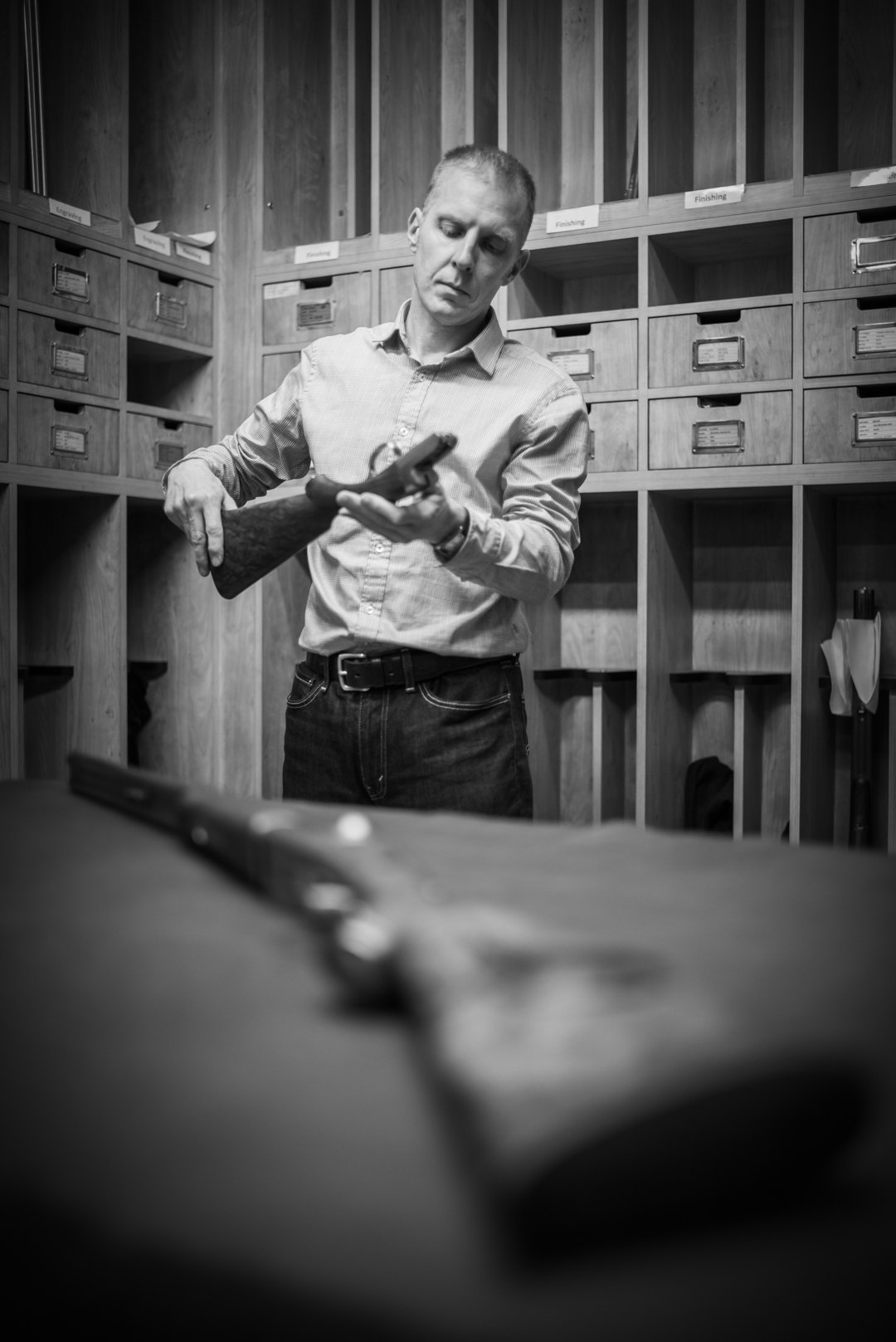 How long did it take to establish yourself within the factory?
Define the word establish in this context?!
It was and is a slow and careful process, treading very carefully along the way. Having to establish trust and rapport with the gunmakers, outworkers, fellow team members and very importantly Trigger.
I haven't necessarily got the talent to be on the bench, but I am good at working with talented people to help them with the less glamourous things that they might not be so good at, and to support and manage them to enable us to produce the best work we can. Building up that level of understanding and trust takes time.
Also, there is a lot of expectation from the company – its history and the standards of the people that came before us - and it can either be a burden or it can inspire you; I am definitely in the latter camp, and I reckon by the time I come to retire I might just have established myself!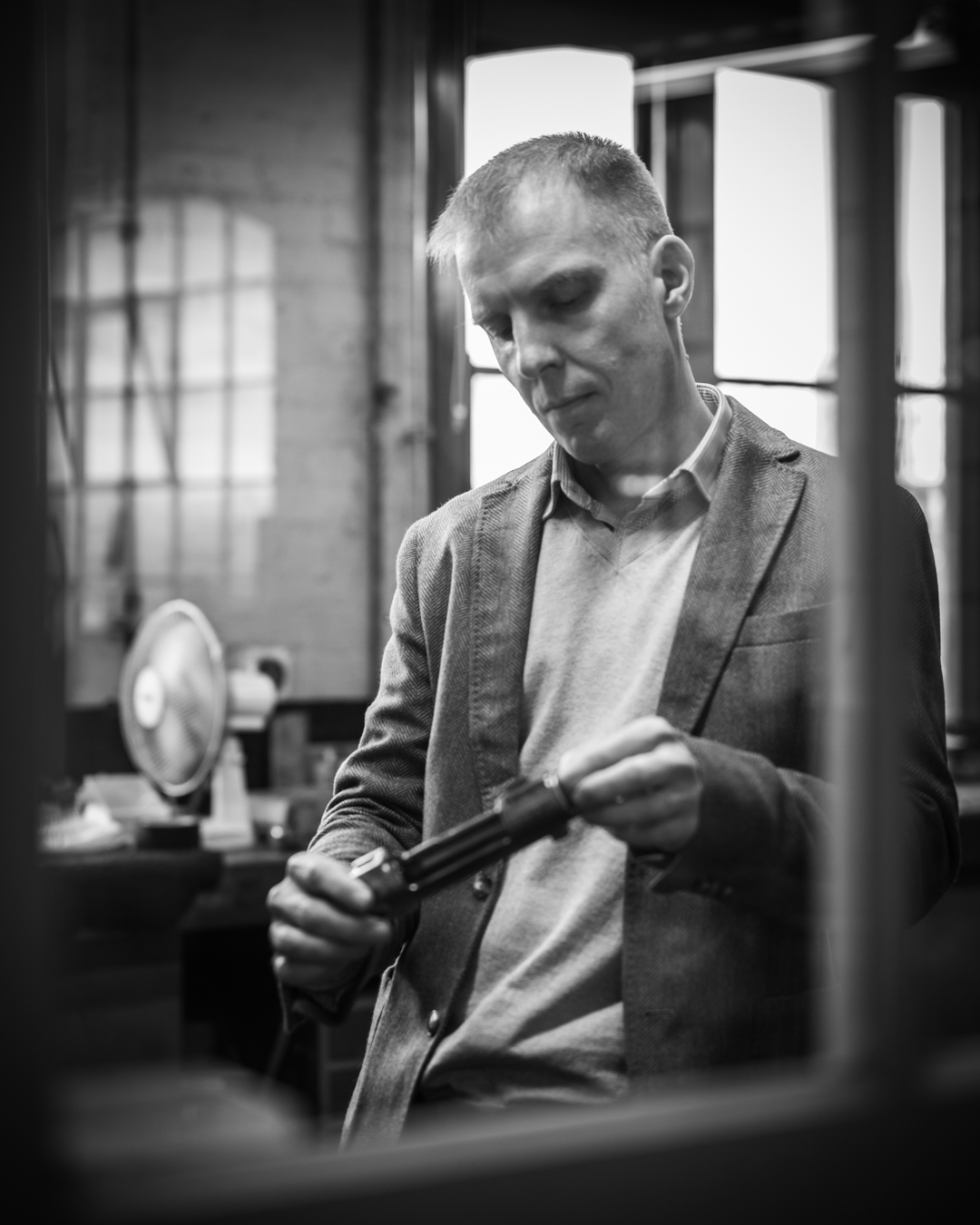 How many guns and rifles have you seen pass through the workshops?
Plenty! We are lucky to have a good order book, with plenty of work on. One of the biggest challenges we have is growing our capacity and workforce without compromising on quality, but in fact improving on it. We have a good apprenticeship programme here and I am very well aided by the multi-talented Kerry Macdonald, Group HR Manager and more besides, in running this.
It is our only way forward to keep the company going with strength - the British gun trade has been in long term decline since the American Civil War, so the best way forward is for us to "grow our own" (or as Ken Halbert told me not long after I started, the only other alternative is if you want to find a gunmaker these days you have to "dig one up").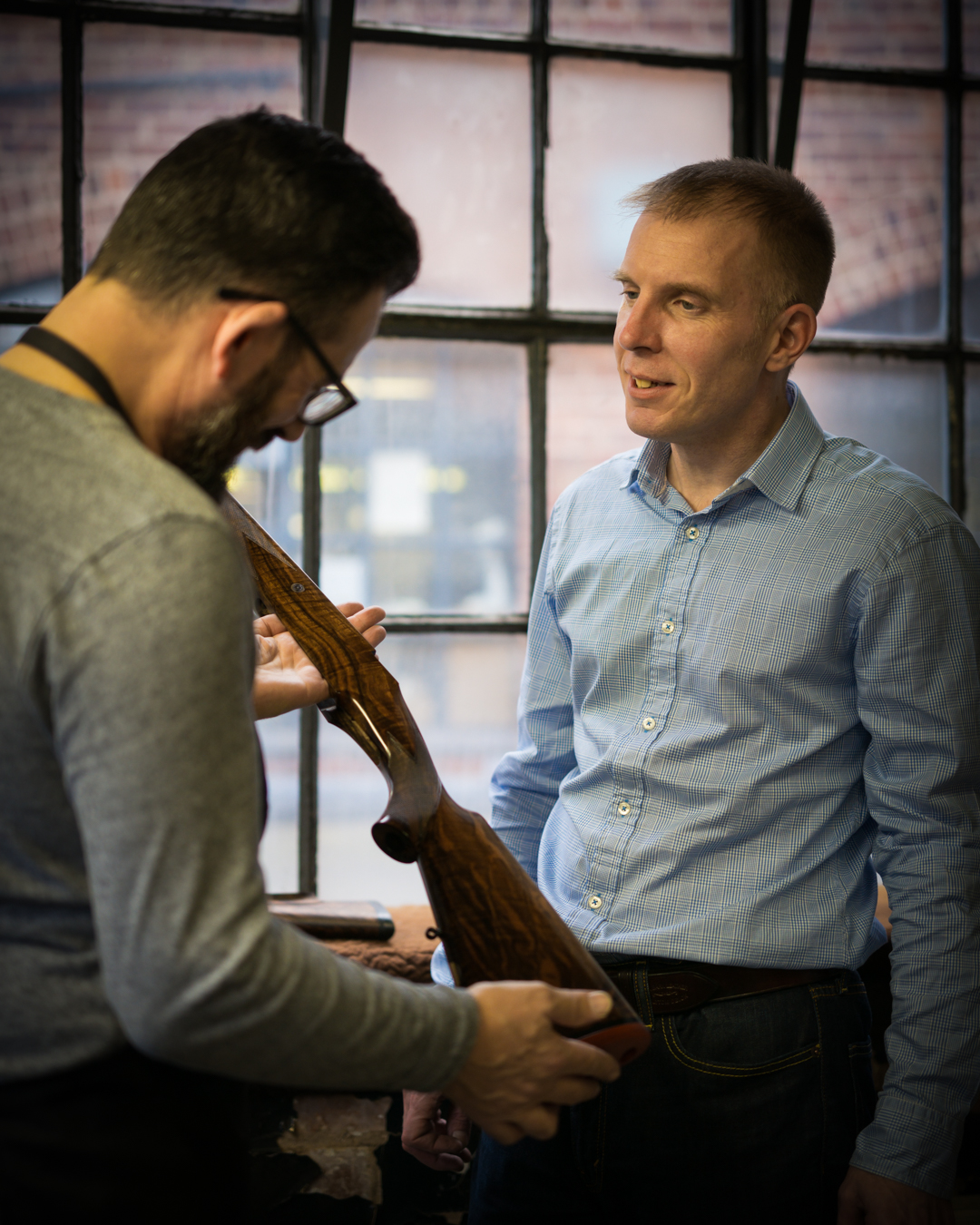 What's the greatest challenges the production manager at a gun company has?
This particular company? Trigger. All joking apart, he is our strongest critic and if we can present finished guns and they are accepted by him, we know they are to a world-leading standard (although that never happens, and he always spots something!).
We are constantly pushing to improve everything we do – this goes for everyone; from the design engineers and our impressive machine shop team at Westley Engineering (who don't always get the credit they deserve but play a very important role in the gun build) through to our gunmakers, both inhouse and trusted outworkers – all striving to make our guns and rifles the best.
As well as my "day job" of managing the gun production, being part of a relatively small team means that depending on the needs of the company I can end up covering a wide range of other tasks – supporting Trigger with sourcing/loading/checking ammunition, delivering guns and rifles to clients, showing people around for factory tours and various other tasks that make life interesting.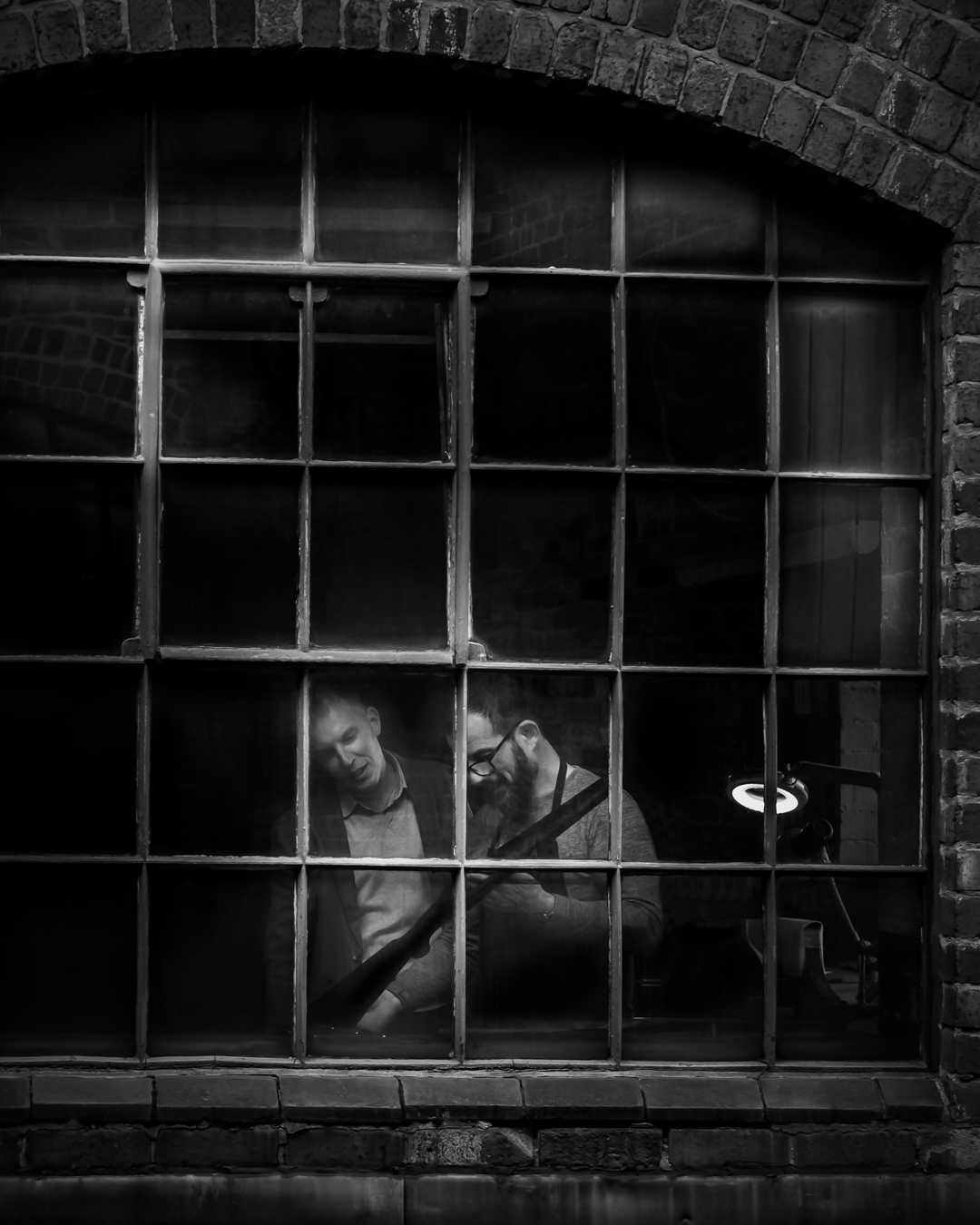 What do you most enjoy about the process of making a gun?
Working with the team at Westley's to solve the multitude of challenges that go with best gun making to end up with something that is the best it can be. Every day is different, and the demands faced are numerous, believe me!
I have a very good, positive team of gunmakers (and designers) at Westley's (not a collection of individuals but a team, that's important) that are all pulling together to make sure we produce a reliable, well built "canvas" for our engravers to embellish and make them look stunning. I appreciate the talent and time that goes into the engraving and the finishing of the guns is vitally important, however for me the most important bit is that they work and are reliable. As well as our internal team, we also draw on a pool of outworkers who are some of the best in the business – real experts in their craft as well as the odd character or two!
If you could pick one of the gun trades to be a craftsman in, which would you choose?
Actioner (mechanics not shapes). Shapes are extremely tricky – small subtle changes to a file up can make all the difference in a gun or rifle looking right or not and often, a lot of it is down to individual taste. Making the gun click and tick though, that's something I enjoy.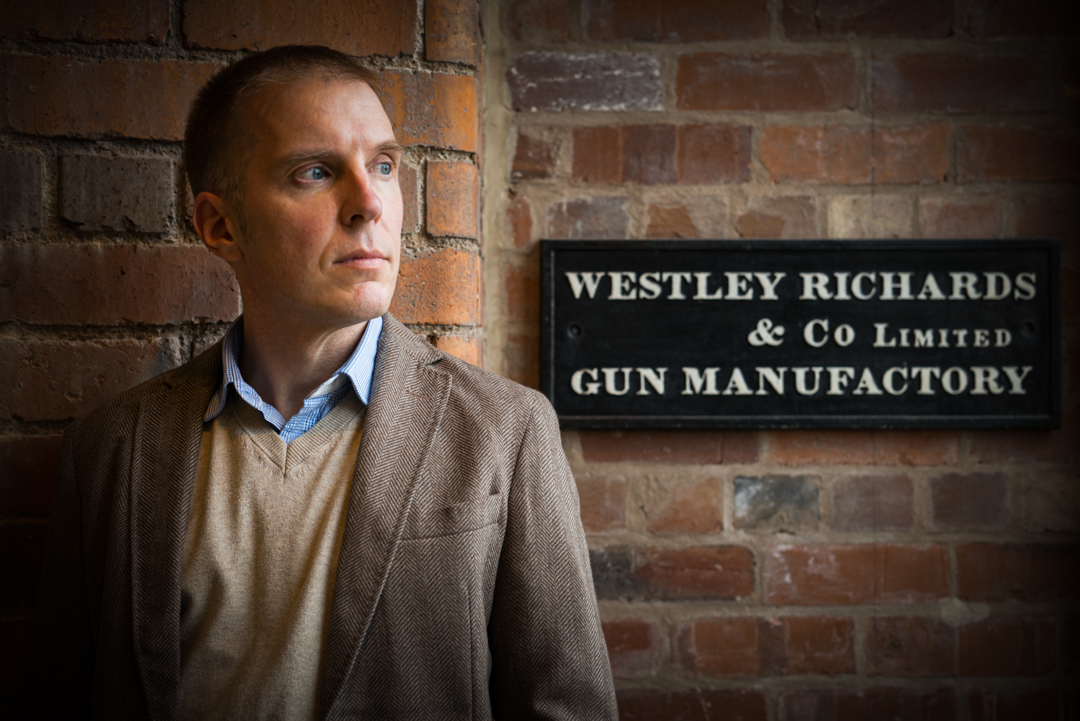 Tell us about your role in the new exhibition grade quartet of guns that is soon to complete?
My role was of course to oversee the production - from the start of the project liaising with Trigger to make sure we specified exactly what the client is after, to working with the finishers at the end to do the final sign offs.
We haven't done a quartet for a very long while so this project has been challenging. Working across the calibres to make sure they all complement each other as a set with the different calibres on scaled actions to suit. These are the sorts of projects Westley Richards revels in and the team is very excited to see the final result.