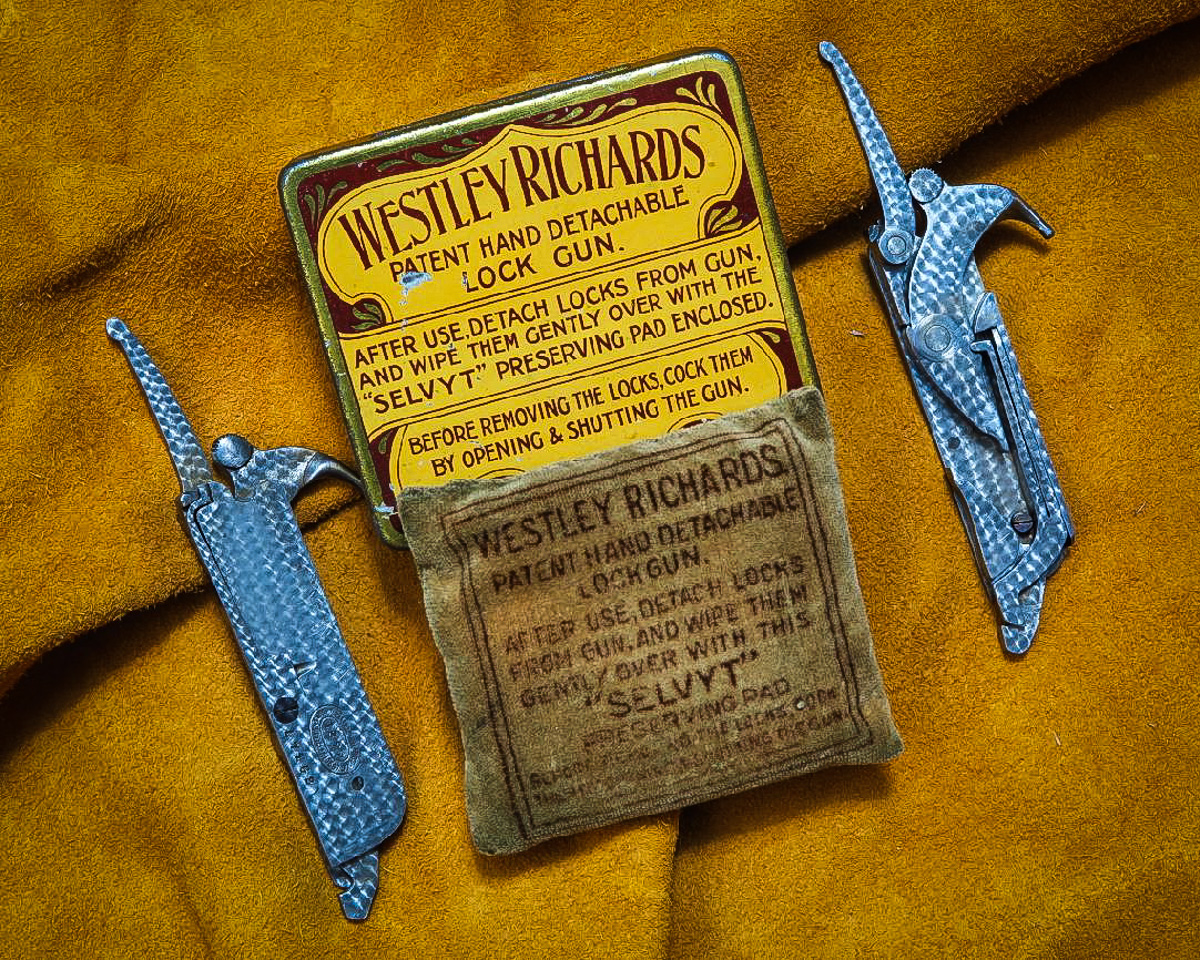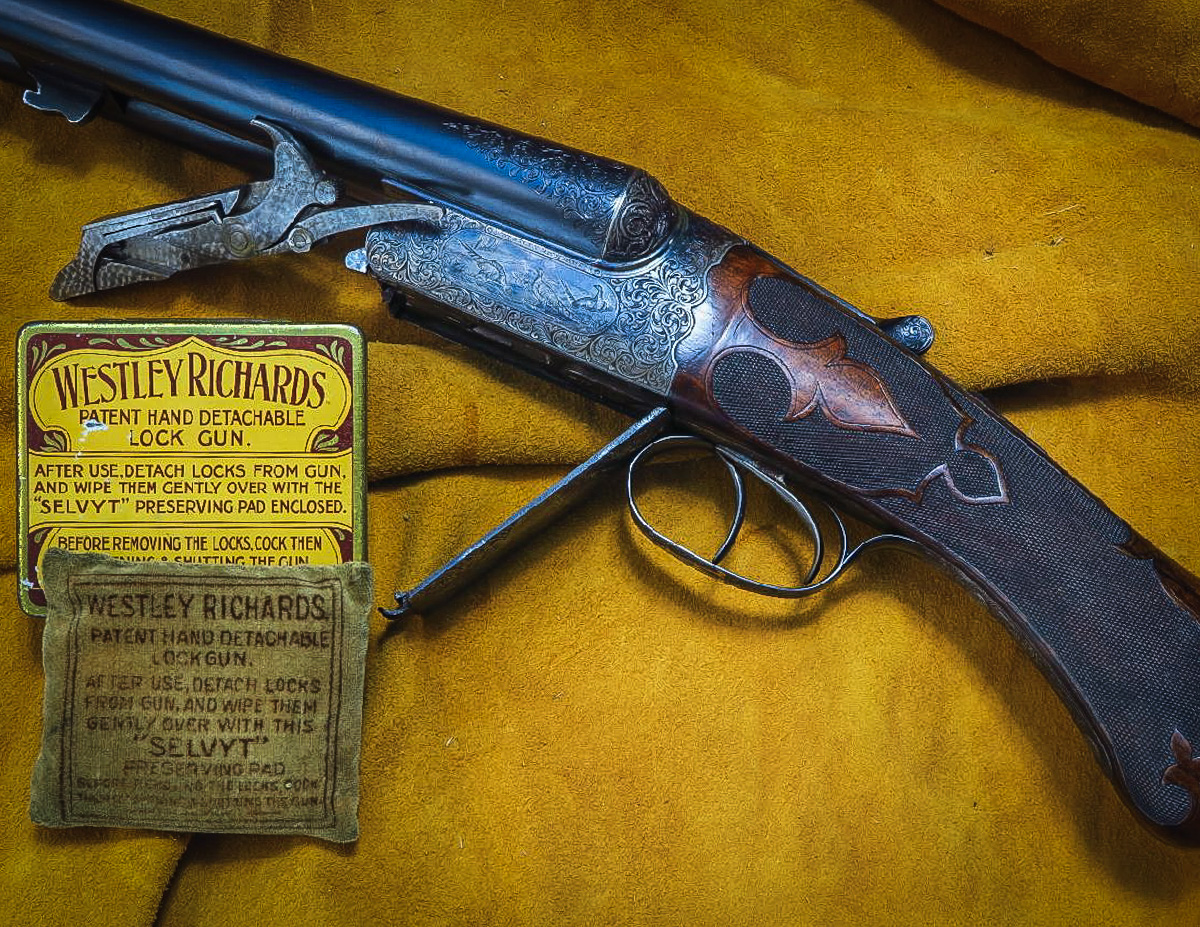 It is a simple thing, a finely painted tin box holding a miniature pillow anointed with some very special elixir. We often find the "Selvyt" cloth, a kind of short velvet, perhaps the predecessor to micro fiber for wiping down and preserving guns. But here is the Selvyt "Preserving Pad". Its single purpose was to maintain the wonderful Westley Richards Hand Detachable Locks. At this modern moment it has another, to correct and maintain history properly. They are not, droplocks. They are, "Westley Richards Hand Detachable Locks, one of the grand accomplishments in gun making. Regardless of purpose, the wee Selvyt pad and tin are one of those delights of days gone by.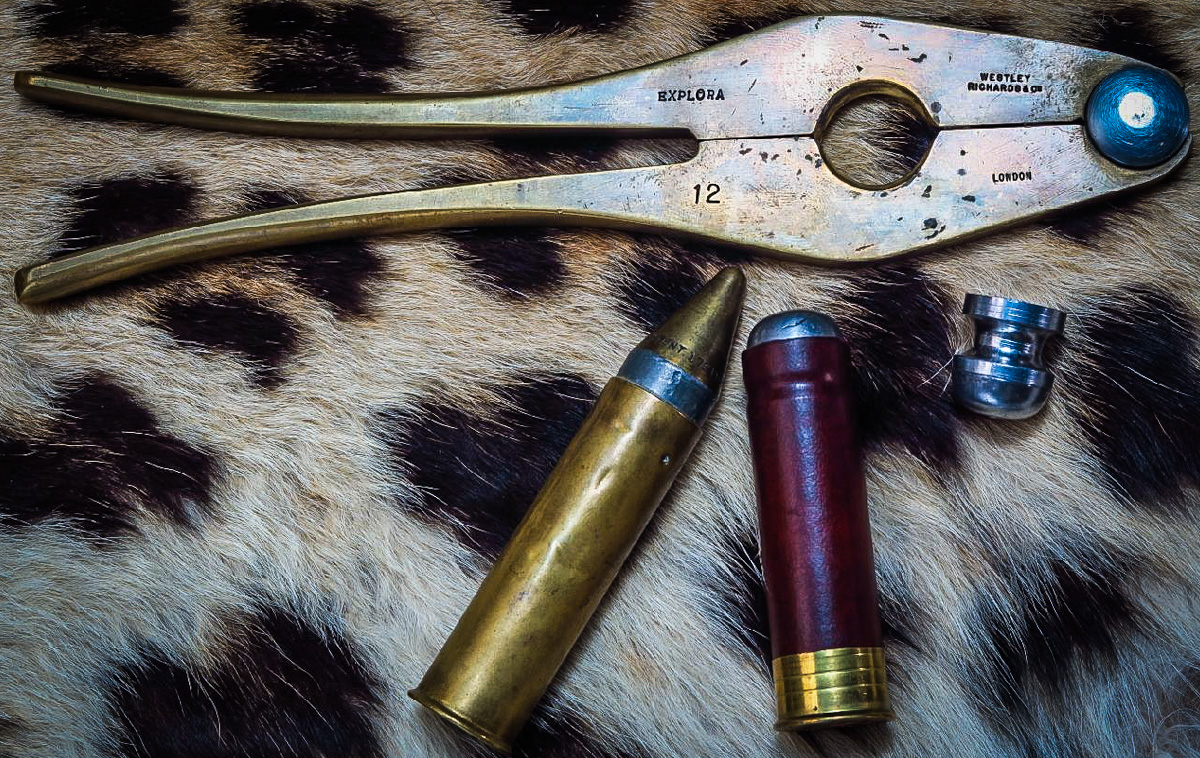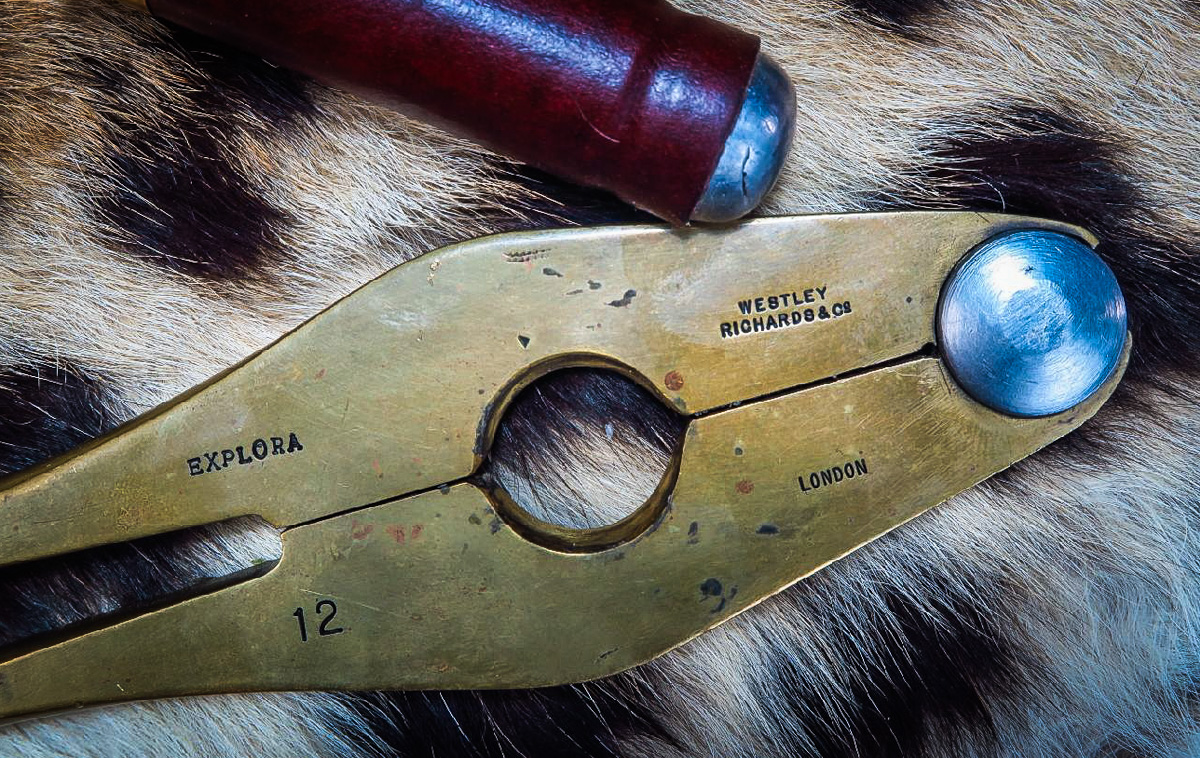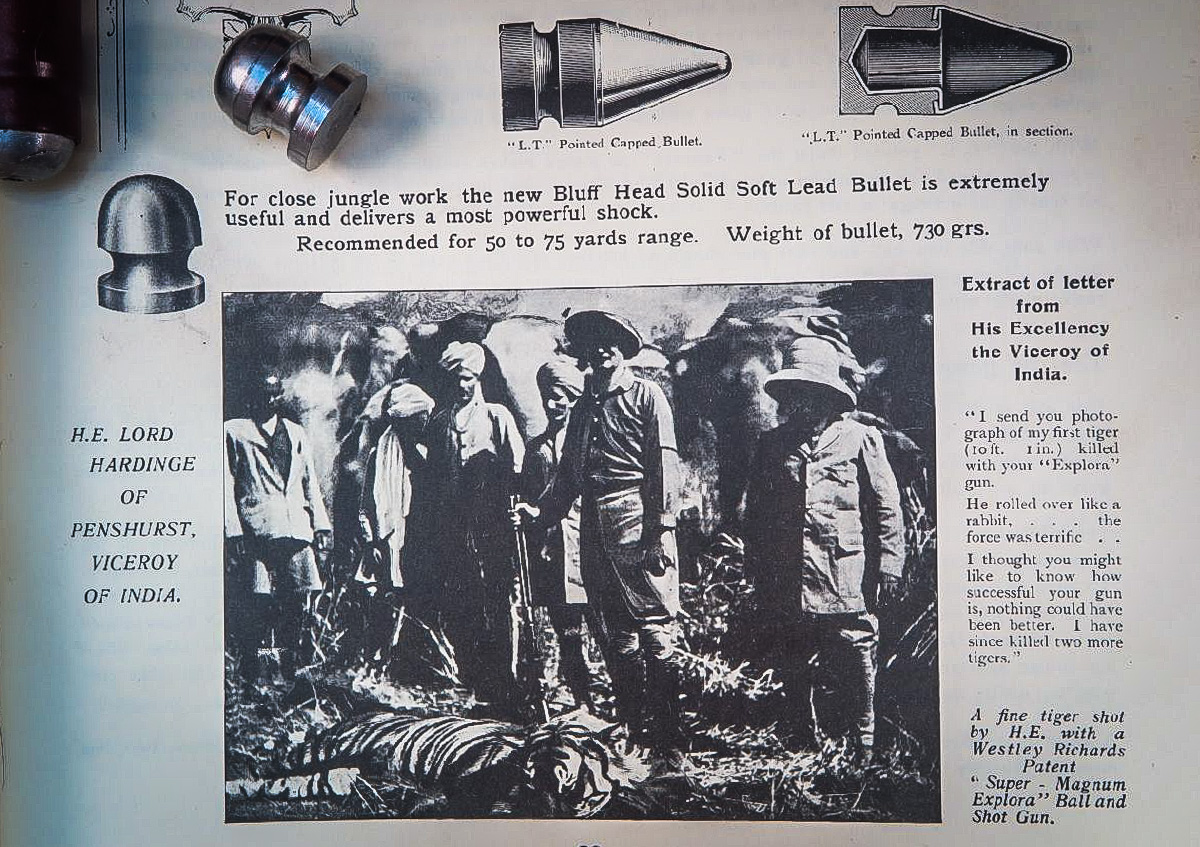 Next is a tool, the only of its kind I have ever encountered and one that more or less should not exist. It is a "Fixer" a tool very common in the world of the Holland & Holland Paradox and other shot and ball guns. Its job is to create a ring crimp in the cartridge case, pressing into the big groove in the Fosbery-Paradox bullet. These "normal" Paradox loads began as black powder loads (that were routinely reloaded) and evolved to some degree into the nitro era. Our "Fixer" here is Westley Richards AND Explora marked. The curious thing about it is, unlike the other shot and ball guns, the Explora began life as a very high performance nitro/cordite round. There were many sophisticated things inside: a special liner to support wads allowing the powder to burn and among others a very long "primer" that was turbo-charged with black powder or gun cotton to effectively ignite a powder that was fundamentally too slow for the application. Also, the L.T. Capped Explora bullets had only a very small central ring and the Explora cartridges I have seen are not "ring" crimped in the same way as the other shot and ball loads. In short I just do not think the average hunter/shooter loaded Westley Richards Explora cartridges. But here we are, confronted with a Westley Richards Explora Fixer. My answer to its existence is the "Special bluff cone jungle bullet". These are big round nose bullets, with a very large central ring. I suspect this fixer is made to crimp them in place, perhaps in darkest Africa or India, with black powder.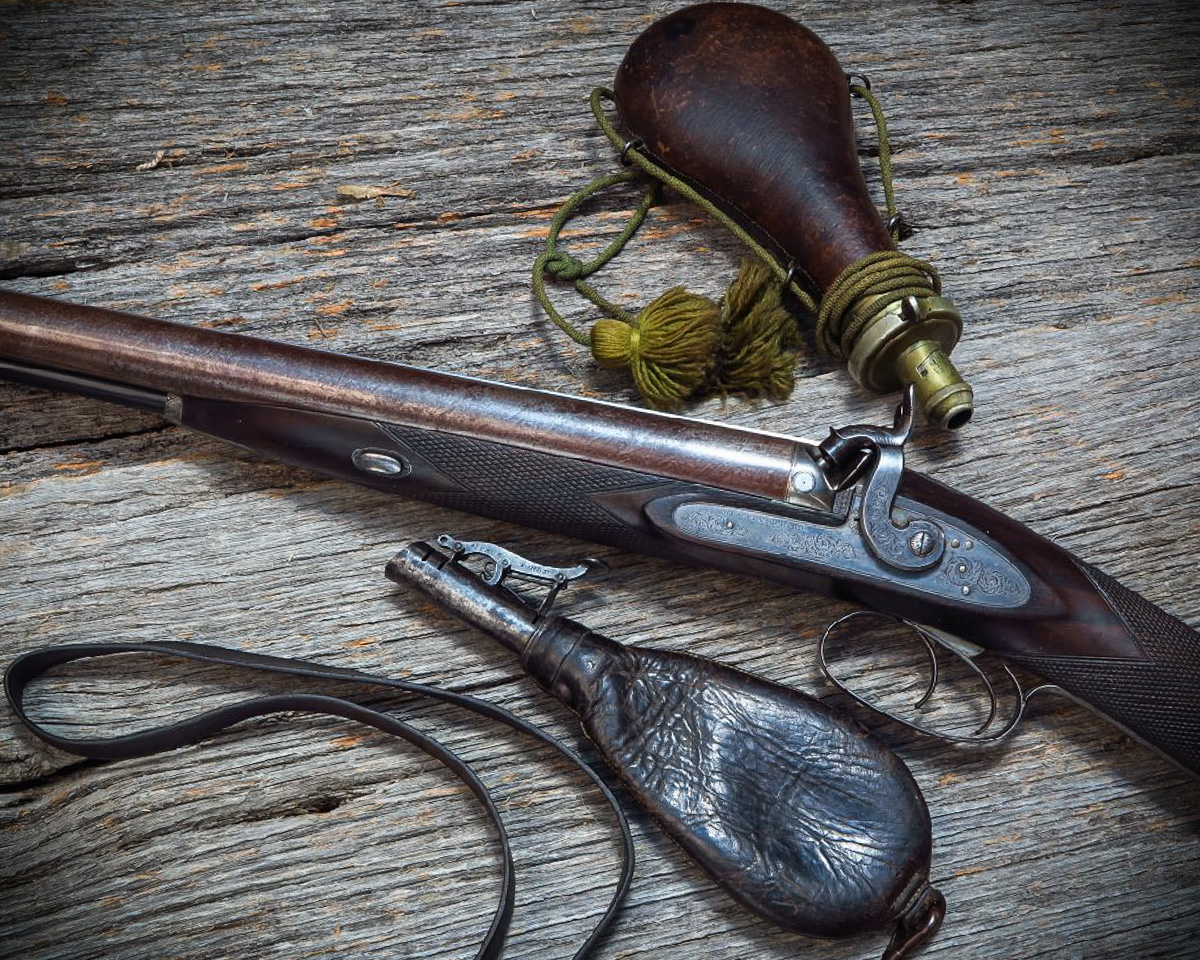 Lastly we find a quiet relic, something to my eye that is very special. When I bought it, it was quality shot pouch in nice condition. The maker was "Bishop" but I thought little of that. When I unwrapped it, there it was; not just Bishop, but Bishop Bond St.! Now that was another Bishop altogether, this Bishop was none other than Westley Richards Bishop, The Bishop of Bond Street. This is William Bishop who was Westley Richards' agent in London for a very long time. His hands and a Westley Richards percussion gun grace the dust cover of The Second Edition of the Bicentennial book Westley Richards, In Pursuit of The Best Gun. Also, within the book is a very interesting chapter about "The Bishop."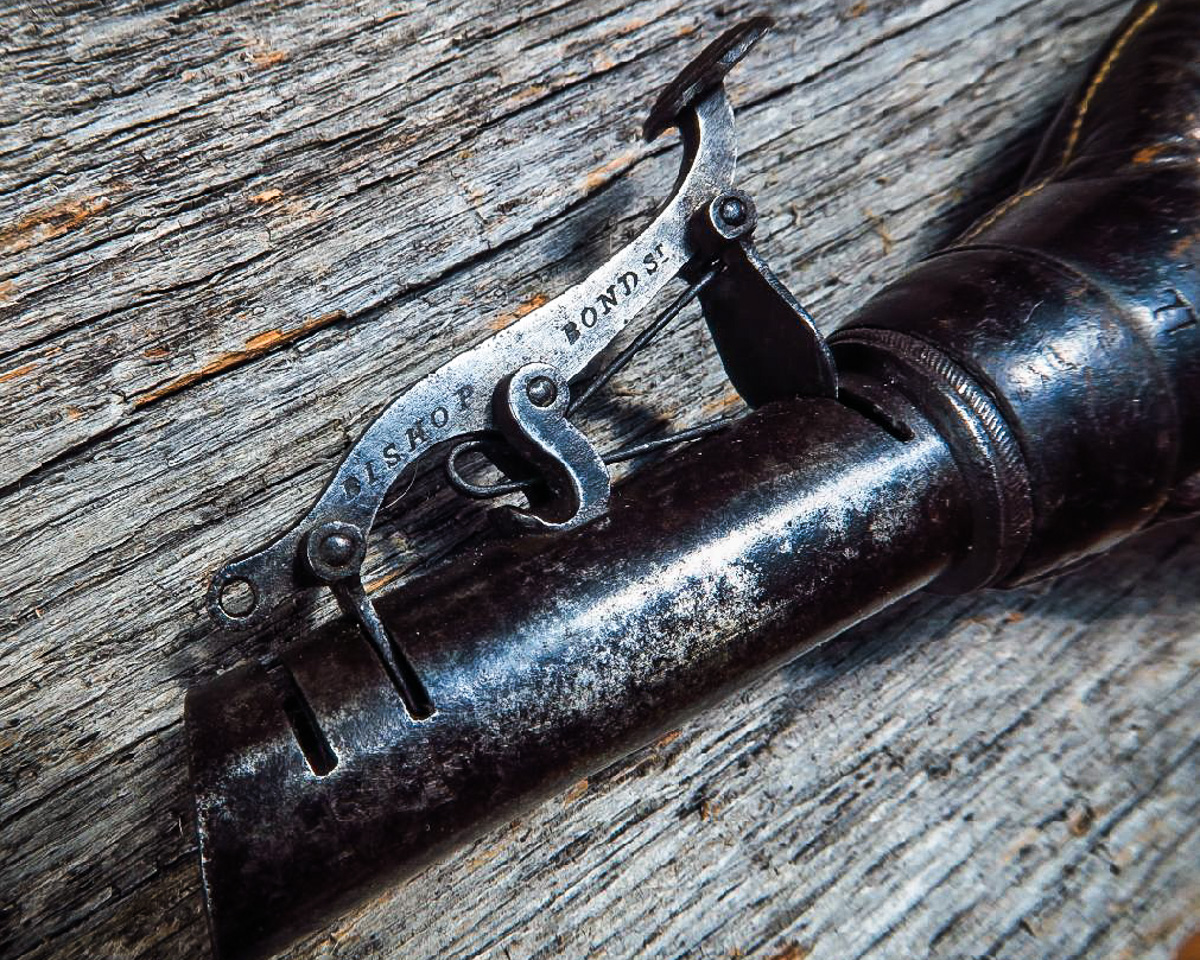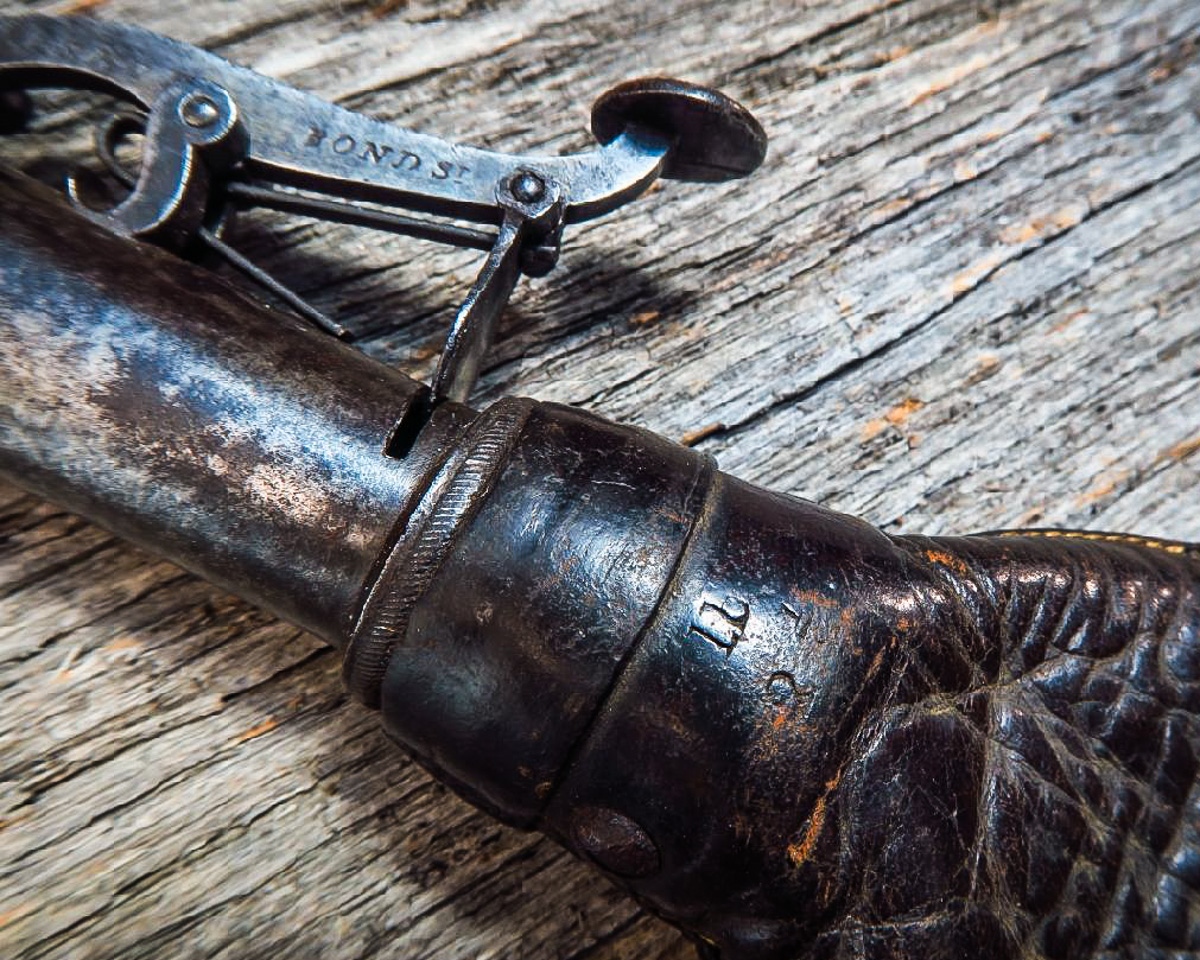 The flask is simple plain leather with a steel lever top, but obviously of fine quality and one that has had care beyond the norm. All of the stitching and leather are still in good pliable working order, including the ring at the bottom. These almost always fail after 150 years. It is shown in the photograph with an original swivel, spring snap on an original harness, keeping company with Westley Richards #9360, a best percussion lock 10 bore game gun circa 1850. (The serial number conflicts with later dates, but there is a significant duplication from the mid percussion era and the early 1900s in that range). I will carry the gun again this autumn, but this year it will be charged from the Bishop's flask. If one is afflicted with the romantic, it is pretty easy to see the Bishop in his top hat and white cuffs handing the gun to his customer and wrapping the flask in a packet of brown paper for the coach ride home.