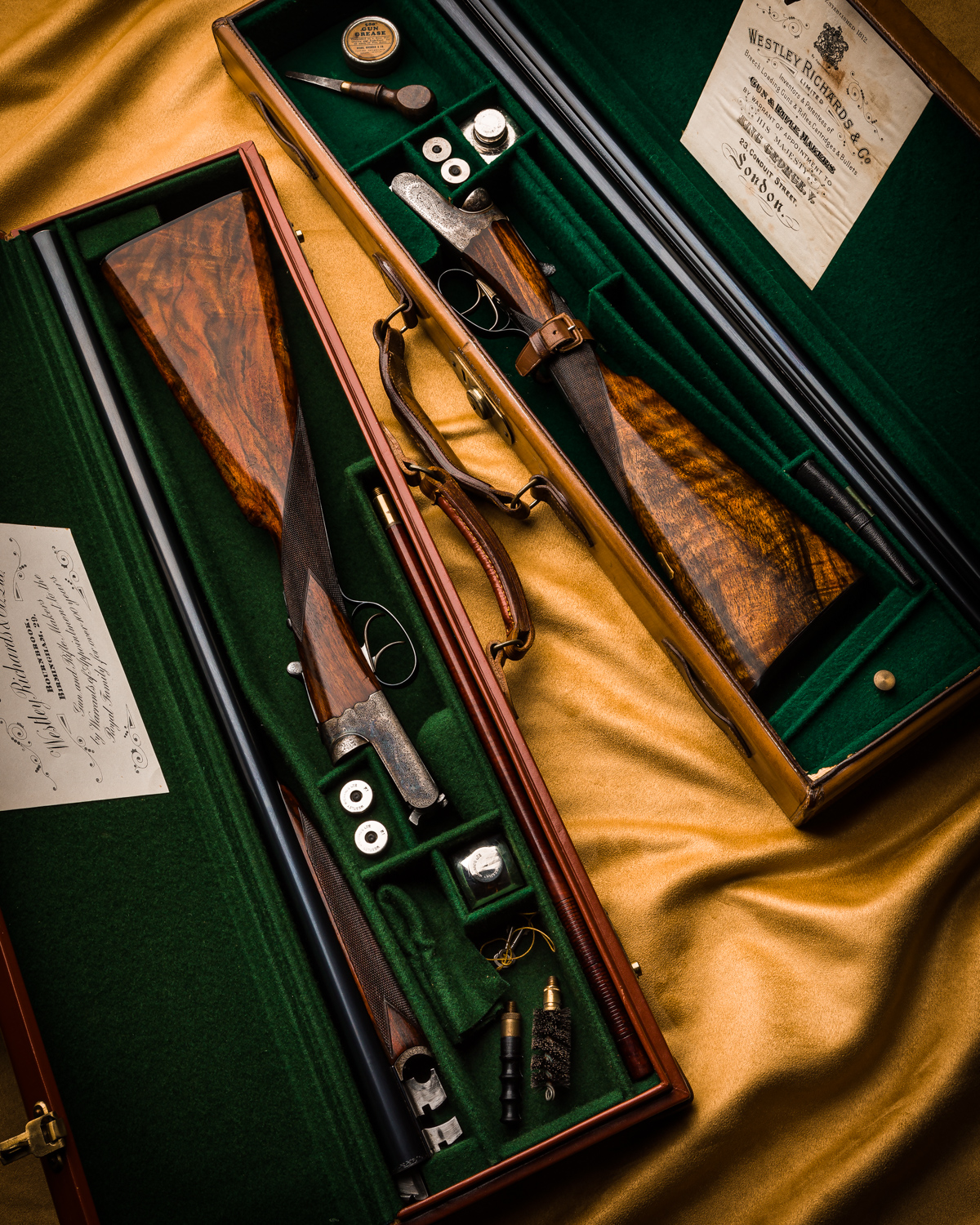 I did take some lovely long crossers with my gun but on a truly wild moor, when you may have only 20 yards vision in front of you and the grouse are coming straight down your throat, as they should do, with the speed that you are able to mount the gun and connect with your target, the lightweight side by side will always reign supreme, it's also a faster gun to exchange with your loader and for him to reload. I'm sure I would have taken many more birds out front than I did with my own gun, which of course is the true skill of grouse shooting. Even if grouse shooting is not your game, these guns fit perfectly for proper classic partridge shooting with hedge hopping coveys that flare over the line of guns, or are equally at home with walked up woodcock or quail hunting where speed is of the essence. Instinctive, quick mounting, snap shooting is often the most rewarding, and I would say, the purest form of shotgun shooting.
This fine pair of lightweight guns were built for a local family and have spent their entire life no more than 12 miles from the factory where they were made. The first gun was built in 1948 and was sold through our Bennetts Hill, Birmingham shop. Built on a scroll back action with our patent hand detachable locks, two triggers and all the usual WR features it remain in superb original condition. The 28" barrels have 2 ½" chambers and are choked ¼ in the right and full in the left. The highly figured stock measures 13 ¾" to the centre of the horn heel plate and is cast off for the right shoulder. The gun weighs 6lbs ½oz and is cased in the original case with our Bennetts Hill stamp.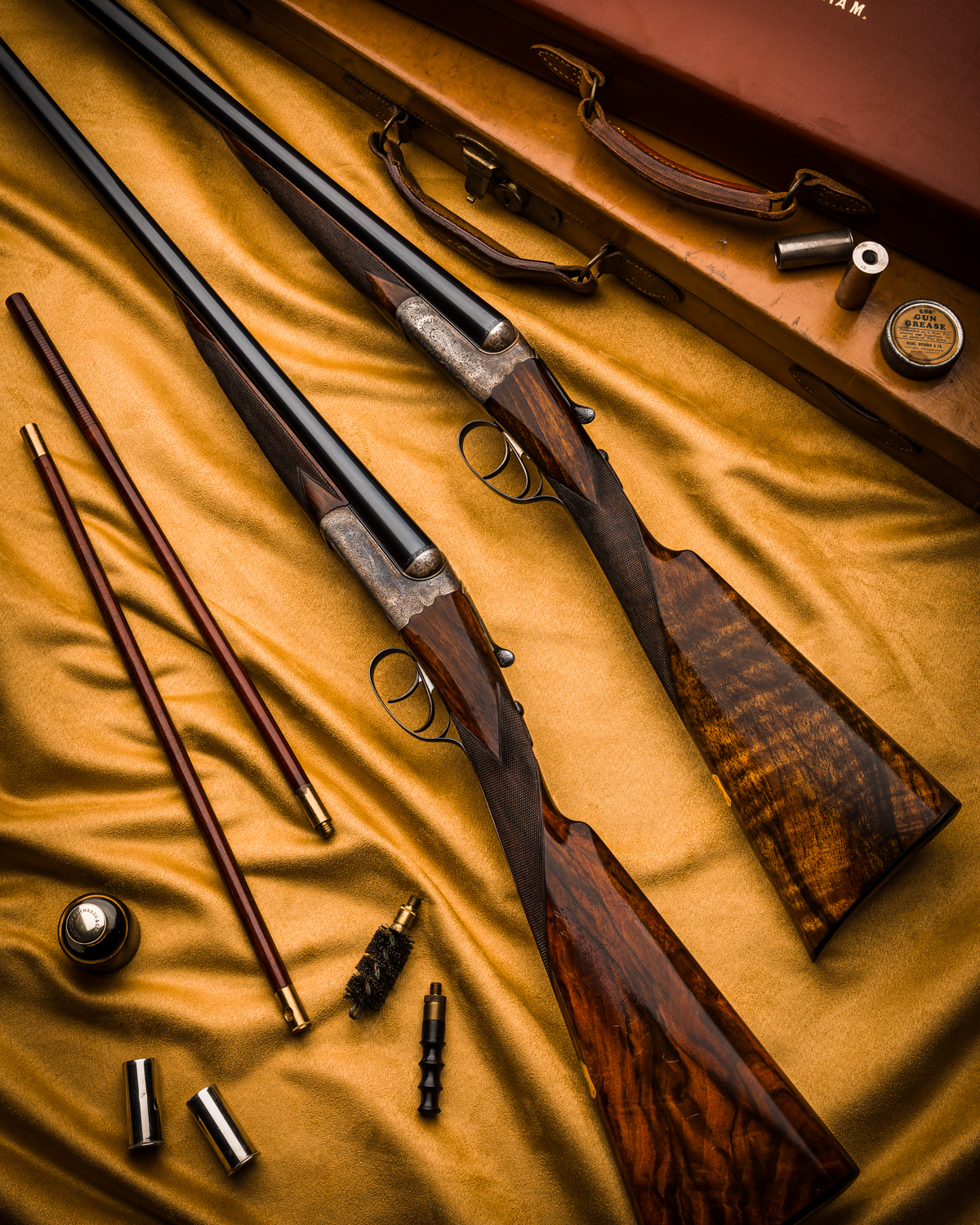 Top: 1st gun Bottom: 2nd gun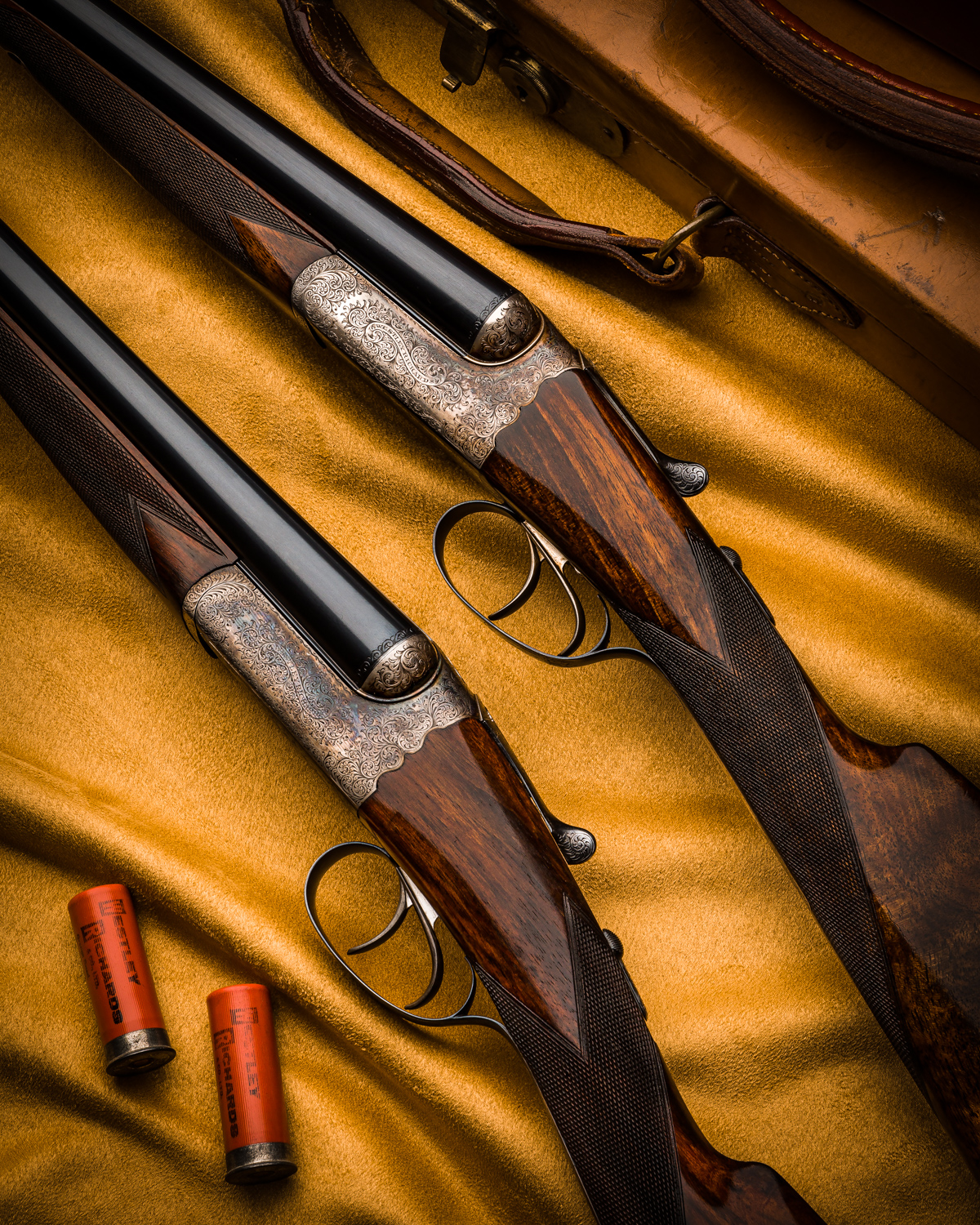 Top: 1st gun Bottom: 2nd gun
The second gun was completed in 1965 as a 21st birthday present for the current owner. The action and barrels were made to match the first gun, only the stock length is longer at 14 7/8" which makes this gun a few ounces heavier at 6lbs 3oz. Both guns have the same classic Westley scroll engraving with game birds on the trigger guards and equally retain some vivid case colours. The ribs are engraved 'WESTLEY RICHARDS 23 CONDUIT STREET LONDON. GUNMAKERS BY APPOINTMENT TO THE LATE KING GEORGE V'. Rather than gold numbered 1 & 2, in order to instantly tell them apart, the second gun has a three point gold star on the lever, rib and Deeley catch to match the owner's Mercedes badge!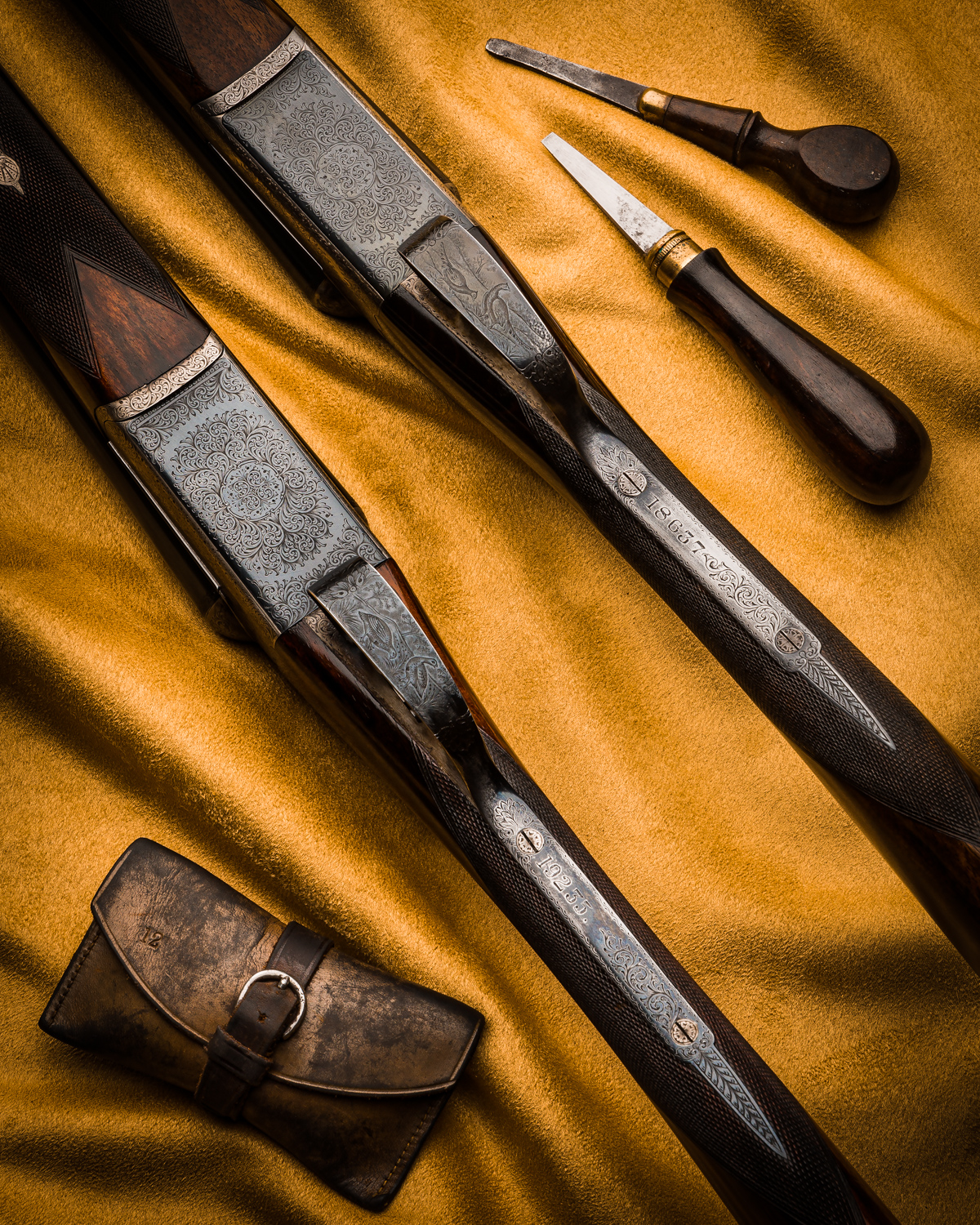 Top: 1st gun Bottom: 2nd gun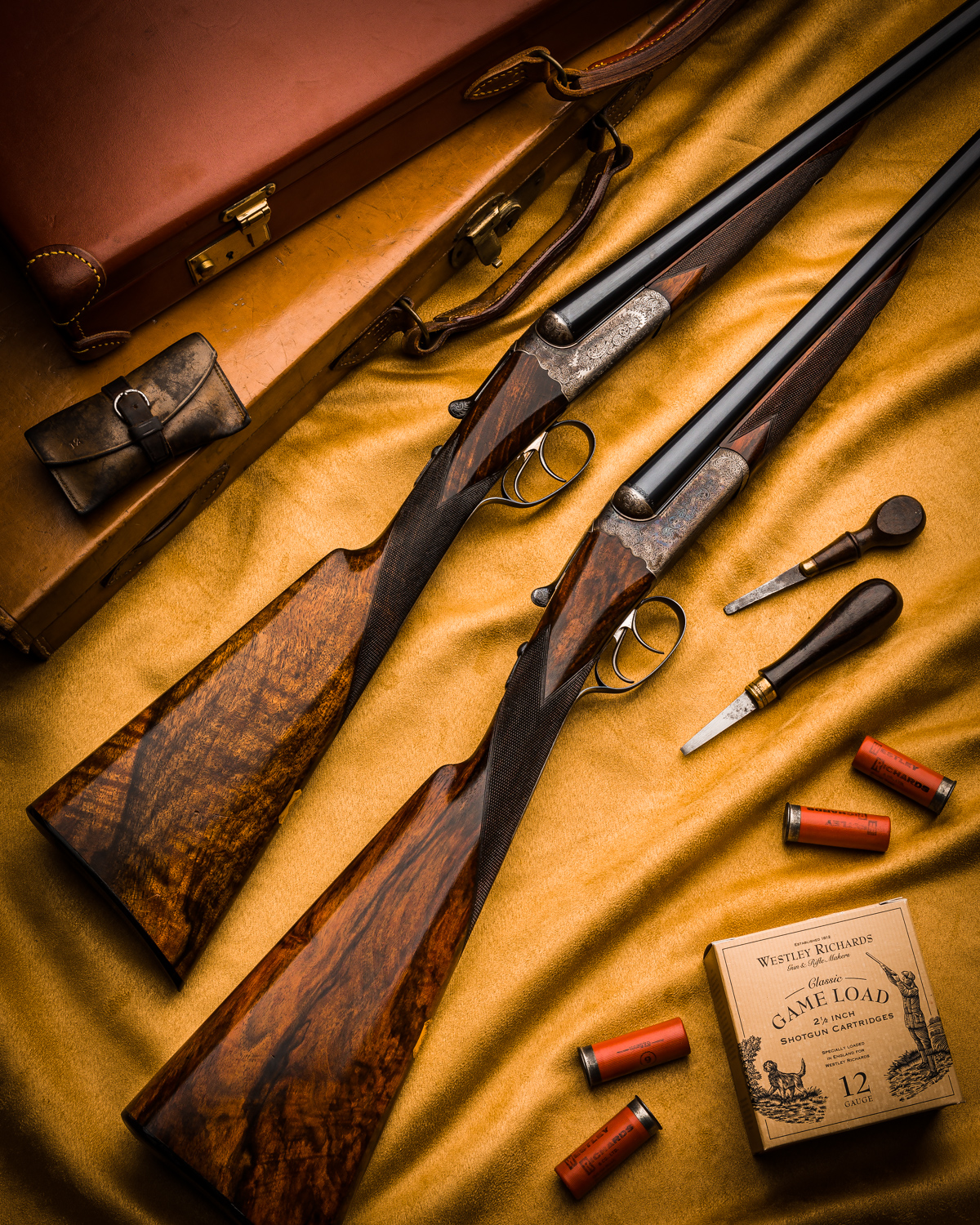 Top: 1st gun Bottom: 2nd gun
Both guns really are in fantastic condition for their age it's testament to the current owner's care and attention these guns have had. The guns are well in proof and have excellent wall thickness with plenty of life left in the barrels. The stocks have the usual handling marks but they are free from any structural damage. The time has come for the guns to find new homes and they can bought as a pair or split as they are cased individually and have different measurements. They would really make a great father and son pair of guns as they were built to be. They will be on the used gun site shortly but for any initial enquires please email me at ricky@westleyrichards.co.uk