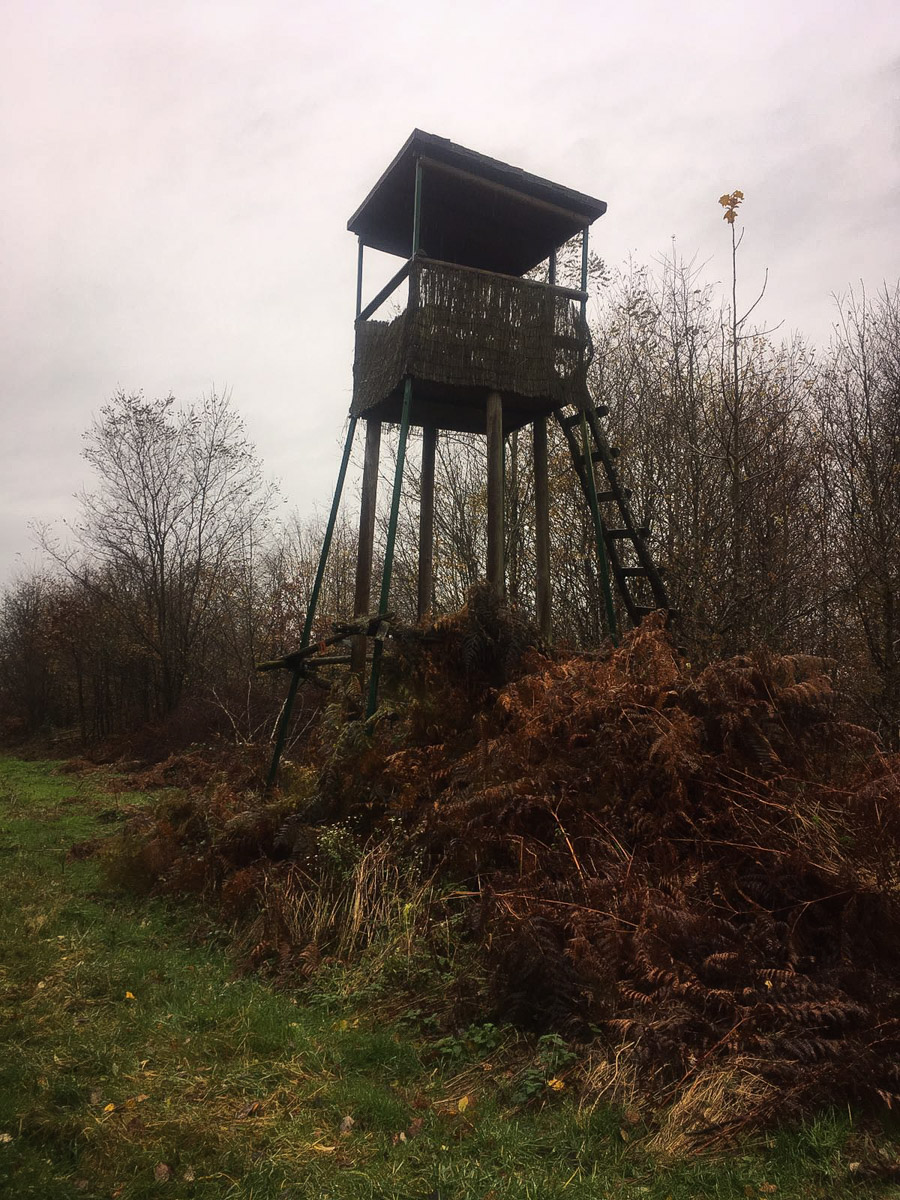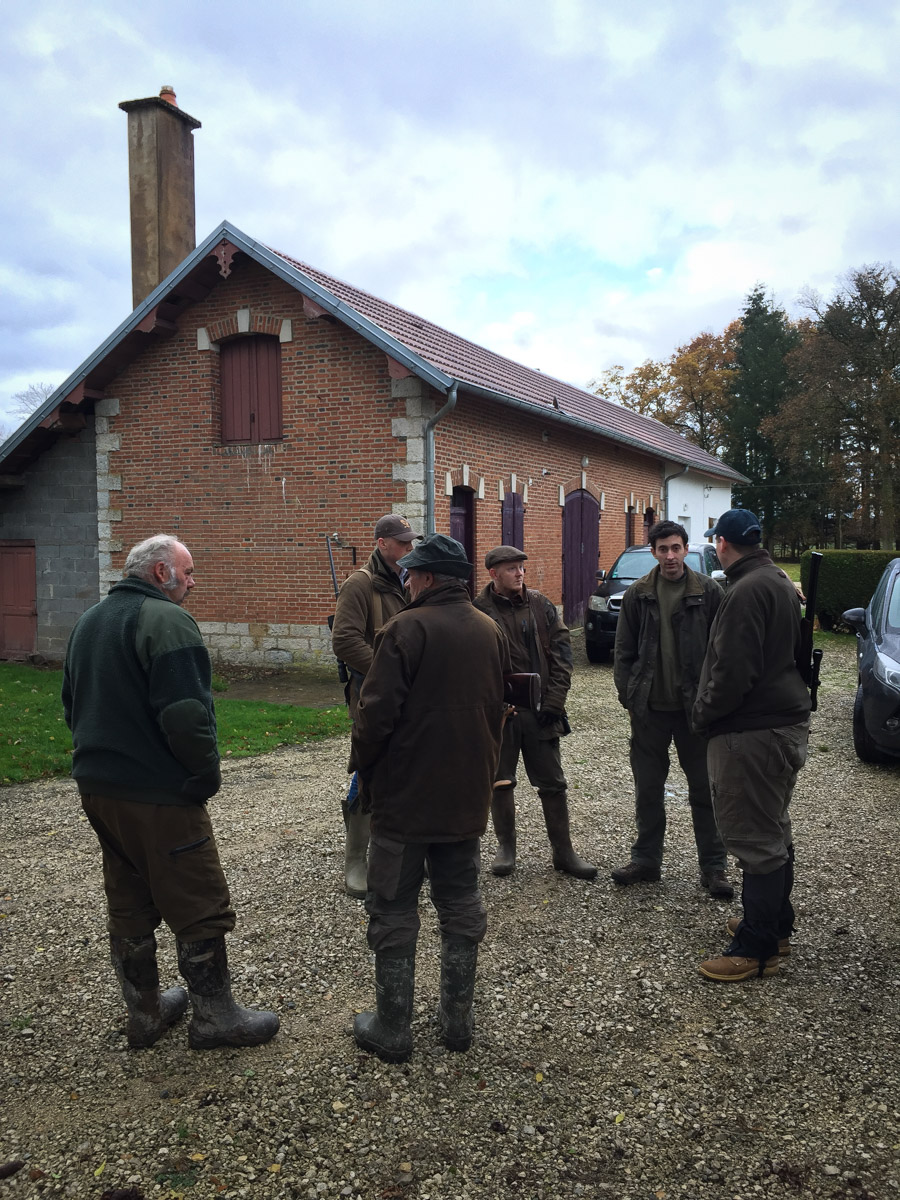 Safety briefing before the afternoon stalk.
As we were all completely new to shooting things on the run with a rifle and having had no previous experience of Wild Boar, the first day was spent stalking the hunting area on foot to get an idea of what game there was in the area as well as identifying what we were allowed to shoot. They have a strict policy on what size boar could be taken. Only females up to a size of 50kg could be shot, to conserve the larger, prime breeding females. Although large males were fair game too, our identification skills were not good enough to be able to determine the sex of the pig as it passed you at 30mph on a woodland ride no wider than a pickup truck, so we decided to stick to shooting the smaller ones.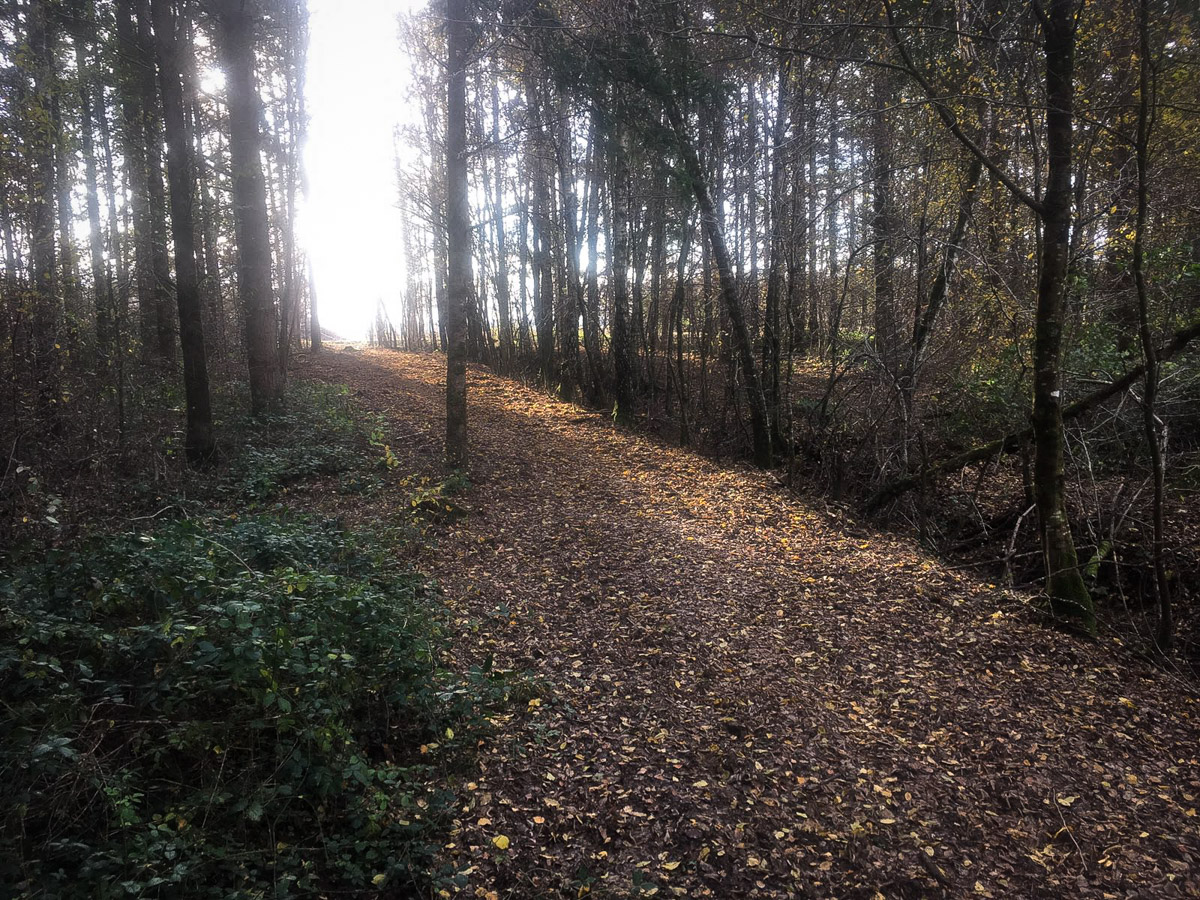 The hunting area was a fenced 250 acre block of mixed broadleaves, commercial spruce trees with some clearfell areas and tall grasses, with several strategically placed high seats to shoot from. We saw a good deal of pigs in the afternoon and had a few small 'practice' drives. A couple of the lads got some shots off but the pigs were too good for them on this occasion. The evening was feast of wild boar meats, locally produced cheeses and superb wines. The excitement was high for tomorrow and our first proper driven day.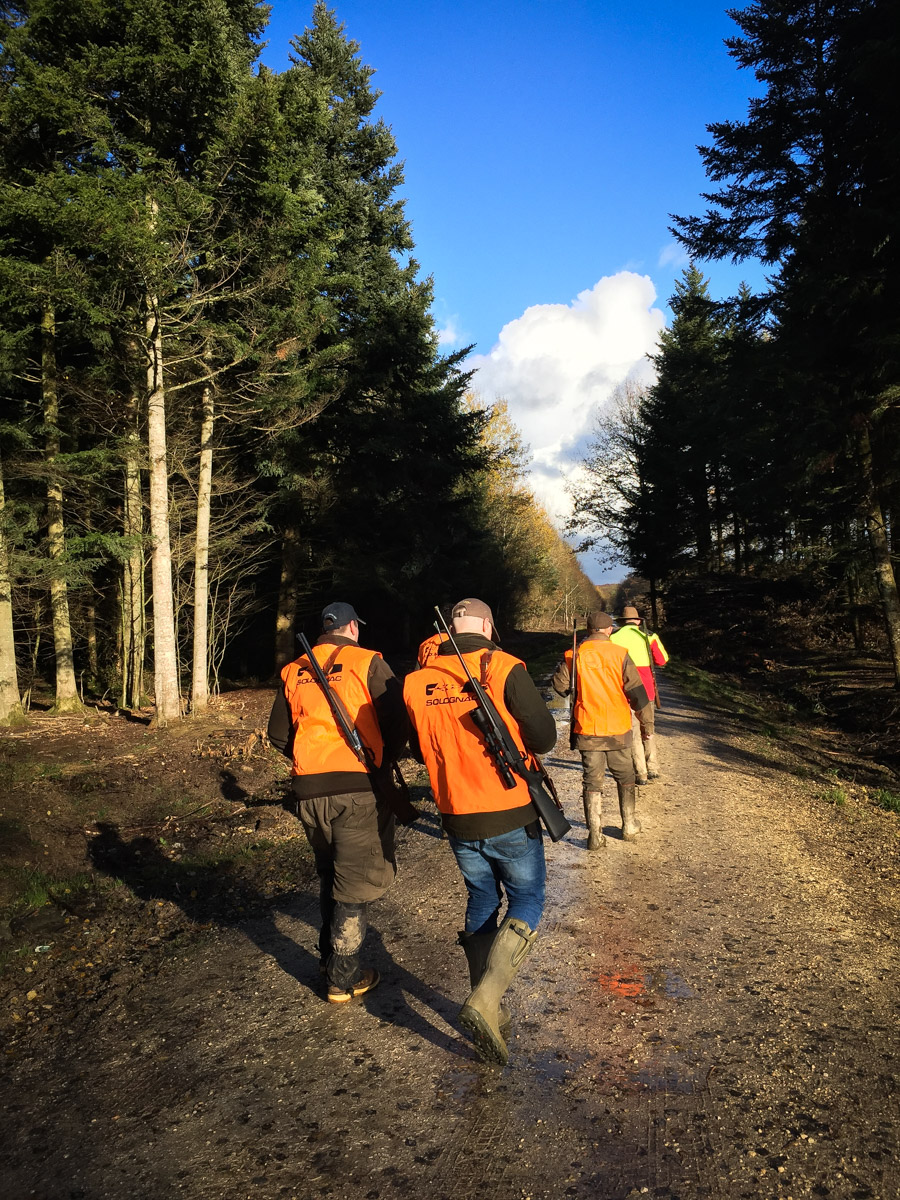 The guns heading to their pegs.
A cold but dry day greeted us and after a hearty breakfast we drew pegs and headed out for the first drive. Around 20 people were shooting and about 6 or so beaters with dogs, split into two teams, planned to keep the game moving through the drives. Having drawn peg one I was a little anxious I wouldn't see much as peg one, in pheasant shooting terms, tends to be the worst out of the bunch. This turned out not to be the case and fortunately for me right at the start of the drive one of the beater's dogs marked some boar around 50 yards from my peg. A beater ran over to me, shouted something in French which I could only guess was 'get ready' and they flushed a group of 20 boar, 15 of which headed down the wood towards the other guns and 5 came out past me onto the clearfell. Too far away at first but not wanting to be out in the open, the boar turned and headed back towards the cover of the wood. As they headed closer to my position, I measured them up through the scope and managed to take a nice 40kg male with my 6.5x55. Two of the beaters joined me to make sure the boar was retrieved and I was duly blooded and congratulated. A fantastic experience I shall never forget. The excitement of the drive continued with a volley of shots further down the wood, hoping it was my colleagues also joining in the action. There were plenty of game around with some larger females crossing the clearfell and the odd Roe deer and occasional fox passing by too quick to get a shot off. Just as I thought the drive had nearly ended, I decided to take a seat on a tree stump, no more than 5 minutes had passed when out of the corner of my eye I spotted another 40kg pig was headed straight for me, again trying to head back into the wood, on rising to my feet and aiming the rifle it took off at a rate of knots and I luckily managed to catch it up and shoot it before it made the thick cover.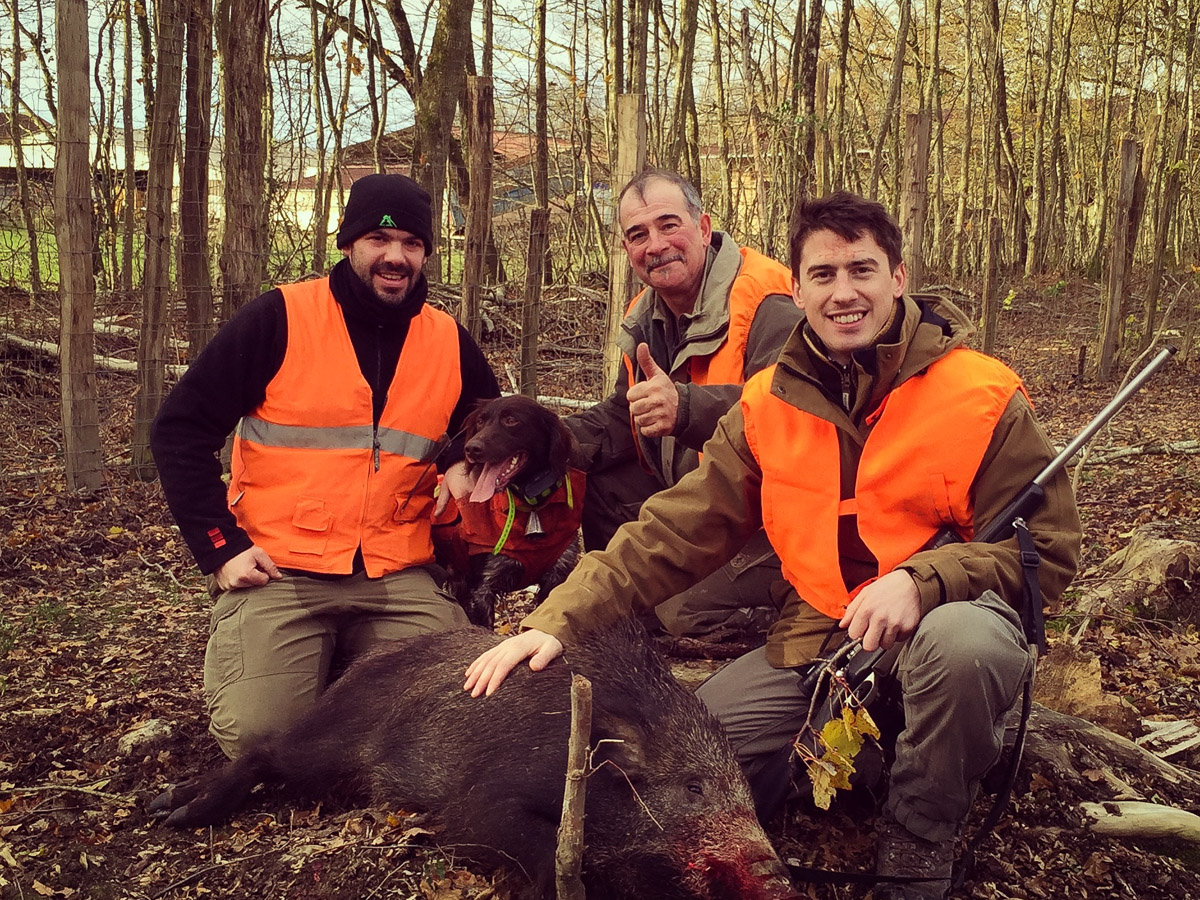 Congratulated by the beaters on taking my first wild boar.
Sadly my comrades had not had quite such good fortune, only Romain had shot one, although they had seen plenty of game, a suitable shot did not present itself. Such is hunting.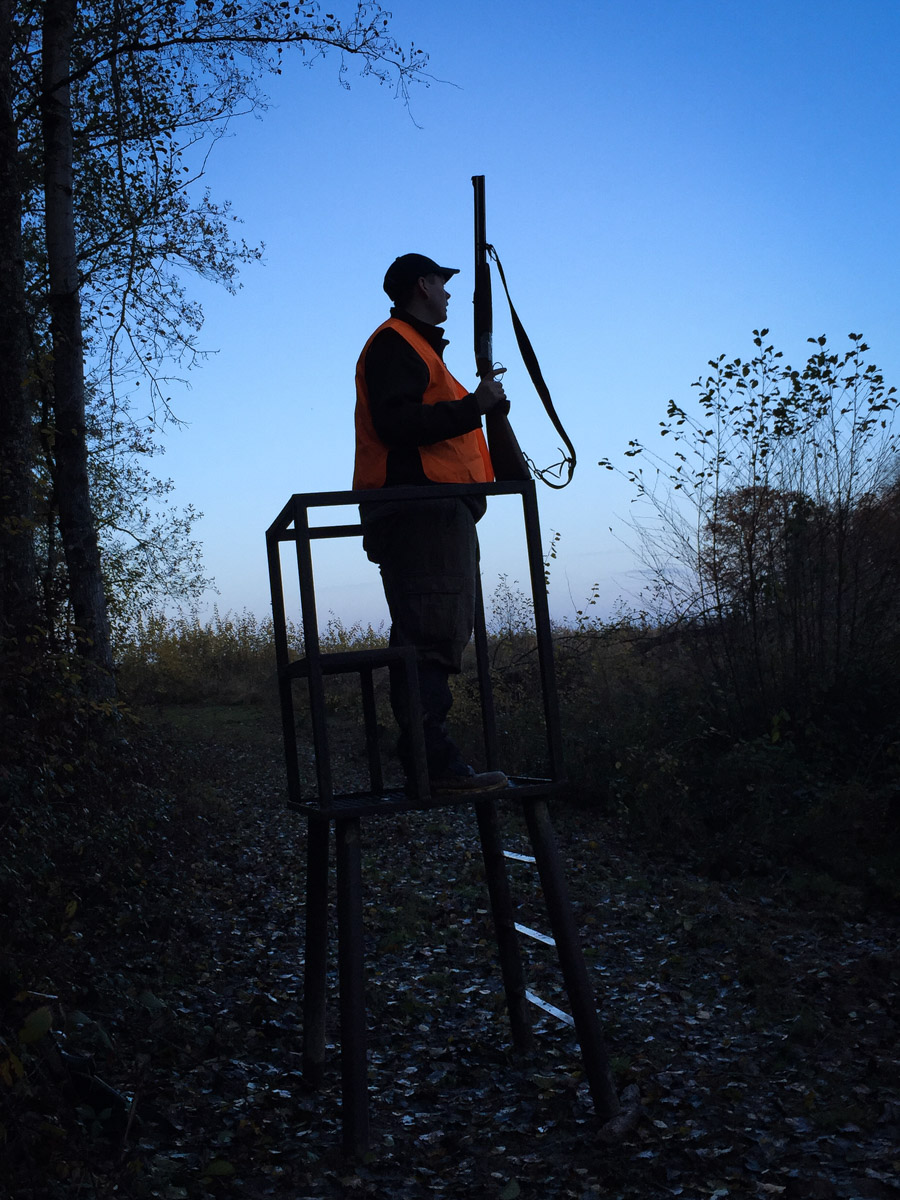 Stuart Richards keeping watch from his high seat.
After another fantastic feed we set out again and Romain and I decided to join the beating to line to see the action from the other end. After a few frantic hours following the dogs and flushing boar to the waiting guns, the day came to a close, not before Romain and I shared a nice, larger male boar. We met up for the final count and to exchange stories. Luckily Stuart had been successful and managed to bag himself a brace of boar from a large wooden highseat using his over & under double rifle also in 6.5x55. Total was 11 Wild Boar and a Roe deer.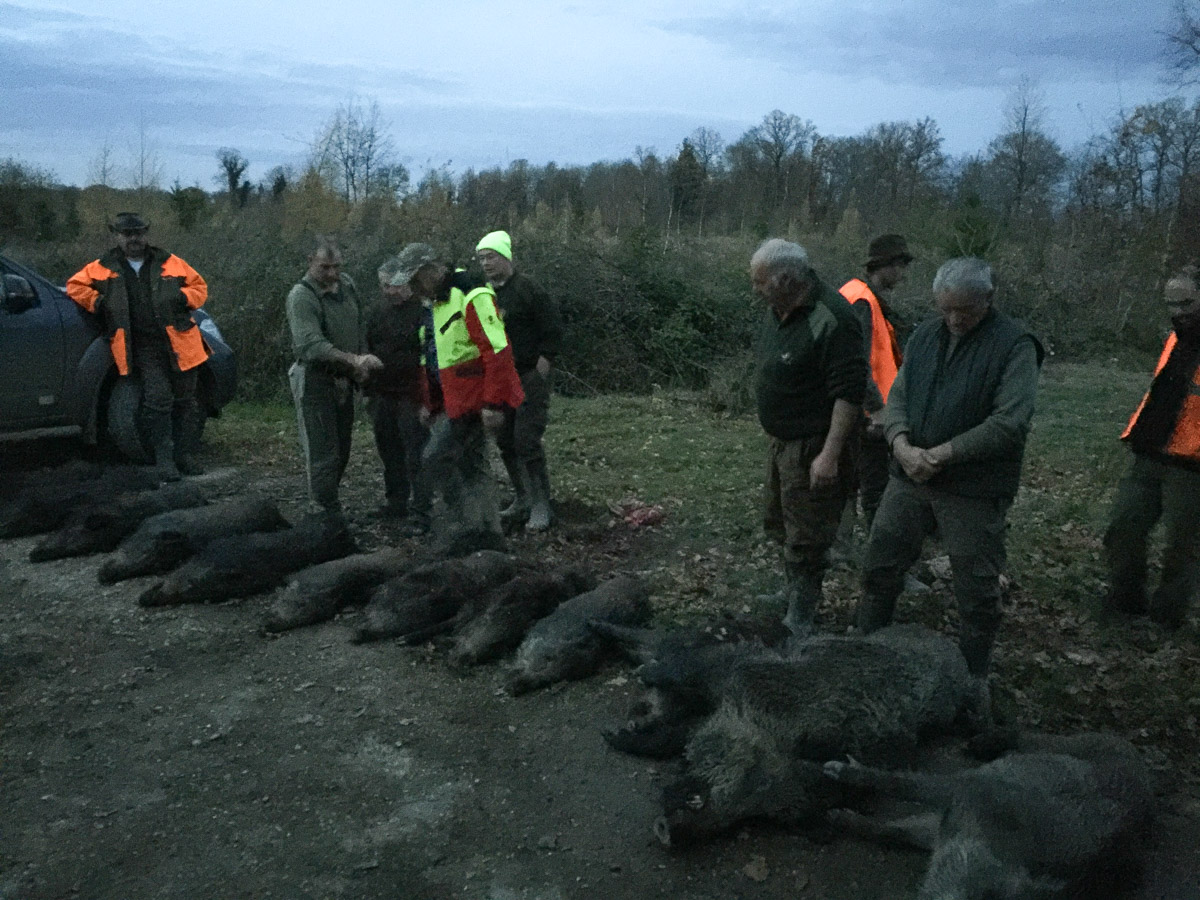 The final bag on the first day.
The next two days hunting were done in much larger blocks of unfenced mature broadleaf woodland, extending to several thousand acres, about an hour from where we hunted on the first day. Hopes were high after an amazing first day. Red deer and Sika were both present in the area and should a large stag present itself we had permission to shoot it, adding a new level of trepidation. Around 30 people in total each day joined the hunt which was made of up of French, English, Belgium and Portuguese nationalities.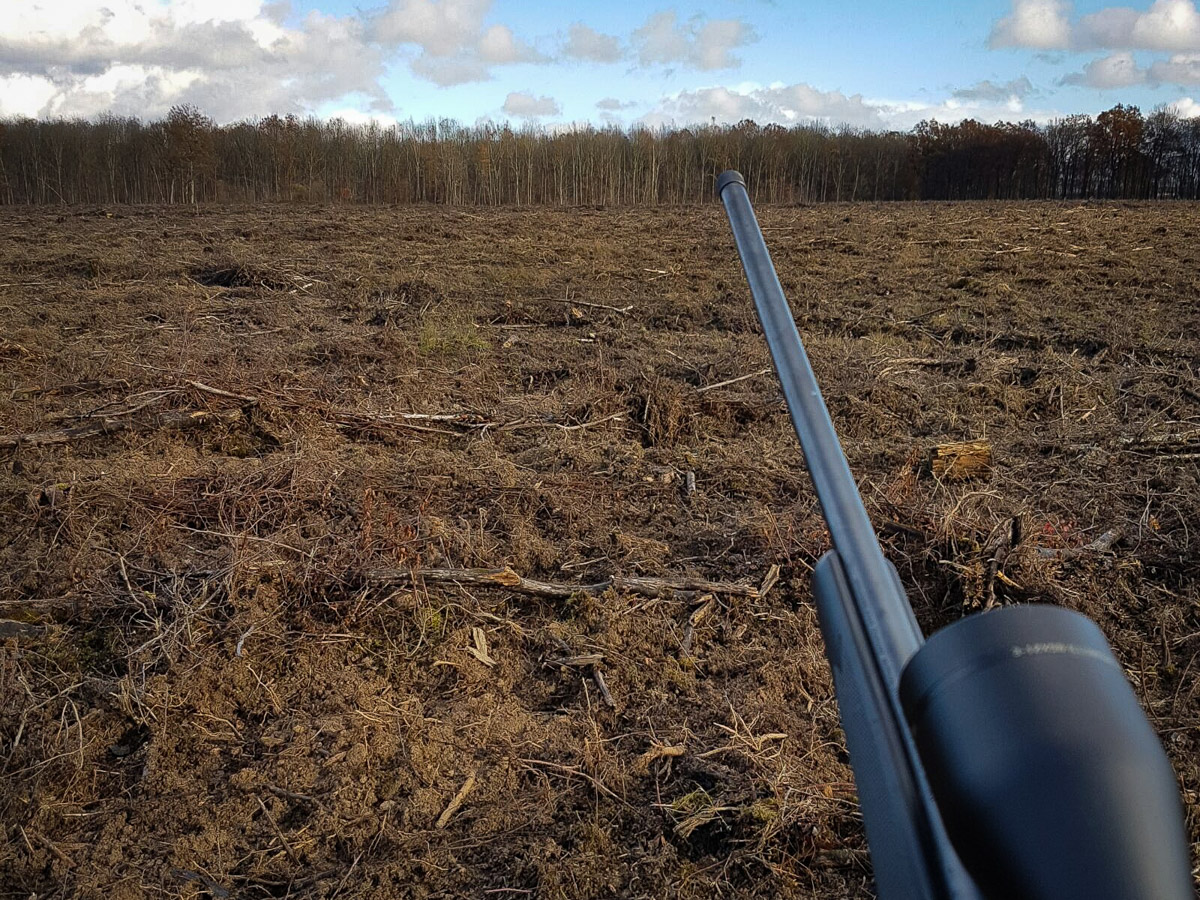 The view over a clearfell from a high seat.
Although we didn't see a huge amount of game passing our stands, by the noise of the dogs and sounds coming from the woods there certainly was a good number of boar in the drives, but like any game we hunt, they are totally unpredictable and knew all too well how to evade the hunters. Although the Westley team didn't shoot any boar in the larger hunting areas, a few of the local French hunters managed to take a few nice pigs and we shot a few equally challenging Roe Deer. The whole experience of the hunt and hospitality shown to us by our hosts and fellow hunters was superb and it was very special to be able to share their hunting heritage.
The excitement and anticipation of each drive is something none of us had experienced before and we're certainly hooked on driven rifle shooting, something which is pretty much absent from the UK. The lunch break chats are still full of our boar hunting tales but will soon turn to planning the next adventure.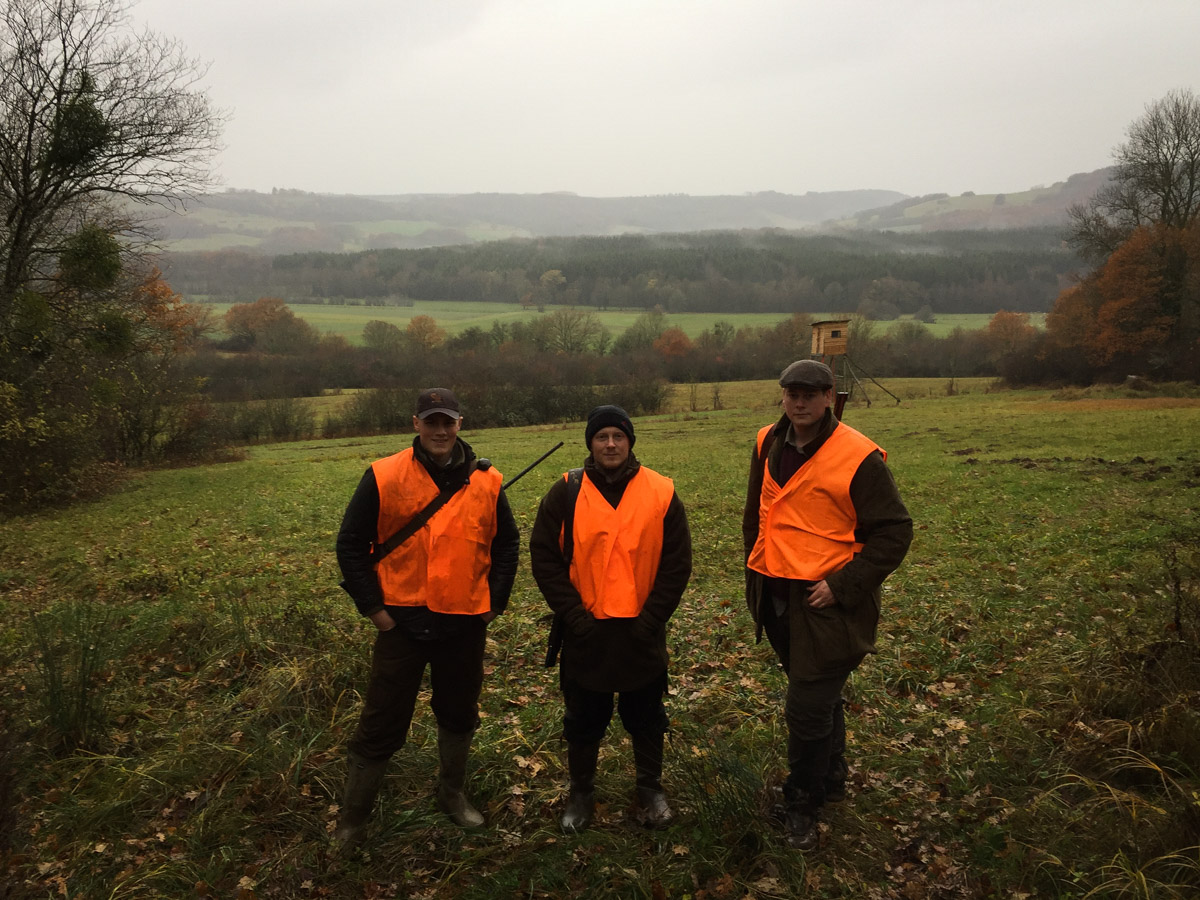 Westley Richards gunmakers Jason Morris, Sam Banner and Stuart Richards.