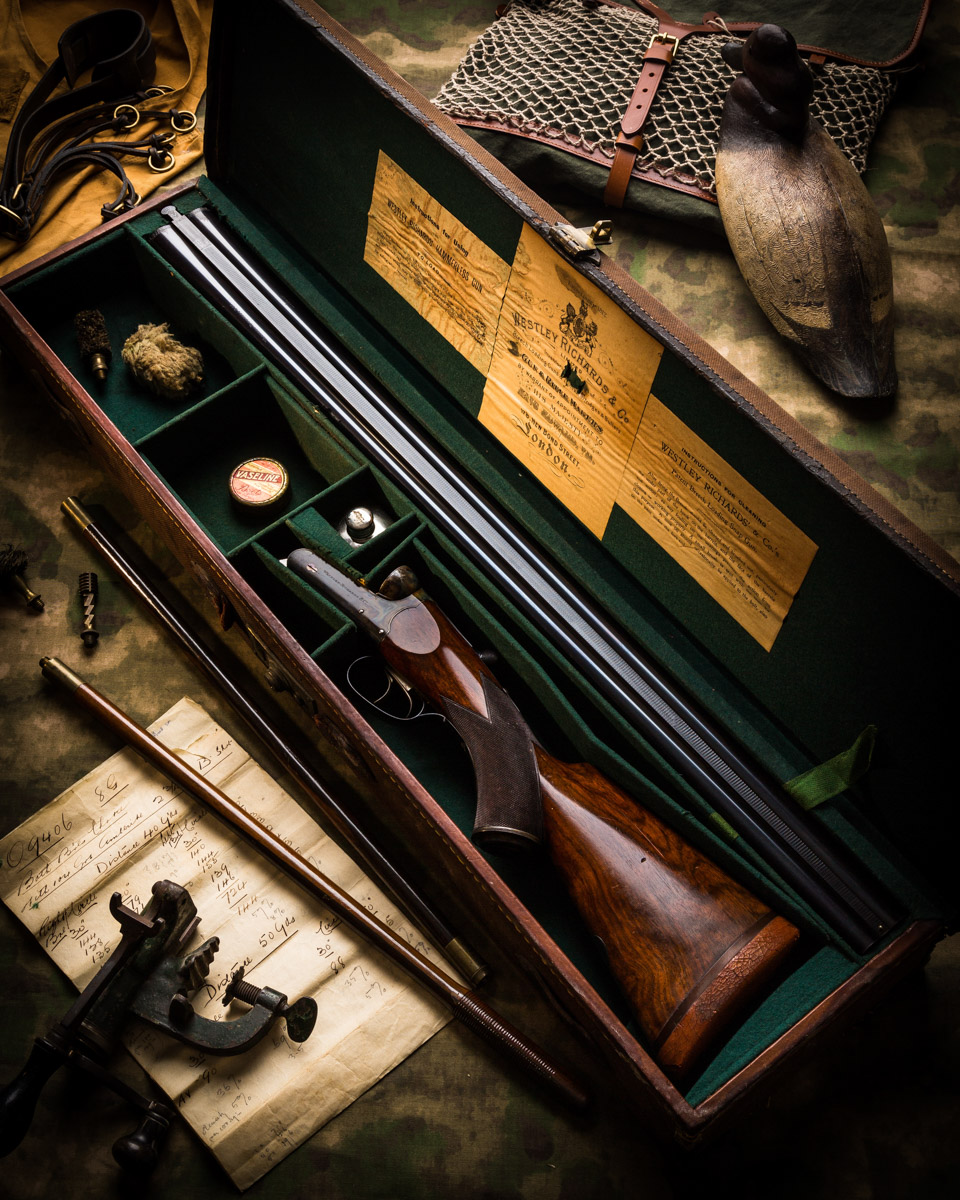 That idiomatic expression is a bit deceiving though, as the most recent gun I've found is nowhere near as delicate or dainty as a rose. Quite simply, it's a magnificent beast of a gun from an era that has long since passed.
In Westley Richards' landmark 1912 Centenary catalogue, there is a section devoted to Wildfowl Guns stating:
"The term Wildfowl Gun is very comprehensive. With regard to portable guns fired from the shoulder it includes the 12 bores taking the long cartridge, the 10 bores, 8 bores, and 4 bores…the three larger calibres here mentioned may be particularly regarded as suitable for killing the largest wildfowl, for these guns discharge considerably increased charges of both powder and shot, and so with large shot, the wild geese, ducks, etc. may be killed at the most extended ranges possible."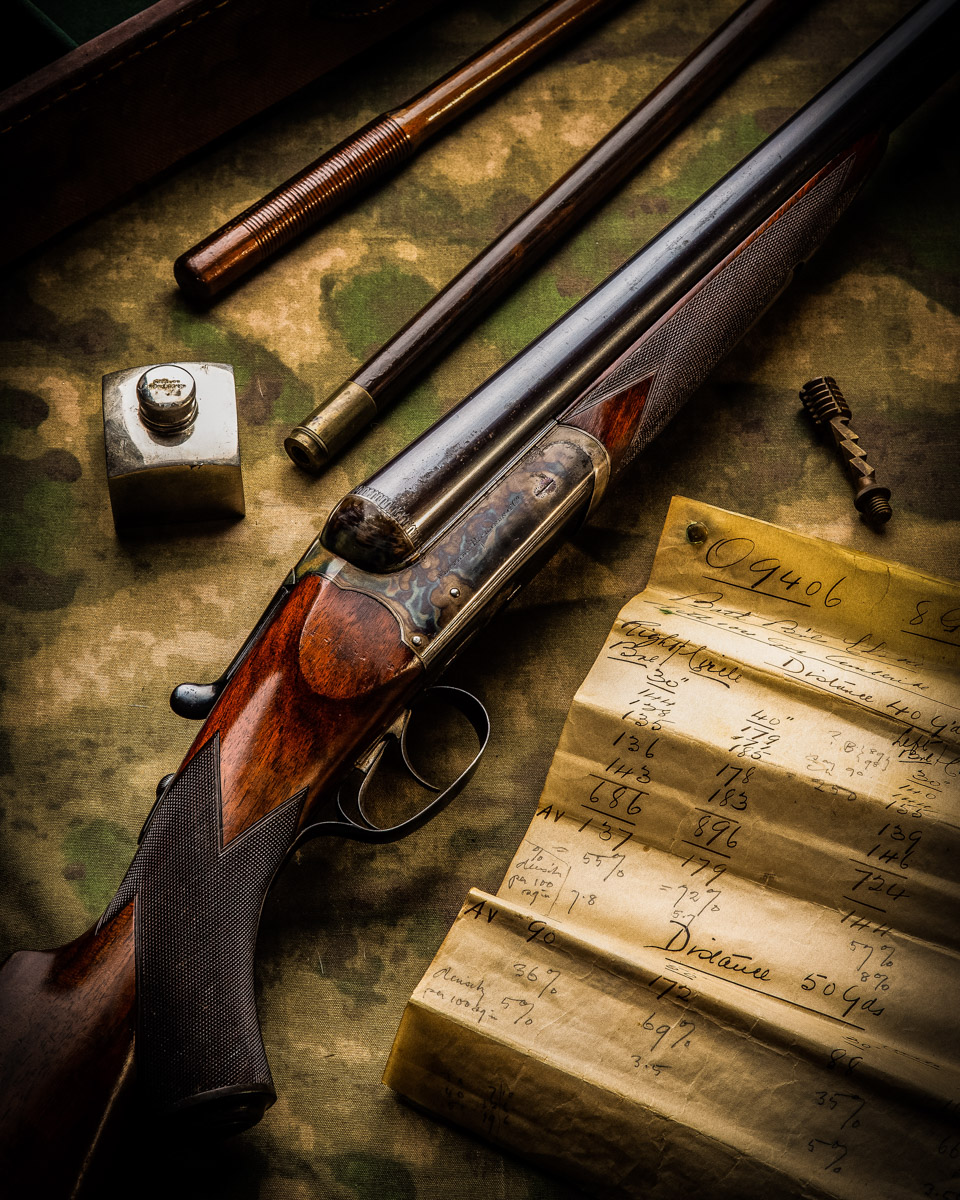 Original load data accompany's this amazing wildfowl gun.
To that measure, that is exactly what I have recently come across. This Westley Richards 8g A&D Fixed Lock was finished in 1909 and, just as the 1912 catalogue states, this gun is a "Double Hammerless Wildfowl Gun, in an 8 bore with a plain finish and anti-recoil heelplate" and these models were built on special order, to the customer's specifications.
Accompanying the gun are three pages, clipped together, of beautifully handwritten notes showing the guns serial number, gauge, load data and pattern results at different size circles and distances for three different shot sizes. No doubt factory notes recorded when the barrels were regulated. Looking back at the ledgers, the gun was "sold to" one F.W. Lanchester who would, no doubt, have to be one Frederick W. Lanchester (Oct. 23, 1868 – March 8, 1946) who was an English automotive engineer and founder of Lanchester Engine Company and The Lanchester Motor Company in Birmingham, England. Certainly, the type that would be obsessive with data from test results.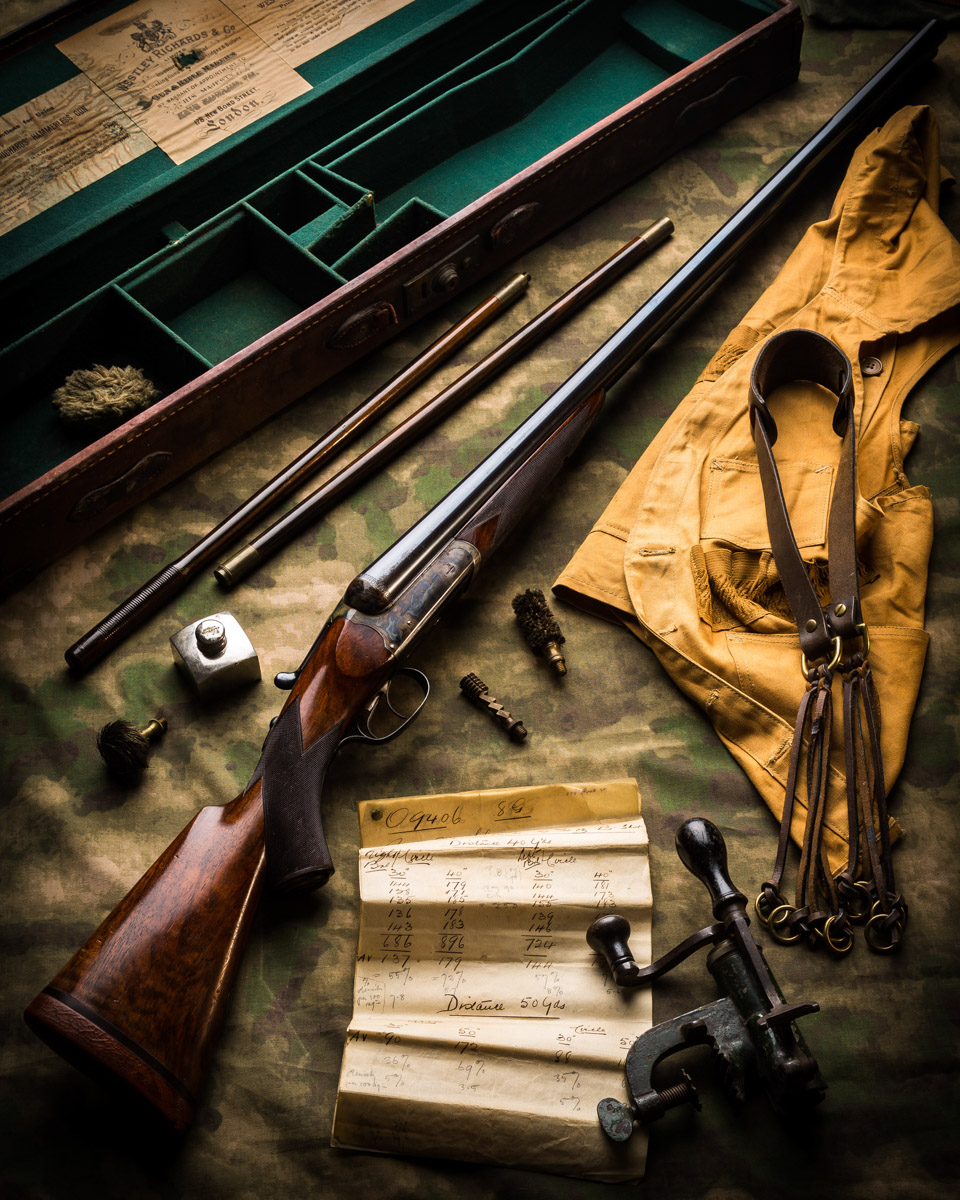 Condition is king and this gun has it all. One of the finest 8 bore guns we have ever seen.
Along with the paperwork the gun is complete in its original lightweight canvas case, with the original oil pot, two-piece rosewood cleaning rod (that is massive) and original mop, jag and brush
Weighing in at just under 14 pounds with 34" barrels and "extreme choke" in each barrel, this is a long range shotgun of note. A true Westley in every sense built on the venerable Anson & Deeley Fixed Lock action and fitted with the patent Model "C" doll's head bolting and snap lever work and an automatic "beetle" back safety. The gun was offered with ejectors, however, this is a non-ejector with two triggers. The gun stock has a Silver's type pad, a capped pistol grip with a full-length trigger guard and a splinter forend with a Deeley latch and horn forend tip. The gun displays almost all its original, and very vivid, color hardening, blacking, and stock finish down to the original anti-recoil heel plate.
The rarity of this gun is off the charts (Trigger and I know of only three other 8g WR guns) but the completeness of the package and the super high, original condition is something not often if ever, encountered in a vintage gun of any sort. But to consider that a gun like this was intended to be exposed to the harsh environments where waterfowl are hunted, it is nothing short of a miracle that this gun has remained, all these years, in such phenomenal shape. While the gun does show a few tell-tell signs of being 110 years old, don't we all wish we could age this gracefully?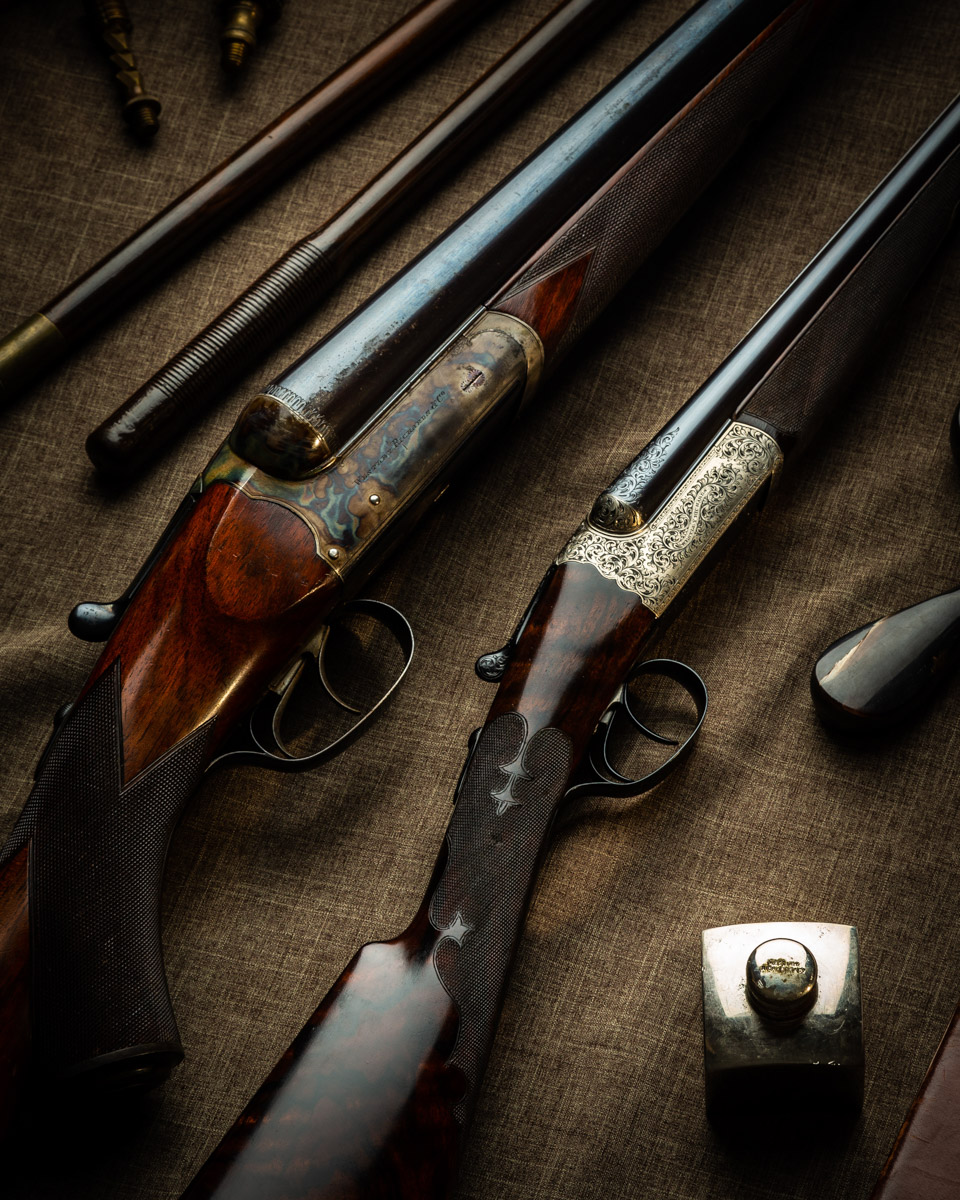 Set next to a .410 droplock the 8 bore is an impressive beast!