For some, like W.D.M. Bell, elephant hunting did indeed net them enough money to ensure a comfortable retirement, while others, like John Taylor, ended their lives in deep poverty, with nothing to show for their efforts but memories and stories.
Countless others did not survive their adventures and the colonial graveyards of East Africa are marked by the graves of hunters whose quarry, or the terrain and its countless perils, ensured they met an early demise.
When Henry Morton Stanley departed Zanzibar for Tanzania in 1871, his mode of transport was very European. He was riding a white horse and accompanied by a dog. Both were dead within days; victims of tsetse fly-borne infections.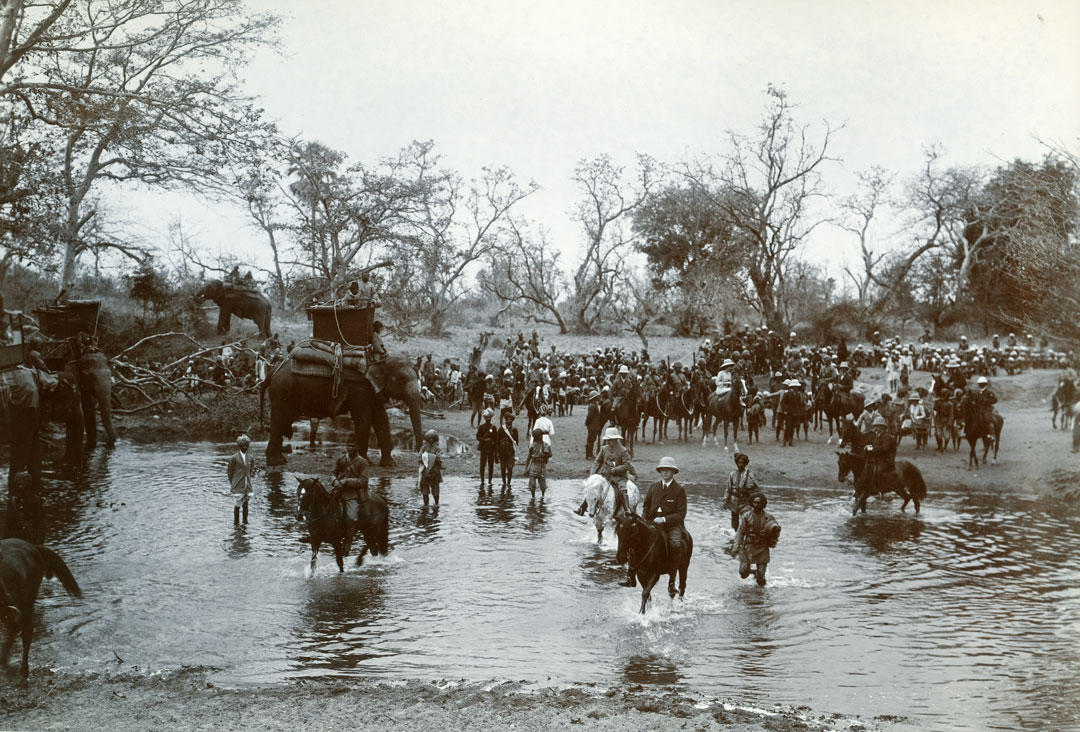 The problem with European animals was that they succumbed to African parasites too easily. So, Shanks's pony became the default method of safari transport, with legions of local porters accompanying the white hunter, laden with supplies and equipment and, later, carrying back the stockpiles of ivory harvested during the trip.
In time, locally bred horses, camels and mules, that were hardier than European breeds, were pressed into service, where terrain allowed. Ox-carts were also useful. However, due to the challenges of terrain, disease and predation, human transport was often the most efficient and some safaris numbered in the hundreds when setting out, though in the early days, it was not unusual for a much smaller number to return.
For many late 19th century sport-orientated safaris, the steam-boat and the steam-train offered a way into remote areas, as wider navigable routes were established.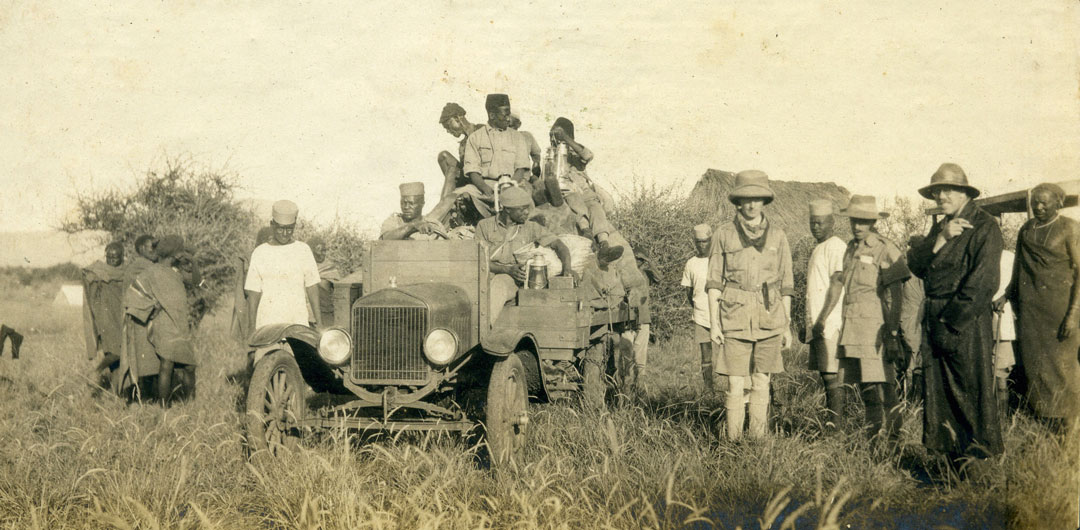 For the more adventurous, canoe travel enabled them to delve further into what Stanley had once dubbed 'The Dark Continent'. Even in 1909, when the former American President, Theodore Roosevelt arrived in Mombasa for a hunting safari, he found camel, train, steamer and horse the principal vehicles available. He still required a vast number of bare-foot local Africans to act as porters.
By the 1920s, motor vehicles began to make an impression. The first car to enter Kruger National Park did so in 1927 and thereafter the internal combustion engine made its presence felt all over Africa.
Photographs from the period show rather ordinary looking cars being driven in the African savannah, they had high ground clearance and often sported custom, coach-built bodies, designed to make them suited for rough surfaces and the stowage of equipment. Modified trucks were also used.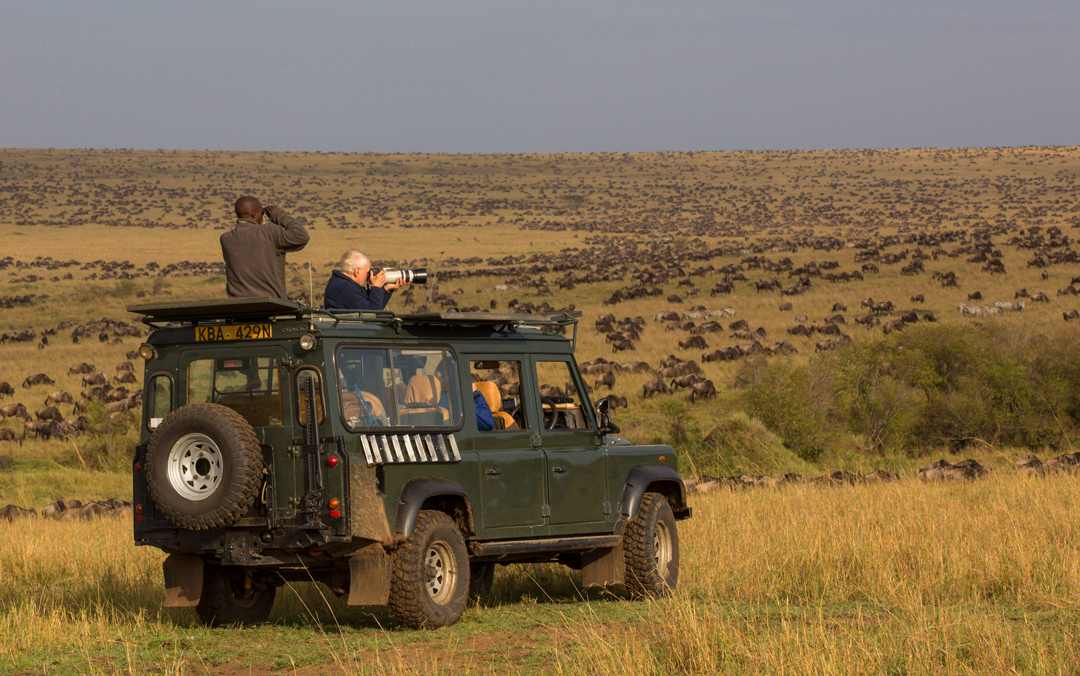 By the 1940s, Military vehicles, like the Willys 'Jeep' started to appear but it was the arrival of the first Land Rover in 1948 that established the trend for the next four decades and beyond; a period in which the Safari Land Rover became a universally-recognized staple in what remained of the old British Empire, even as the old colonies began to gain independence.
From the late '40s until its demise in 2016, the Land Rover, including the 'Defender' re-branded version of the original, held a romantic place in the hearts of nostalgic adventurers. Many safari companies, game departments and colonial government agencies used them as a staple for decades and the image became indelibly dyed into everyone's mental tapestry of the African safari.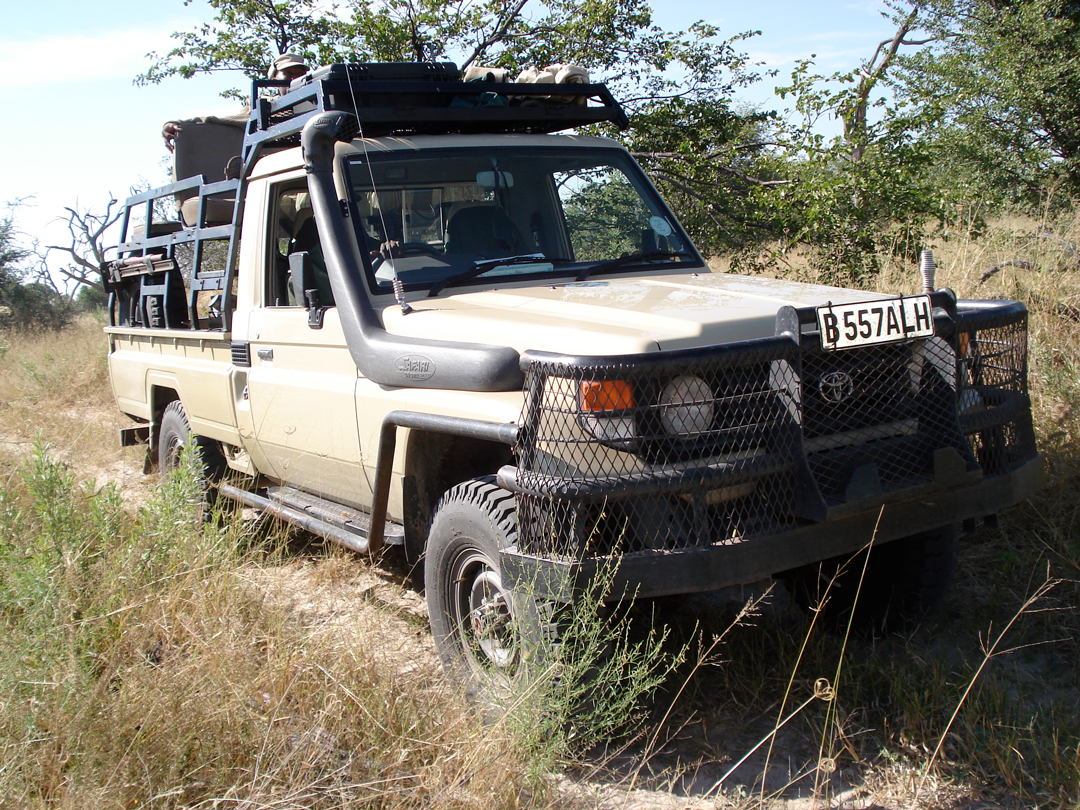 However, the vehicle of choice amongst most Professional hunting outfitters for the last thirty years is not a British classic, it is something Japanese. Specifically, it is a Toyota Land Cruiser, rather uncharitably referred to in some circles as a 'Land Rover recovery vehicle'.
Readers may now be imagining a modern, air-conditioned, plush, leather upholstered Land Cruiser of the type seen in every shopping mall car park from Houston to Huntingdon, but that would not be accurate.
The vehicle we actually encounter when we set out in the morning from a hunting camp in search of tracks is far more basic.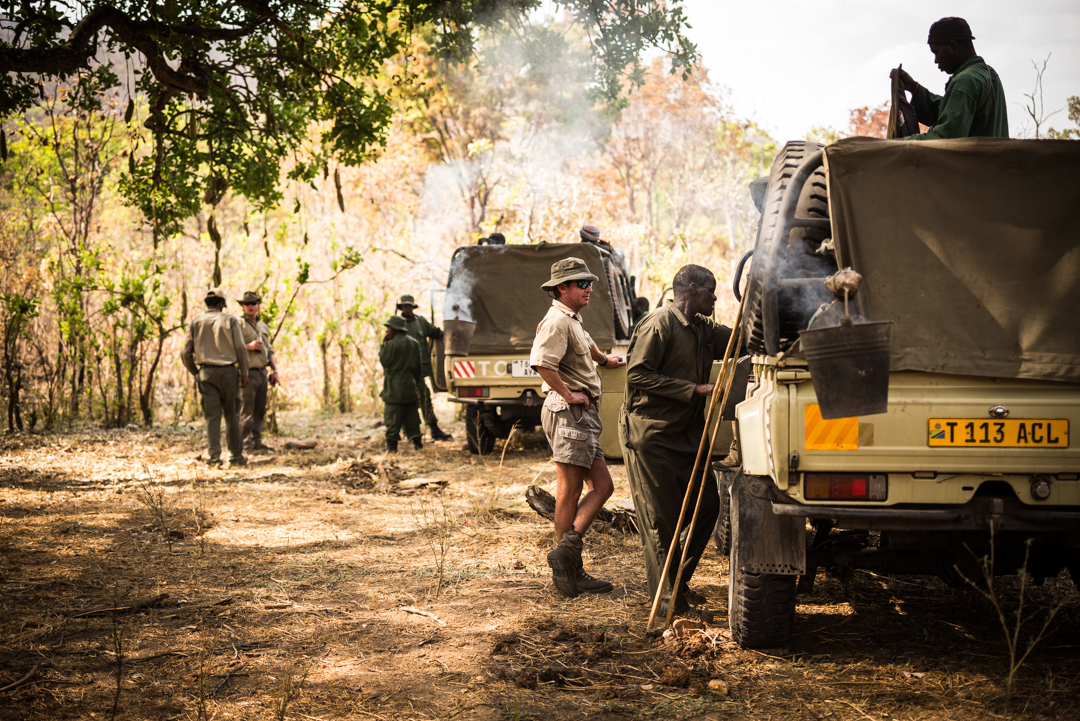 The Land Cruiser, like the Land Rover, was inspired by the Willys Jeep and the model specifically suited to an African hunting safari is the LC79. The base model is a single-cab, pick-up type vehicle but Safari outfitters generally modify them significantly for use in the bush.
The LC79 is a decent long-range cruiser on ceaselessly variable African road surfaces and it can also cope with crawling along, under a baking sun, in four-inches of sand, at under ten miles per hour, for an entire day without breaking down.
It has a 4-litre petrol or 4.2-litre diesel engine and 235mm ground clearance in standard form. Add to that a load capacity big enough and a chassis strong enough to carry an entire Cape buffalo and you have a vehicle that gives its owner that necessary sense of ease and confidence.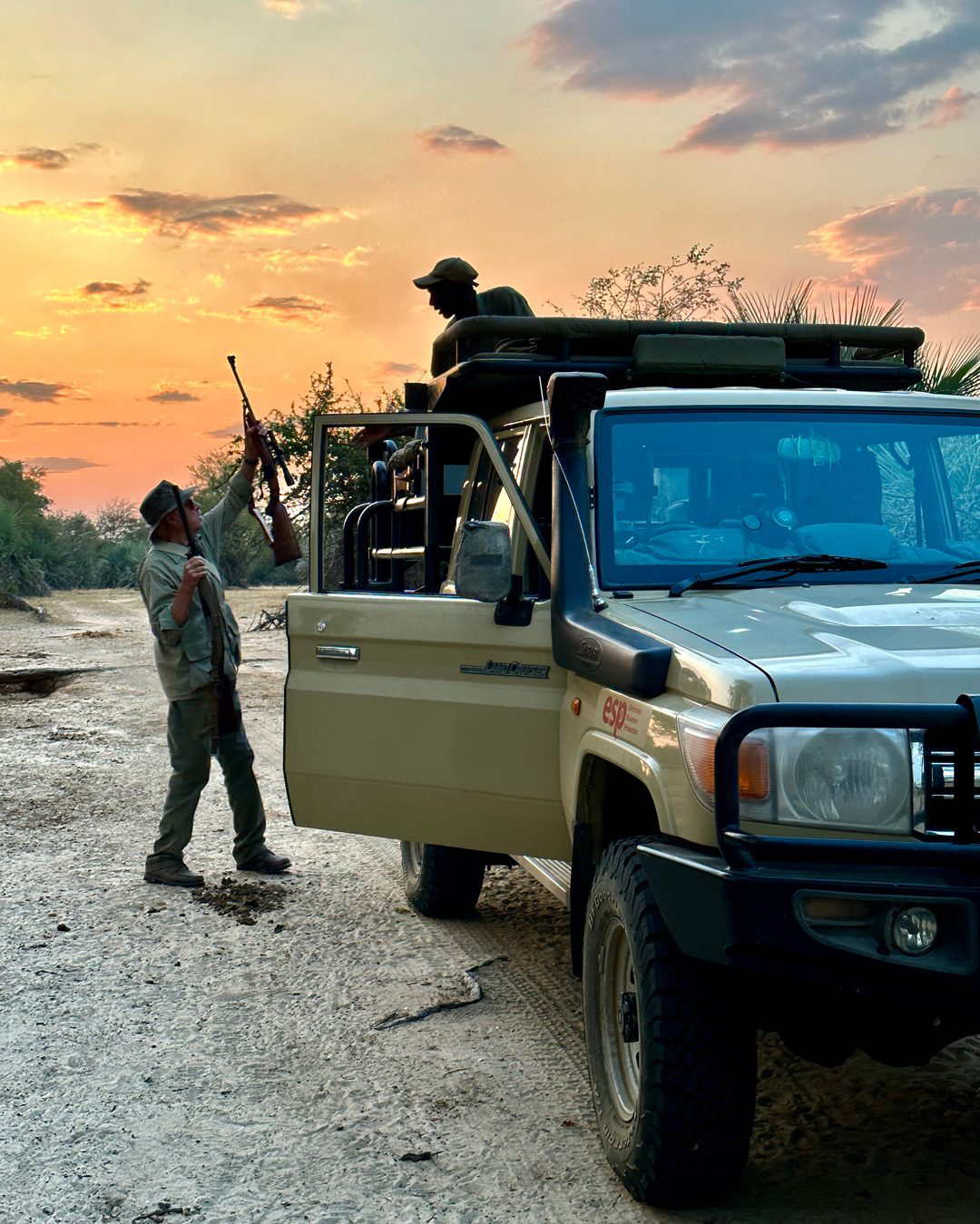 Essential kit to add during a safari customization is a heavy-duty bumper and hefty winch. A grill modification catches seeds and dust, preventing them from clogging the radiator and up-graded leaf spring suspension, which is less sophisticated than modern shock absorbers but tougher and less prone to damage.
Other conveniences, like gun racks, refrigerator, tool-box and up-graded LED lighting are also often part of the build. Just like in the old days of custom-coach building, these base vehicles are transformed into specialist operators: each reflecting the needs and outlook of the owner.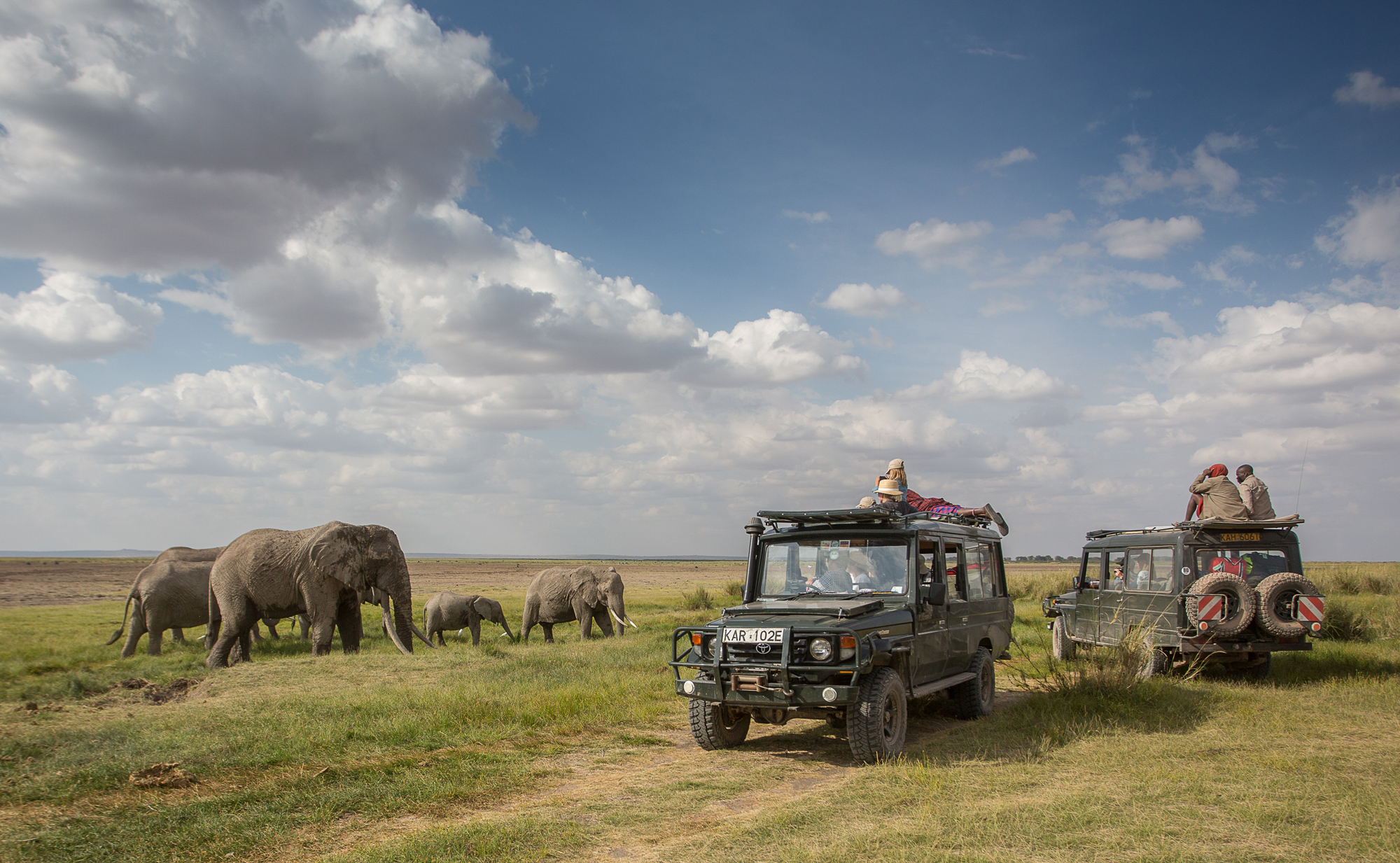 The LC79 is the latest of the 70-series Land Cruisers, which first emerged on the market in 1984. The 79 was introduced in 1999 as the pick-up version.
We are currently being prepared for the launch of an upgraded model in 2023, as the older ones fail to meet various emission and safety regulations in the US and Europe.
In its stripped-down form, the LC79 is reminiscent of an original Range Rover from the 1970s, with hose-down interior and intended for a hard, working life. The difference is that the Toyota is actually robust and reliable. When you are miles from civilization in unforgiving country, reliability and durability are what matter most.
That is why the Toyota LC79 is still the King of the Jungle in 2023.