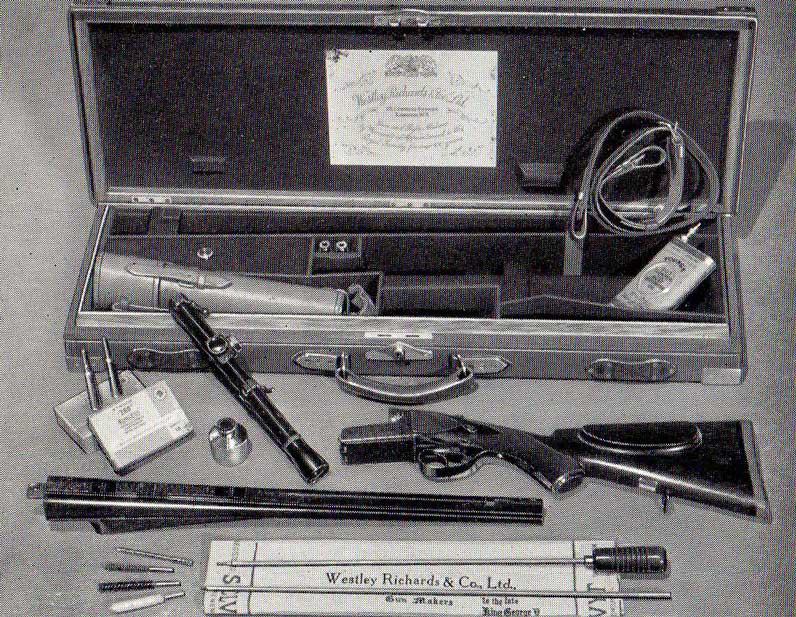 The photograph from the 1949 Catalogue
Back in 1992 I was called by an elderly gentleman from Maine, who had just taken retirement at the age of about 70. He called to order a 30-06 hand detachable lock rifle and told me the rifle he wanted was exactly as illustrated in our 1949 catalogue, which he had had since the early '50's. He wanted the same look, the same case, telescope and accessories, all exactly as in the photograph which he would post to me that afternoon. The gentleman told me that he had dreamed of having this rifle all his working life, had saved accordingly into his retirement fund in order to treat himself, once he reached that time in life, which was now!
It was a great pleasure to build this rifle for someone who had waited such a long time and we built it in 'quick time', having been requested "I am  not in quite as good health as I expected to be at this time, so could you hurry it along please?"
About 18 months later he flew to England with his best friend, another keen hunter, in order to collect the rifle. Ken Halbert and I remember the visit well, the gentleman was frail by that time and we were nervous when he asked to shoot the rifle on the range. We worried initially about him holding the weight and then the effect of recoil perhaps causing the beats to stop! To our surprise he shot away with absolute accuracy and no problems, clearly enjoying pulling the trigger again and again on a rifle he had waited so many years to use.