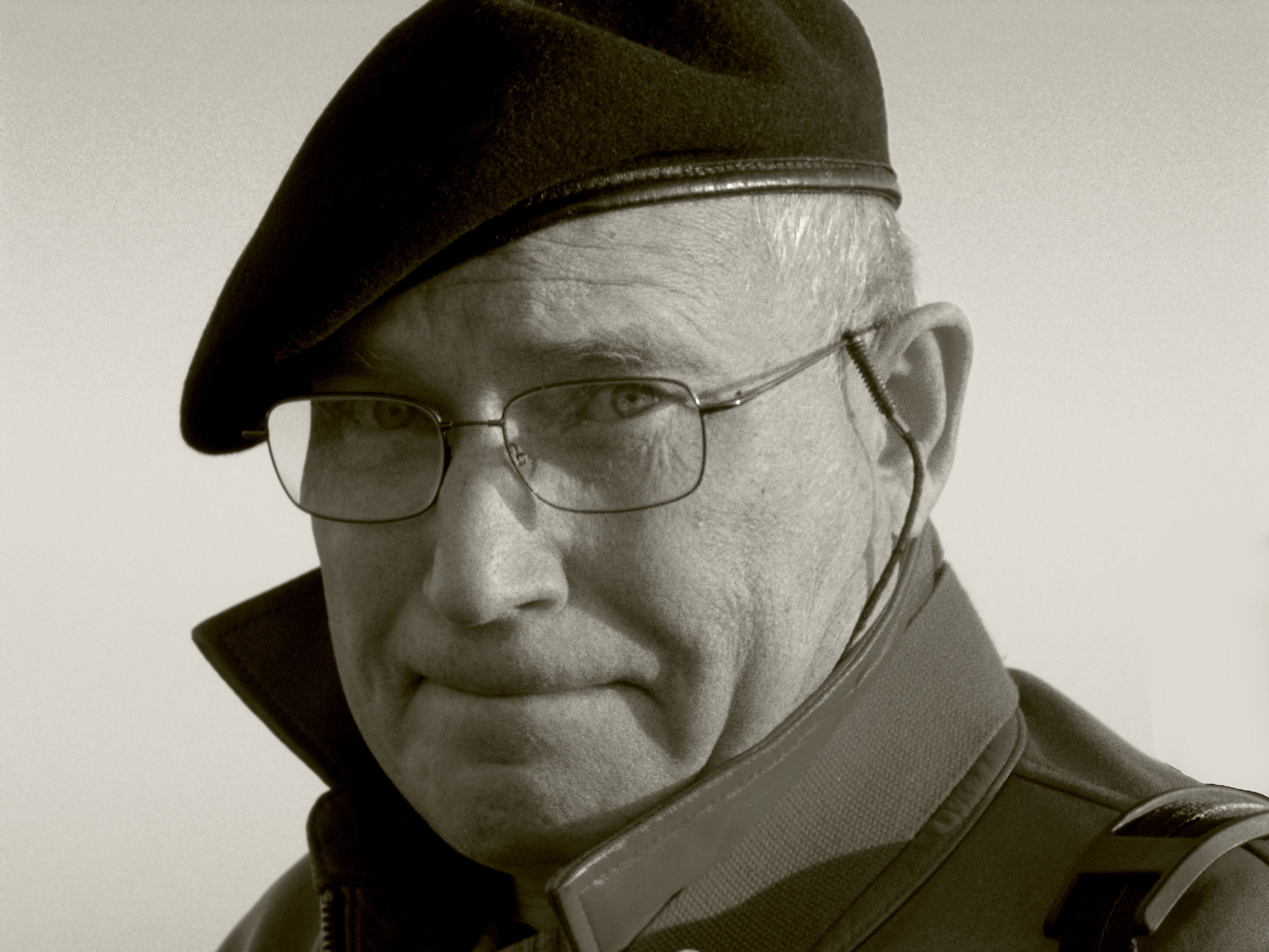 On our return to England I immediately got in touch with Paul and discussed with him the possibility of sending some work to him to engrave. At the time I had nothing concrete in mind to engrave but there was no doubt  that something very special could be achieved by our working together with Paul. As an introduction, Paul sent me a body of his work on a DVD. This contained a cross section of his life's work and achievements, engravings, designs, drawings, paintings and jewellery.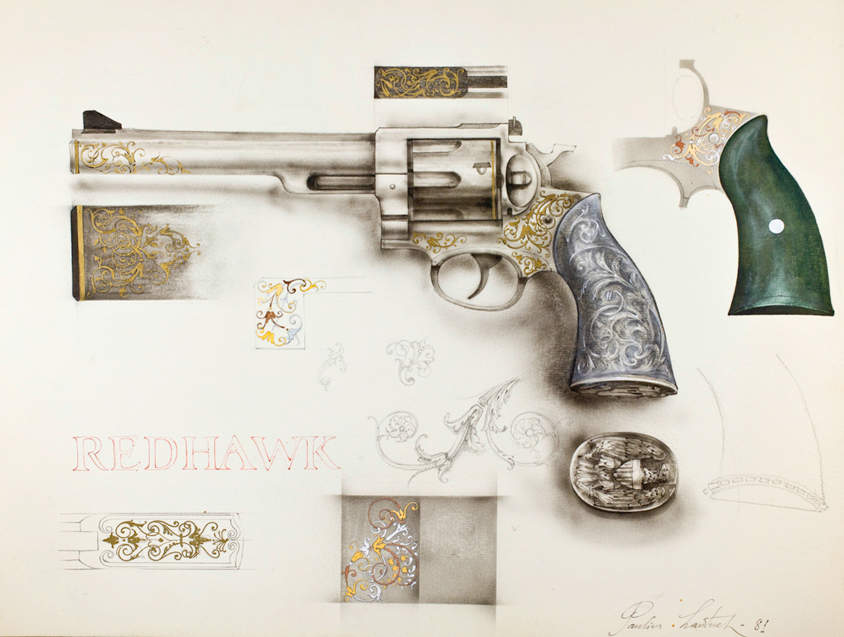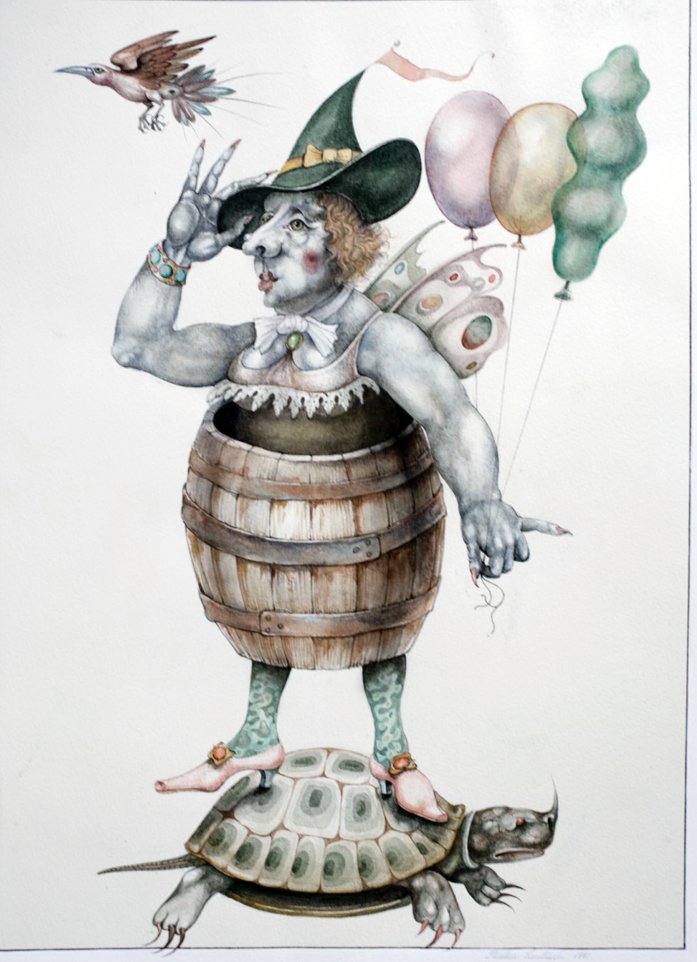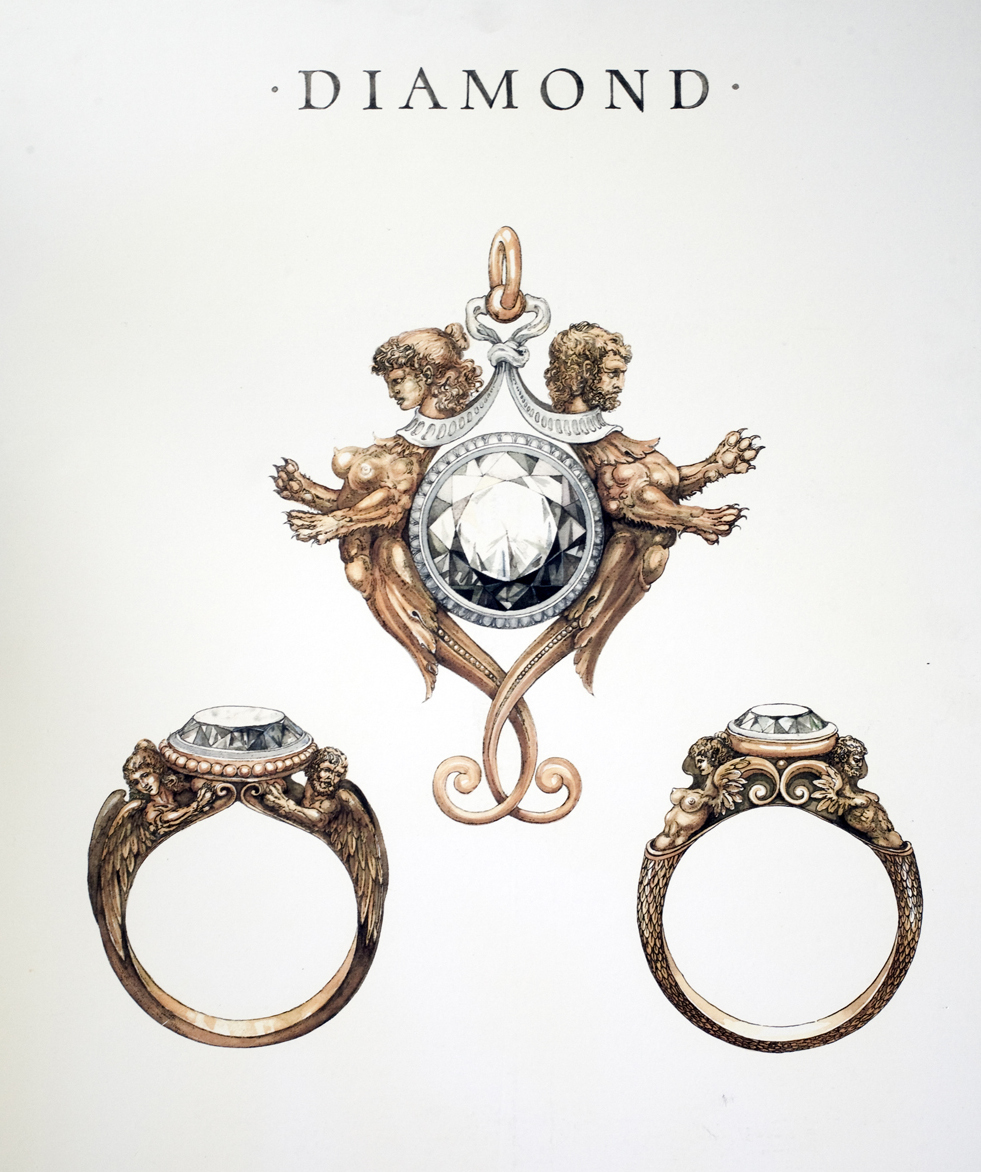 Gun engravers who can draw and design well are scarce, engravers who can conceive, draw, design and execute to the standard of Paul are even scarcer. I was of course delighted when Paul agreed to do some work with us and as a starting piece I sent him a take down 416 bolt action rifle which I was building for a good friend and hunting partner. The principle here is to try a new engraver on an old customers new gun, someone with whom you have the ability to make apologies, and another gun, if all goes pear shape! This  I assure you can happen, and has happened! A new customer and a new engraver is not a good mix!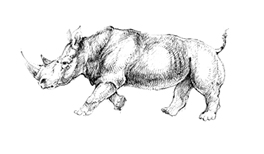 For some weeks Paul and I exchanged emails, he sent me drawings and I returned comments with the final drawings and work looking like this, I never showed the client.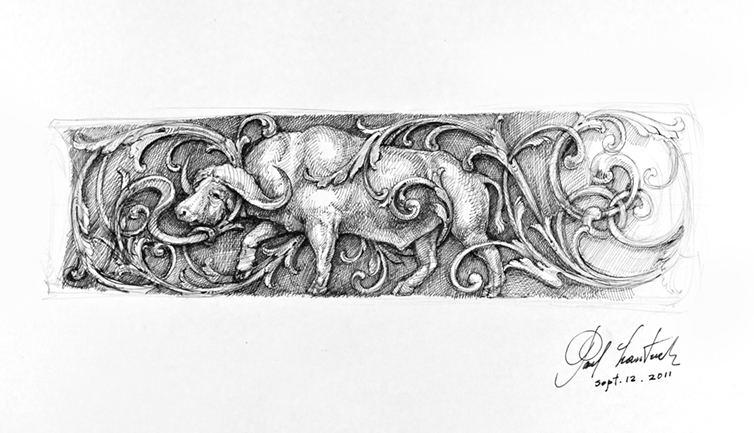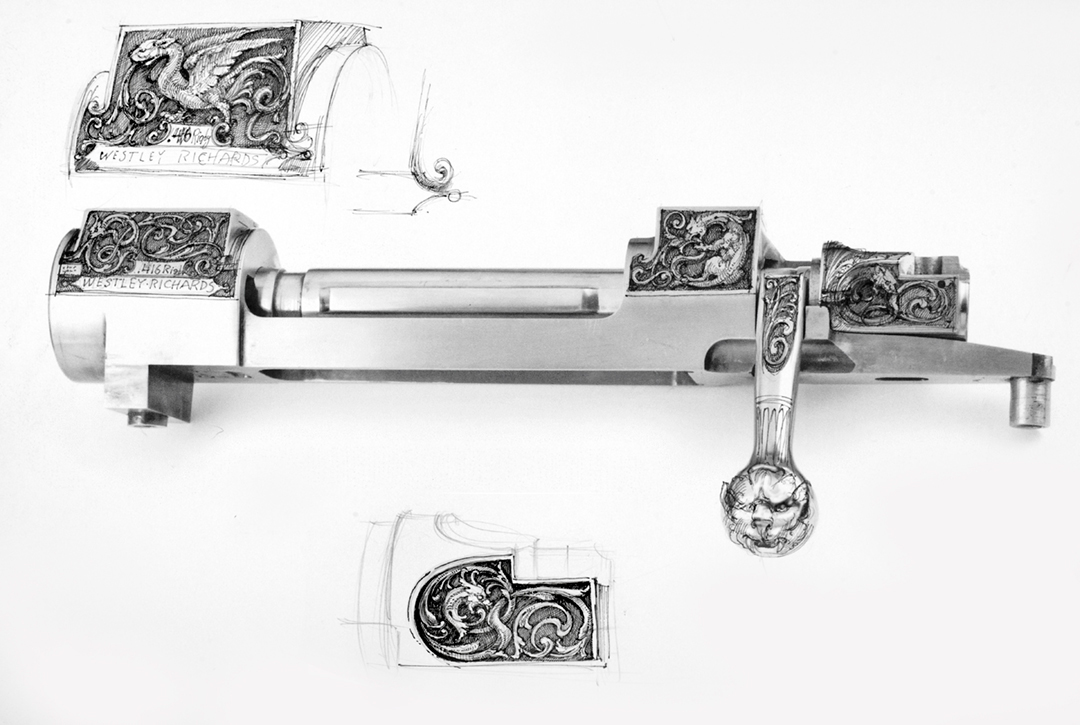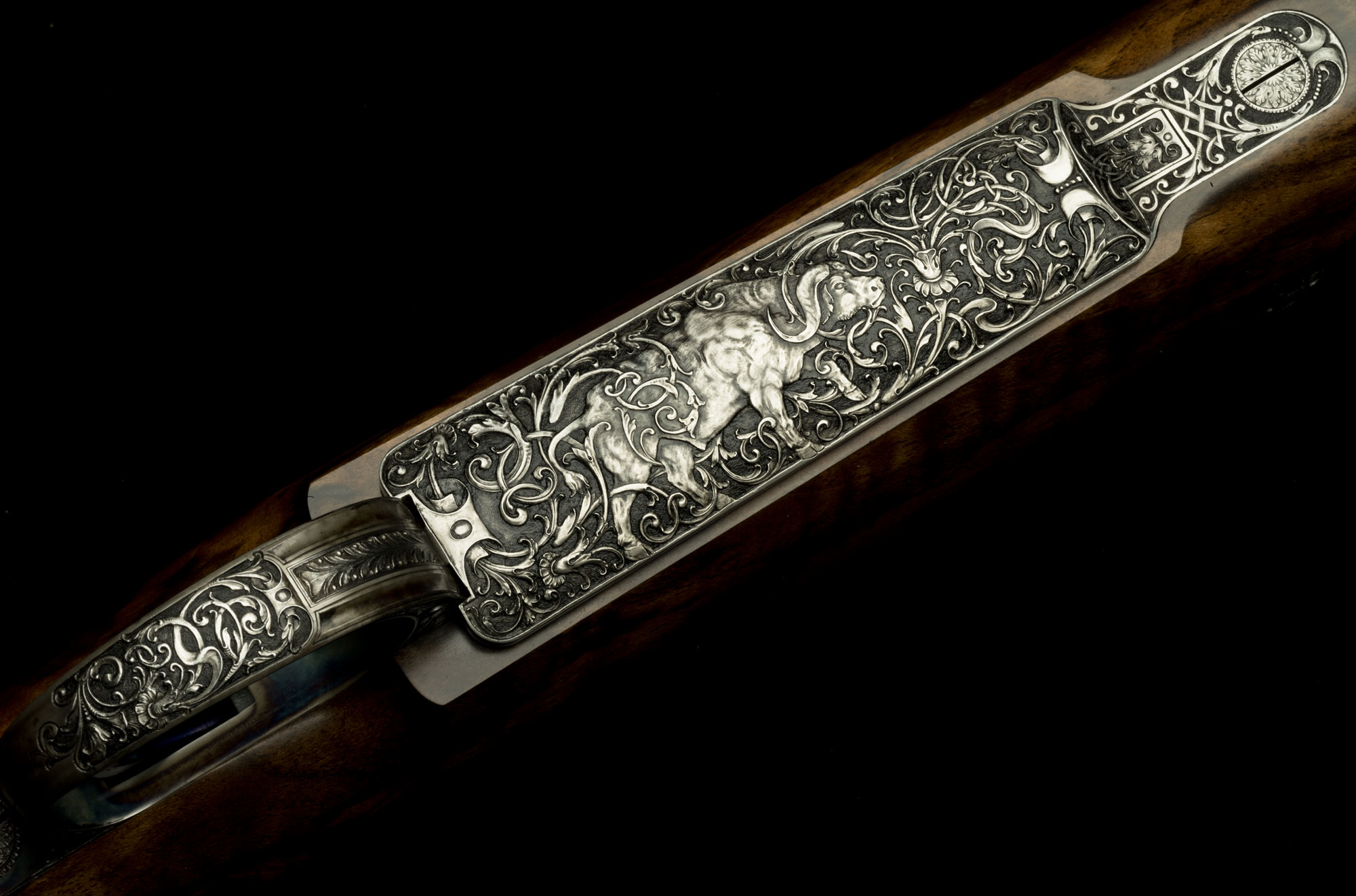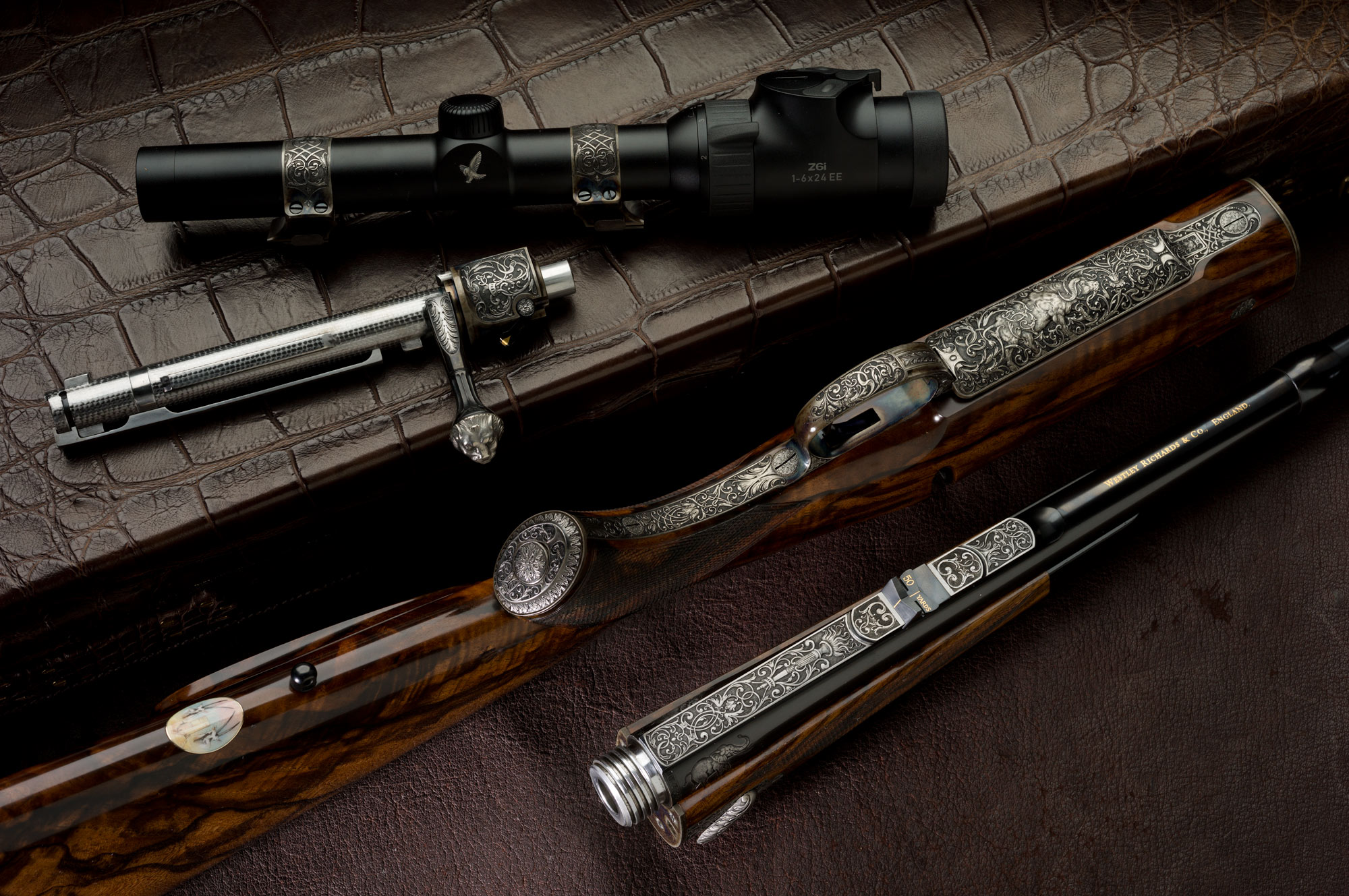 As you can see from the above photographs, in this instance, a new engraver and an old customer were a very good mix, an extremely happy customer, a new gunmaker for Paul to work with and a new engraver for us to work with. Everyone was extremely happy, and I myself, probably the most happy of all. Long before the completion of this Westley Richards 416, Paul and I had discussed the concept of the India rifle, a rifle which I built to celebrate the Raj and all that they had done to support the English gun trade in the period from 1900-1935. This was a period of opulence, extravagance and gift giving and the rifle was to reflect this. The India Rifle was to be the largest commission we had placed with an engraver since the Boutet Gun of 1980's.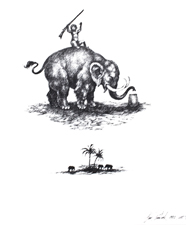 There was nothing cerebral or sudden about Paul Lantuch's decision to follow art. Since childhood, he allowed himself too concentrate on his passions, horseback riding and drawing, and art was the one that finally made the most sense to him.
Paul Lantuch grew up in Vilnius, the capital of Lithuania, a city where Italian baroque architecture flowed effortlessly into Northern European Gothic and where many cultures congregated and interacted, Lithuanian, Polish, Russian, Jewish. By his teenage years he was drawn to a group of artists, writers, directors, actors and musicians who in their exchange of ideas challenged one another.
It was during this period Paul travelled to St Petersburg to see the Hermitage where he befriended the curator of the arms and armour department. This friendship gained him access to areas of the Hermitage which were not on common display including the extensive Scythian gold collection which made a big impression on Paul; "I have never forgotten the impression it made on me, I could just imagine how a person wearing the jewellery could become very sexual.  It took someone very wild with big instincts to create it."
Paul returned to Vilnius where he studied at the Vilnius Institute of Art, an exclusive academy in Lithuania. Here he became increasingly frustrated at the communist government's interventions in education and, with a close group of friends, started an underground newspaper featuring essays about banned artists such as Vassily Kandinsky and writers such as Franz Kafka. This was short lived, the dissident group was arrested, interrogated and expelled from the academy.
As his work became more widely known, Paul received more and more private commissions, this aroused government suspicion as it was seen as capitalistic. Intrusions into his home by the KGB became more and more frequent. He received however, one government order that he could not refuse: To create for the head of the Soviet Union's Politburo, Leonid Brezhnev an Objet d'art. The resulting piece had the shape of a casket, and underneath layers of enamel Paul engraved an endless list of Russian curses. Soon after, in 1980 Paul secured an exit visa and together with his wife and daughter, headed for USA.
In USA Paul adapted quickly, immediately getting a job working with Sturm Ruger where he worked for 11 years as an engraver, up until the time the factory moved to Arizona. A period working in jewellery followed and his work was much admired and sold well at Neiman & Marcus. Other work included book illustrations and designs for wine labels. In 2003 Paul set up an academy for Ruger to teach engraving which lasted for three years until the Ruger family was no longer involved with the company. Paul continued to engrave guns for various makers based in USA and started his first commission for Westley Richards in 2011.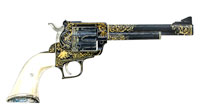 Part 2 will follow with the story of engraving  'The India Rifle' and other new projects, both  completed and in hand. I sincerely hope there will be many parts to this story!