Darrington completed his apprenticeship in 2021 having arrived at the company directly from a local technical engineering college, at the ripe old age of 18. A willing conversationalist, I often enjoy heading into the Finishing Shop to discuss the very latest fine sporting arms to be heading out to our clients.
I grew up in Kings Heath, a suburb of south Birmingham. My family moved to the city in 2001 when I was just 3 years old. I went to both primary and secondary school in the local area and as I begun my GCSE qualifications, moved from Wheelers Lane Technology College to Aston University Engineering Academy (AUEA), to pursue my desire to be an engineer and work with my hands.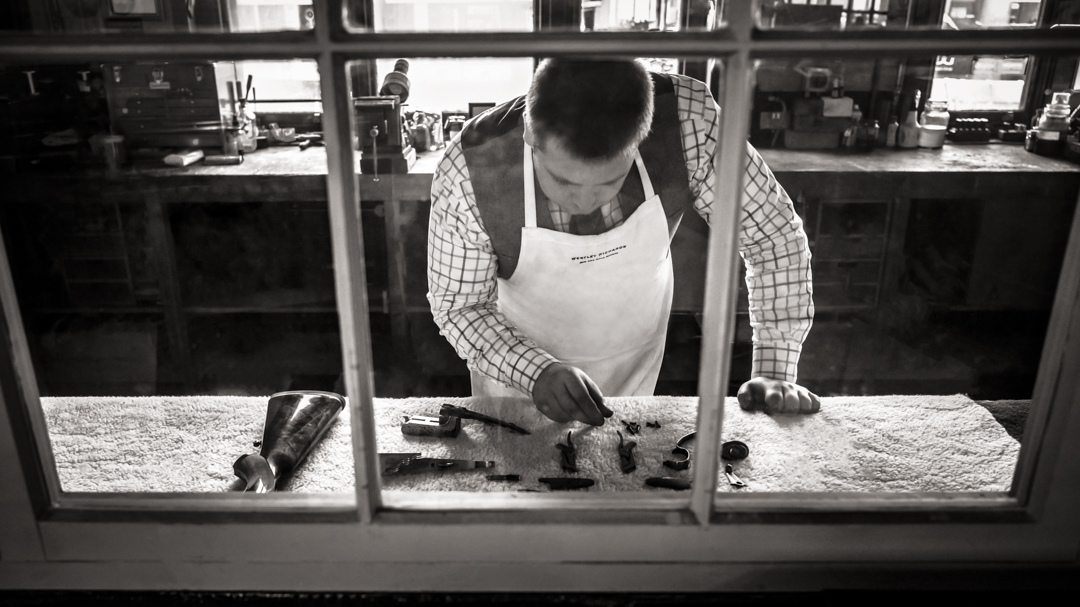 Did you always want to be a gunmaker?
Honestly, I didn't know gunmaking still existed in the UK, all I was interested in was to find a hands-on job that didn't involve sitting at a desk and staring at a screen. My old headmaster mentioned that there were some gunmakers close to our school who were looking for apprentices. I had a search online, found Westley Richards and requested a visit. The moment I walked through Westley's front doors, met the management team and talked about the apprenticeship, I knew this was the place where I wanted to work.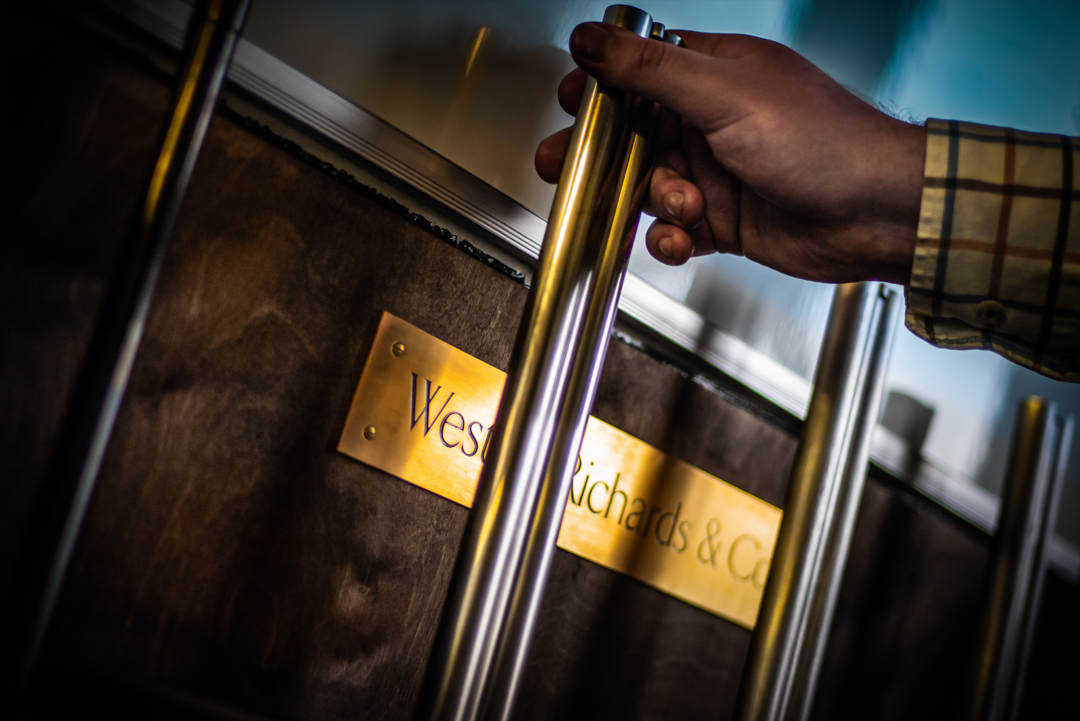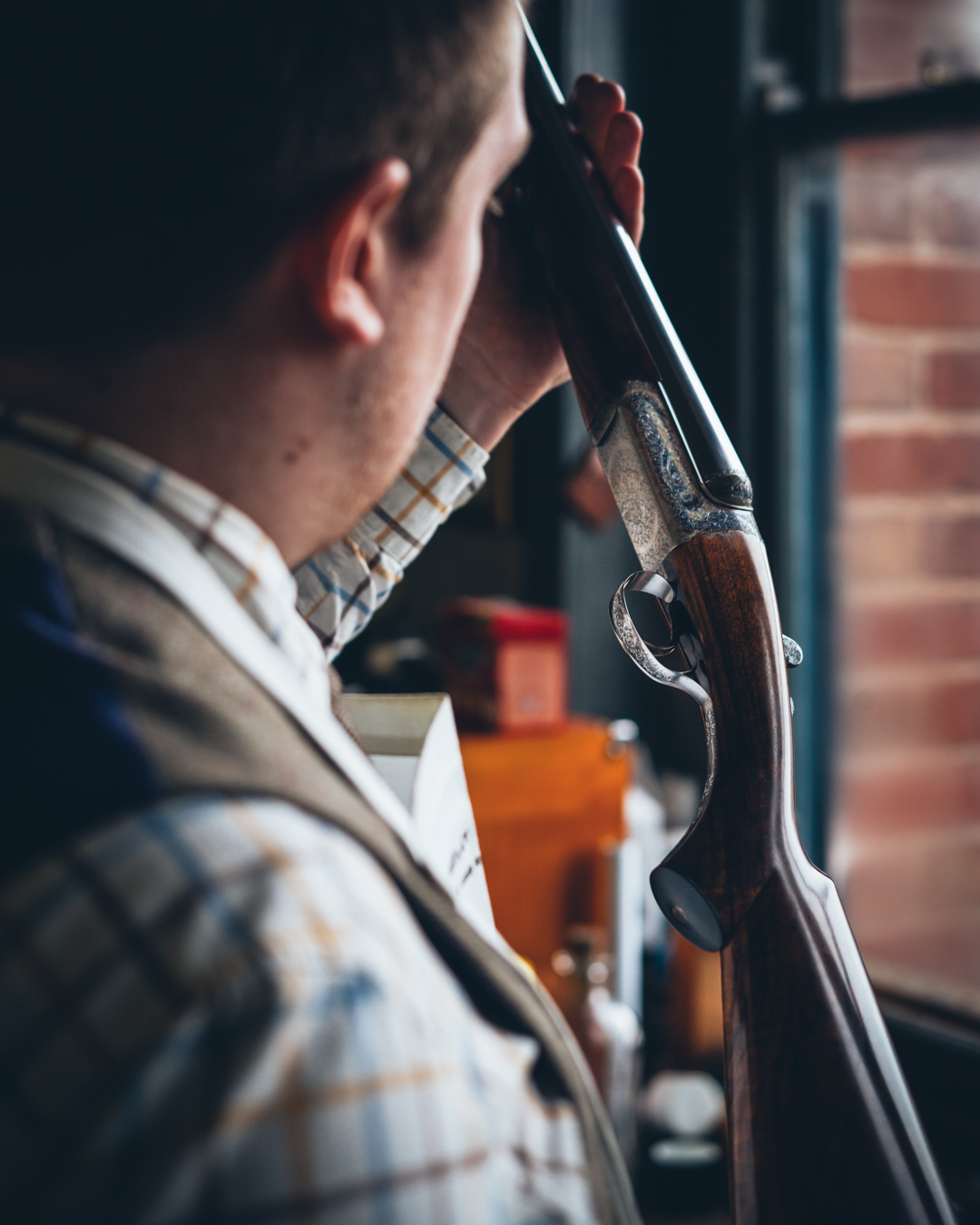 You recently completed your apprenticeship, what did it entail?
My apprenticeship included a variety of things. To begin, all apprentices must complete their own hand-made 'tool kit', where you are tasked with making your own turnscrews, die plate, spring clamp and so on. This helps train your hand eye co-ordination and develops some basic principles of hardening and tempering of steel, as well as ensures the apprentice can make things to a good standard and is willing to learn.
Afterwards I was set to work on sub-assemblies, such as foresight beads, Deeley catches, double trigger systems, cover plates and trigger plates. Soon enough my supervisors discovered that I had a very good eye for fine details, which above all would be best utilised in the Finishing Shop.
From that point on I was trained to specialise as a Finisher, this meant that I would be learning and working on newly finished guns, which at 20 years old was a very scary prospect to begin with.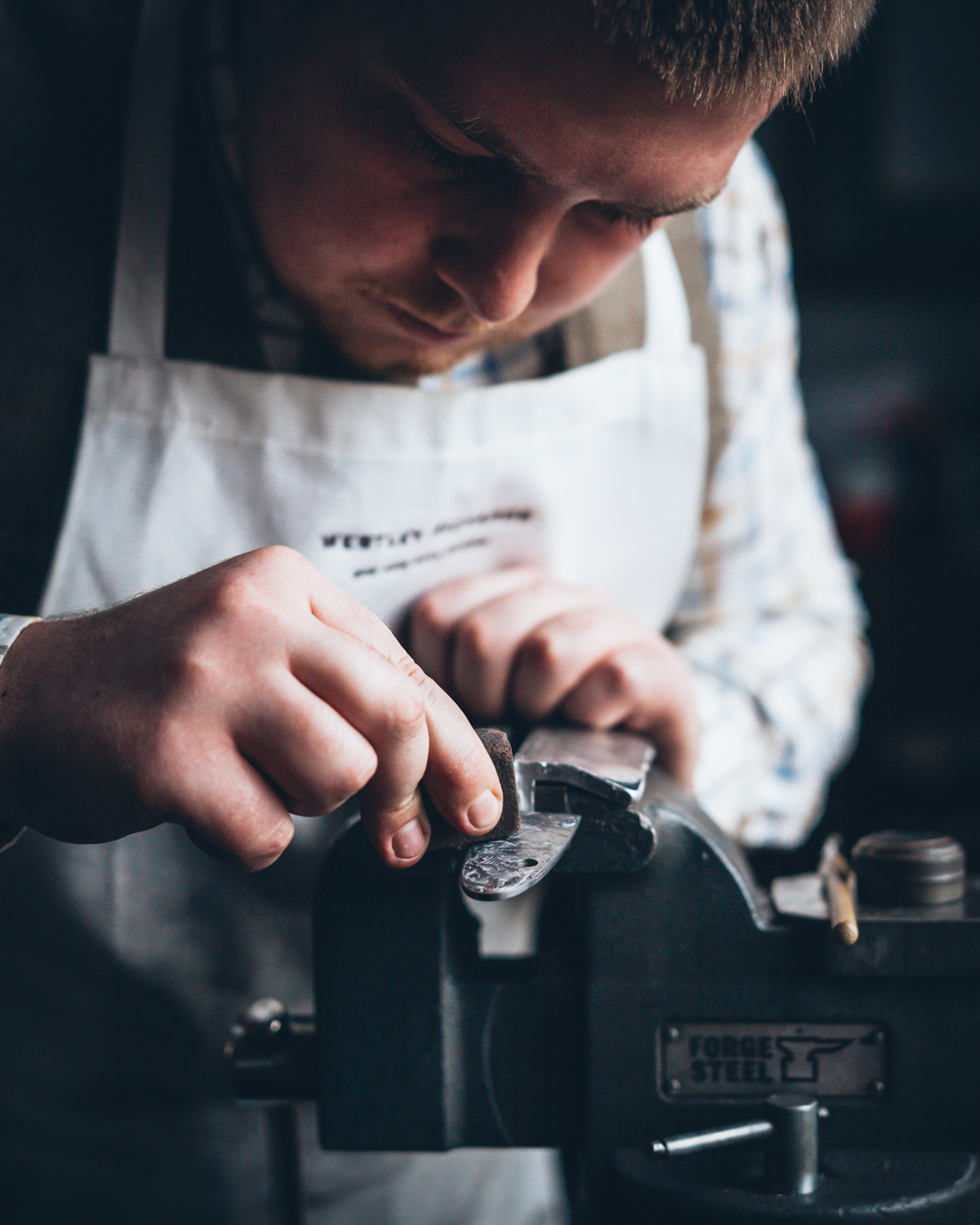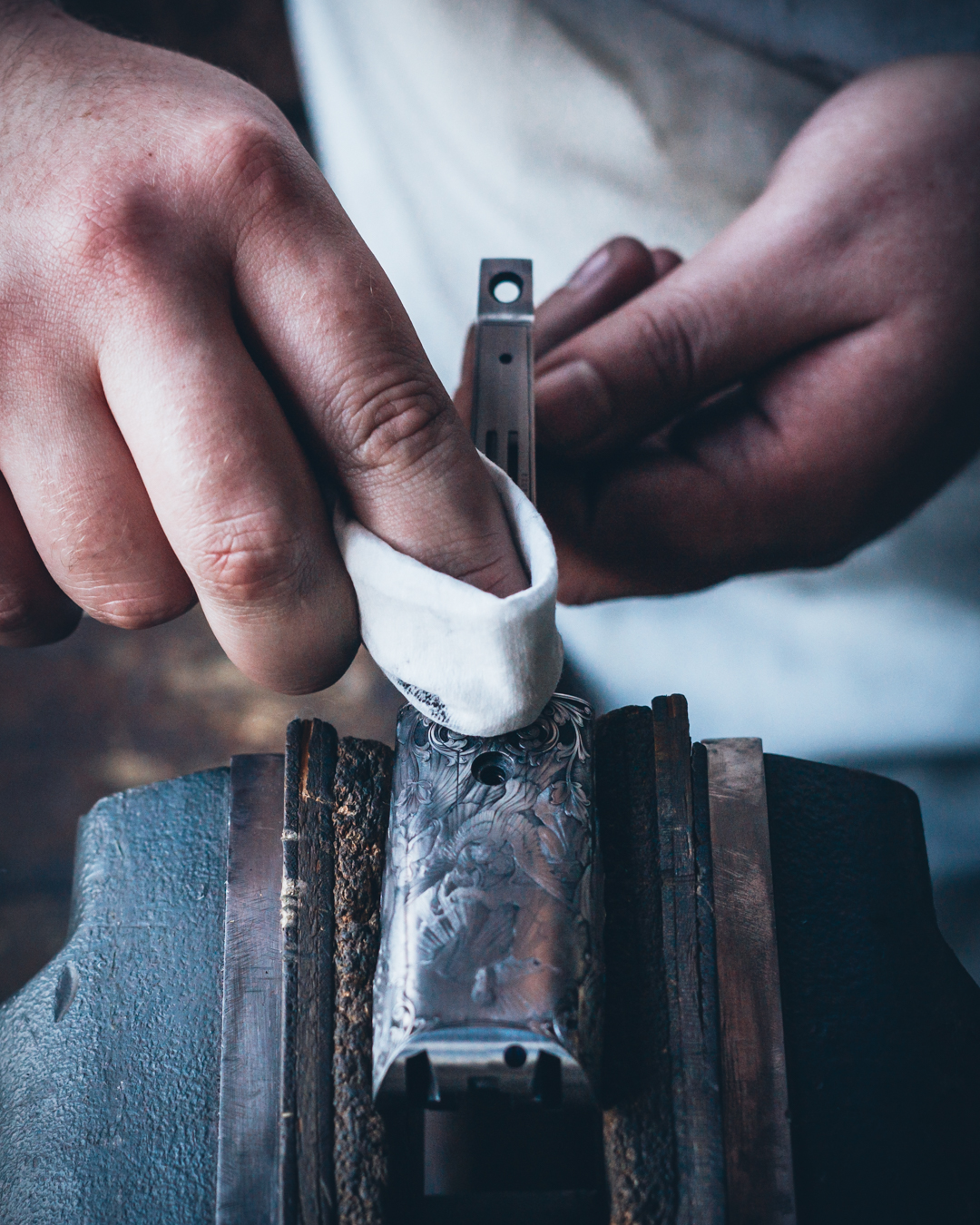 How long have you been at Westley Richards?
I have been working at Westley Richards and Co. for 6 and a half years. I started in 2016 when I accepted the apprenticeship offered to me and since that day I have never looked back.
Who inspired you to become a gunmaker?
It is difficult to say who exactly inspired me to be a gunmaker. From the moment I started I was in awe of all my fellow co-workers, inspiring me to want to become the best I could be and to eventually be on the same level as them. My main influences were Sam Banner and Stuart Richards, our foreman. I worked very closely with both of these skilled craftsmen and aimed to learn as much as I could so I could be an equal.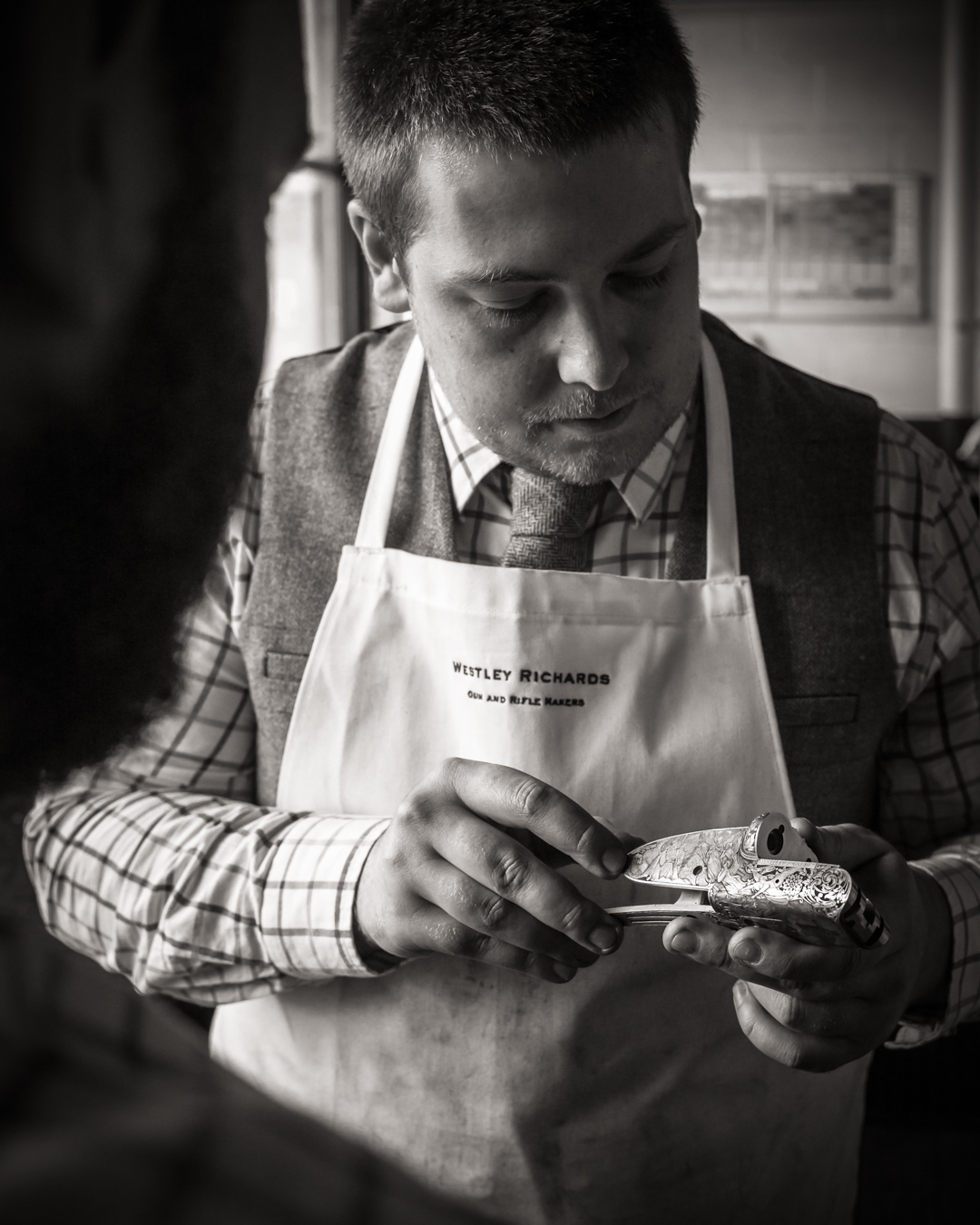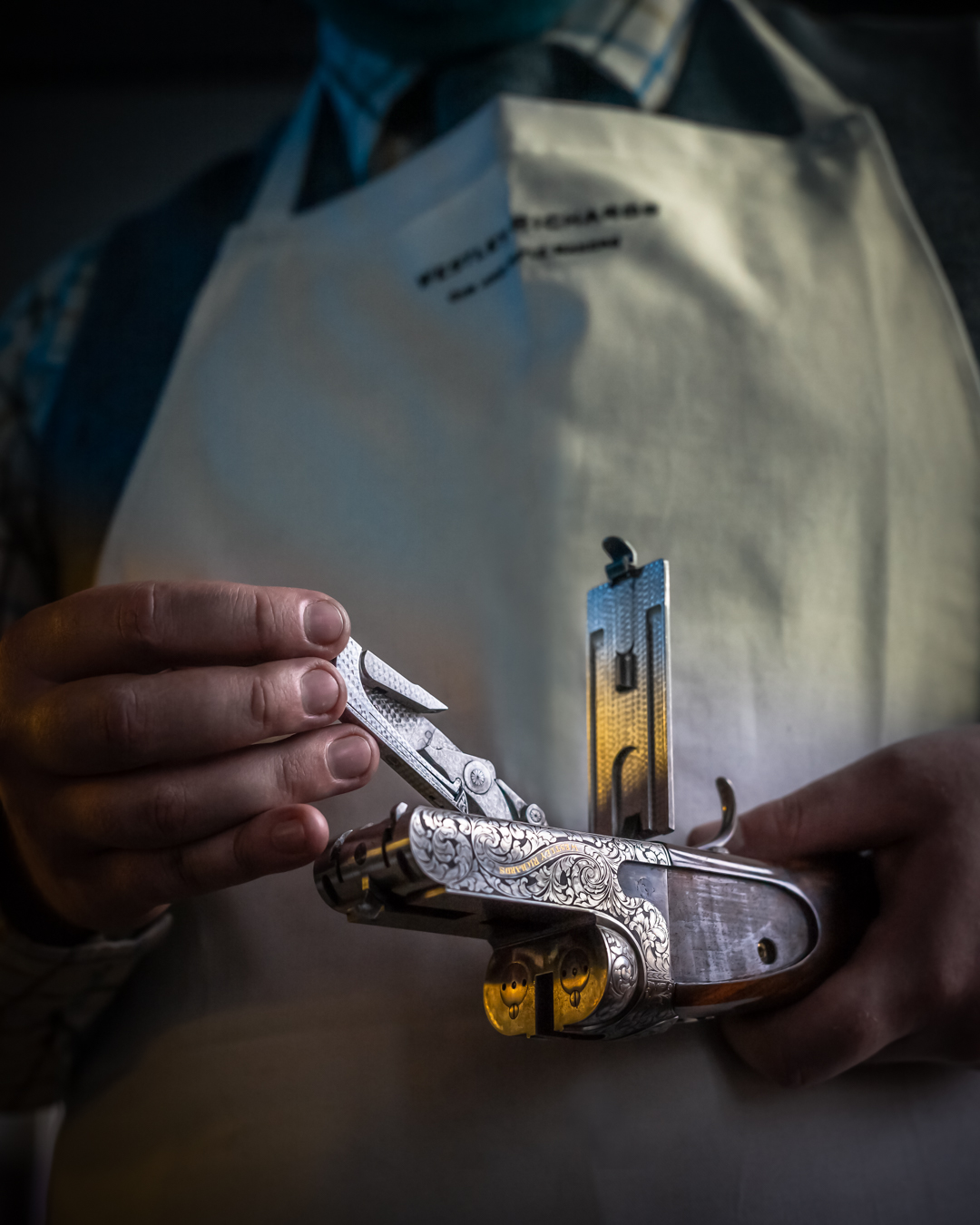 Who would you count as mentors in the field of finishing?
My mentor in the finishing shop is again Stuart Richards, he taught me from day one in the Finishing Shop. My main job was to find any problems, list them down and then he would teach me how to fix each problem, to the point that now I have a very good knowledge base of how to finish guns. I would also include Struan Coyle, who has both taught and helped me refine my skills with bolt action guns, as originally I mainly worked on double guns.
How long did it take to learn the art of finishing a gun?
I have now spent around 4 years in the Westley Richards' Finishing Shop, and though I have learnt a considerable amount, there are still days where a totally new or unique issue pops up. I wouldn't say I have learned the art of finishing yet, however I feel very competent in my job and I can tackle almost anything.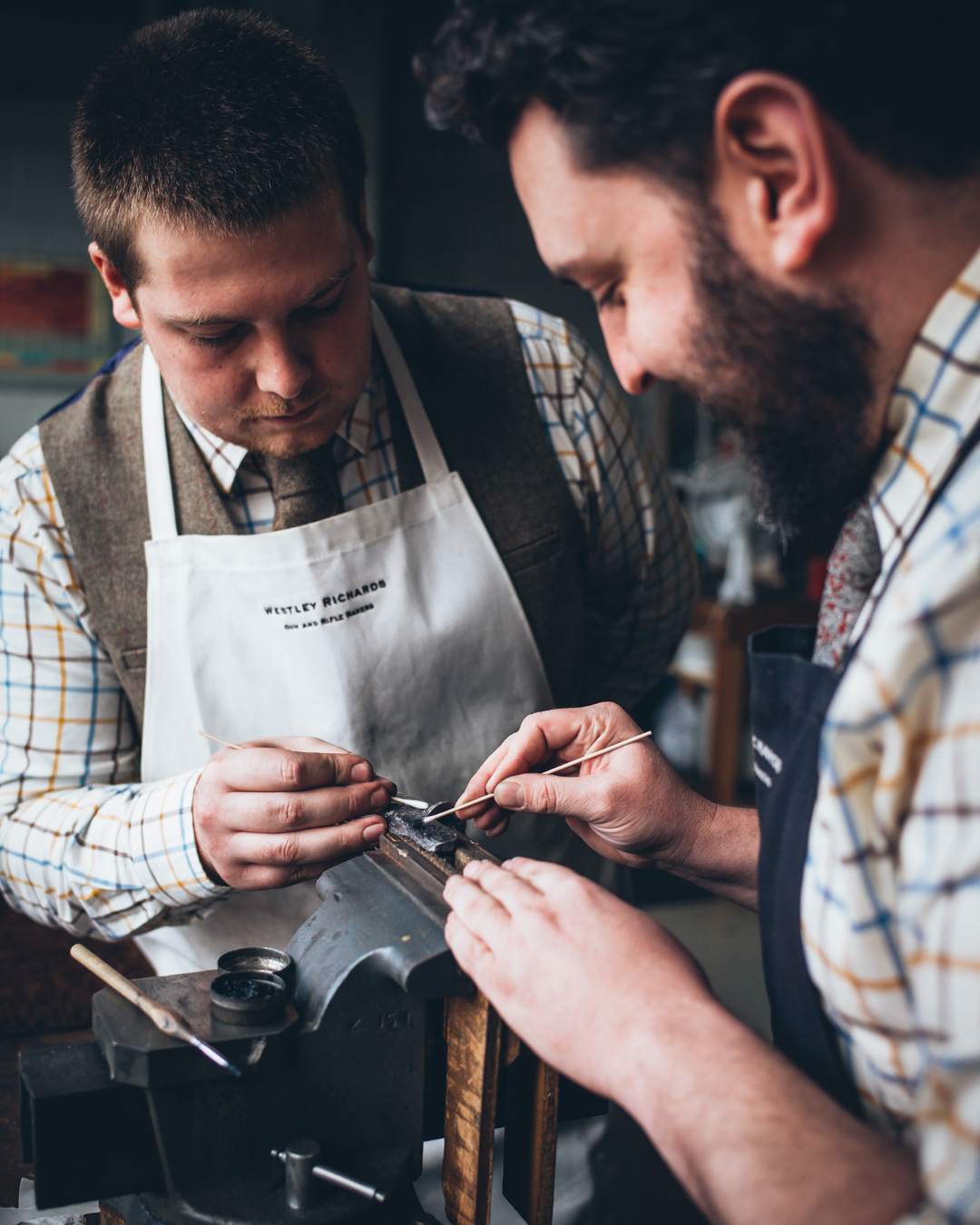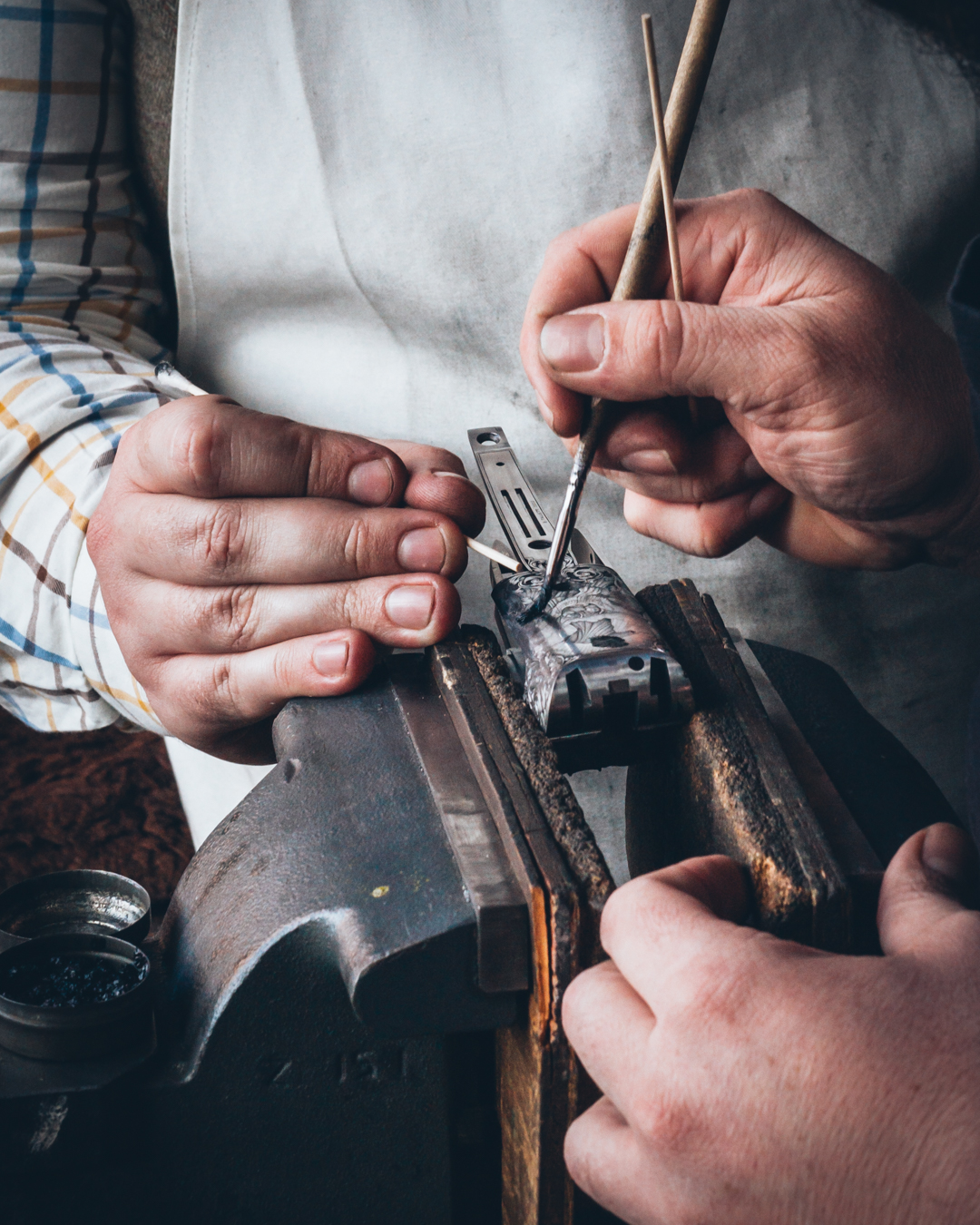 How old were you when you finished your first gun? And how many guns have you finished?
I was 21 when I finished my first guns, I remember it very clearly and they were some of my favourite guns. It was a .425 bolt action with an extended magazine box and a .577 double rifle. Since then I have now completed 90 guns and looking forward to my centenary.
What are the greatest challenges a finisher faces?
I believe the greatest challenges a Finisher faces are the ability to be both exceedingly precise and steady while working. Sometimes there are very delicate items you are working on, where the slightest file stroke or polish could entirely change how the gun functions. On top of this, with the gun being at the very end of its production life, a single slip or mistake would greatly affect its finish date, requiring a lot of carefully thought-out reparation to bring it back to the acceptable high standards we aim for.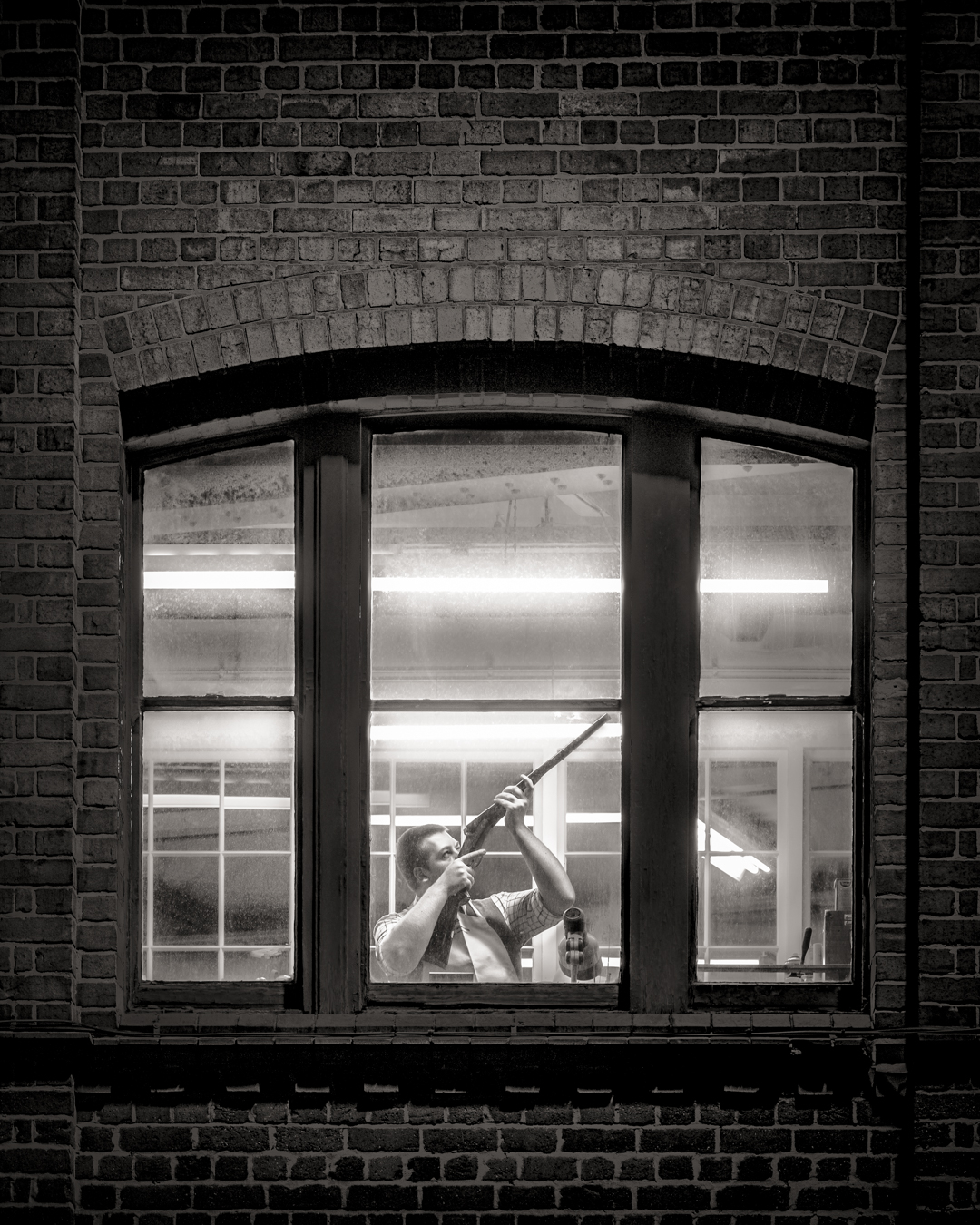 What do you most enjoy about finishing a gun?
I find the most enjoyable part of finishing a gun, whether it is a double rifle, shotgun or bolt action rifle, is the polishing and prepping of the components for colour case-hardening and blacking finishes. Removing any fine scratches or engraving imperfections so the component is absolutely flawless is a painstaking process but I really enjoy it. The satisfaction after is always worth the time and effort.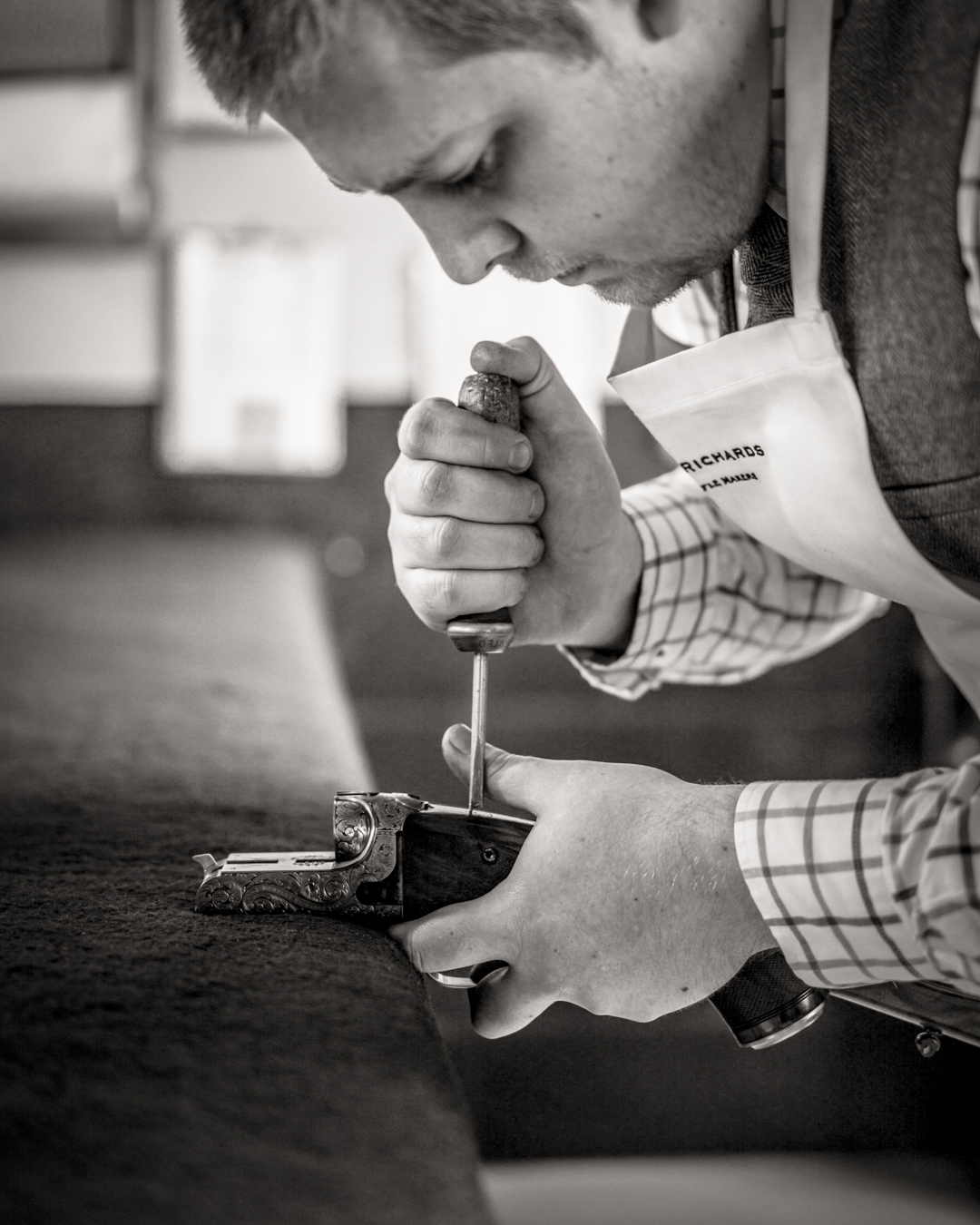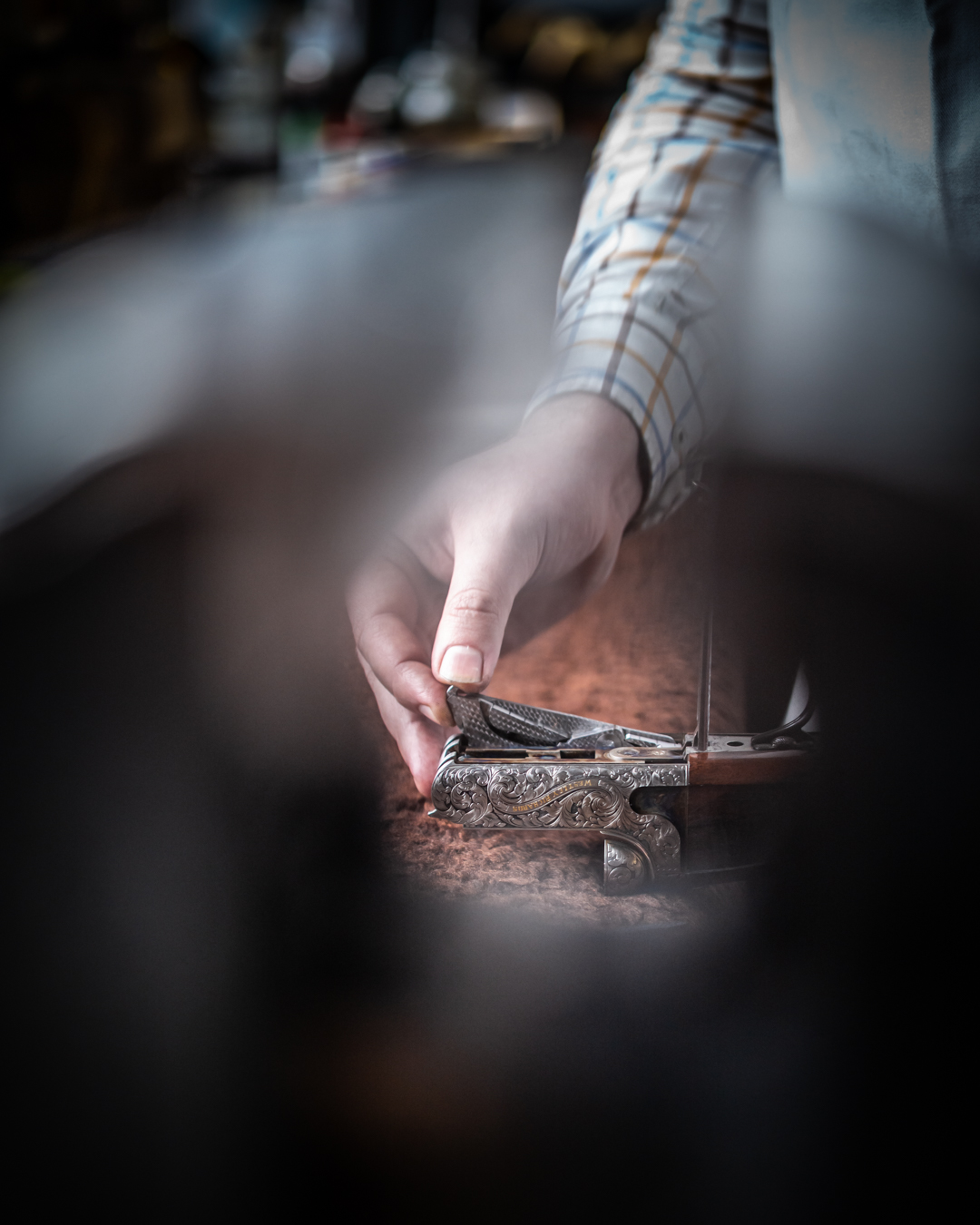 Tell us about the pair of exhibition grade rifles, that you have recently worked on?
One of the most exciting recent projects that I have worked on is a pair of Stutzen Bolt Action Rifles - one in .300 Winchester Magnum and the other in .416 Rigby. I found these guns to be very interesting, and despite being a pair, they were so different in the way the customer wanted them made.
The .300 Win Mag was specified with a fixed scope and no express sights, and the .416 Rigby to have both a removable scope and express sights regulated to 50 and 100 yards. Also, the white finish chosen for the amazing game cameos on the floor plates and scroll work all over made the pair look absolutely stunning, with the inking and lacquering finished superbly.