We call it a collection because we think you should probably buy all of it, so these issues can be given no further thought. These simple, beautiful, practical, everyday essentials will soon become old friends.
Good kit shouldn't be noticed overtly; its success lies in the way it does its job, leaving you to concentrate on what is important. To do so while providing that reassuring feel of quality and a constant reminder to yourself and others that you have good taste is no bad thing either.
The collection carries the name of its home; the Birmingham ward of Aston, about a mile and a half from the city-centre, where Westley Richards make every piece by hand in dedicated workshops, alongside the gunmakers.
The Aston Collection includes every essential companion for the modern man about town (and country): Billfold Wallet, Card Holder, A4 Laptop Folio, A5 Notebook Cover, A5 Tablet Folio.
All crafted from premium dark tan hide, with contrasting buffalo skin on the folding or weight-bearing edges. Buffalo (from the African Cape Buffalo) is both supple and extremely hard wearing, ensuring a very long life expectancy for these items, which are used daily.
Brass-ware includes our new signature zip-pull, the shape of which originated with our distinctive shotgun top-lever and the linings are alcantara and our house - Paul Lantuch designed - fabric. Fine stitching and carefully chosen materials, graded for weight, thickness and suppleness, ensure that edges, seams and corners are perfectly aligned and pleasing to the eye.
The Notebook Cover provides weather protection for your hand written-notes, as well as discretion and a degree of class. With fold-over tab and brass stud, it easily locks or opens and is re-fillable using commercial stationary.
In this era of plastic, many people no longer carry cash, preferring the convenience and security of credit cards. Our Card Holder takes six cards and keeps them safe and compact for easy carriage in any pocket for the ultimate in convenience, with no ugly wallet bulge to spoil the line and cut of a summer suit or a dinner jacket.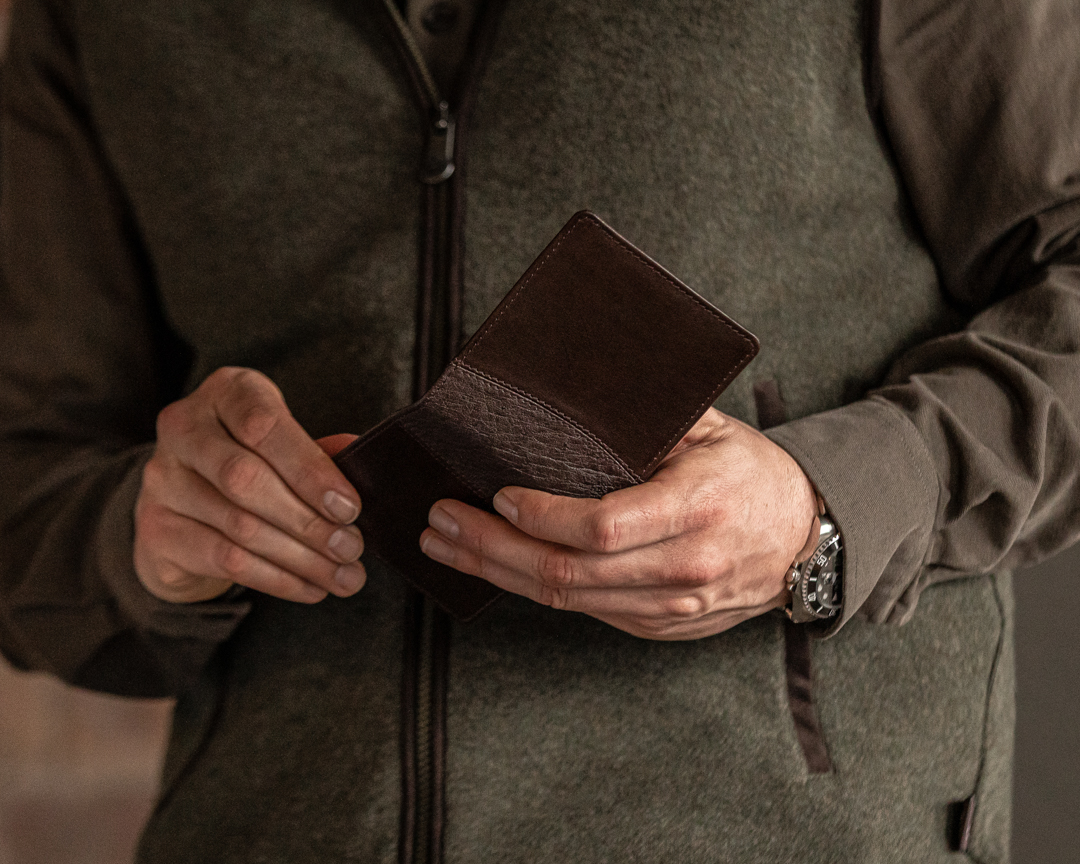 For those who do still carry cash, the Billfold Wallet is ideal, providing stowage for eight credit cards and with two sections for notes - cash and receipts if you like, or British and American notes if you are trans-Atlantic travelling. The perfect size to slip into a back pocket or the breast of a suit jacket, this traditional wallet will provide years of service, developing a shape and patina that becomes all yours.
The A4 Laptop Folio is a 'do-everything' piece that combines the role of lap-top cover, pencil-case, notebook-holder, credit-card-wallet and day-bag; all in one neat package. Sealed by a robust brass zip, with leather tab, which closes on a press-stud, this could be all you need for an afternoon out of the office on assignment or a weekend away during which you may need to do some work.
It's new sibling the A5 Tablet Folio, works as hard as the larger laptop folio but for those smaller use occasions. Can easily carry a tablet, a notebook, your phone and some requisite essentials.
Each piece carries our discrete, perfectly embossed and gold-lettered, 'Westley Richards England 1812' branding as your guarantee of first-class materials and first-class workmanship.
As true of our leather goods as it has been of our guns and rifles for two hundred years.