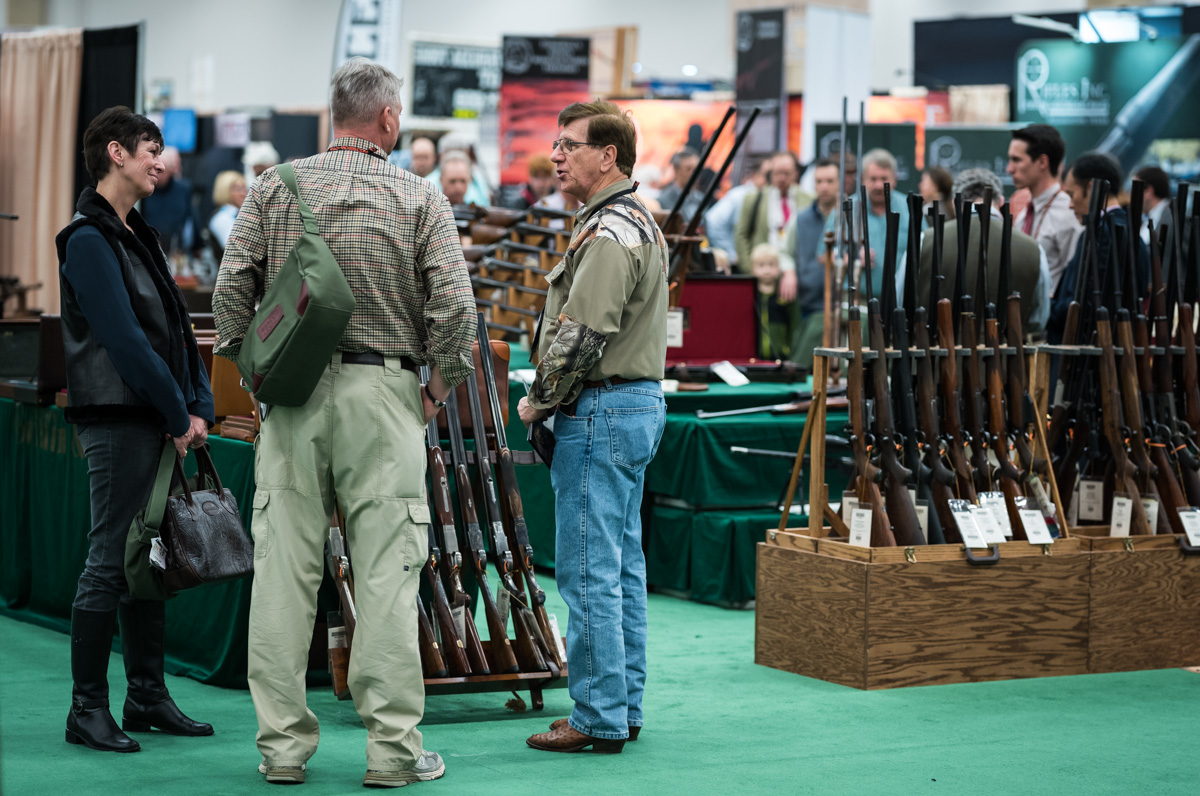 Most Americans are consumed with so-called scary "black rifles." Especially with the younger generation, it has consumed the shooting sports in all regards – from hunting to competitive shooting and everything in between. I will not lie – I do like them. They are fun and can bring some excellent range time and sport with friends. But my passion has always been fueled by the English guns. This is a sector of the industry that is unknown by most Americans. Words such as "drop lock," "round body," and "rising-bite" are rarely if ever heard whilst discussing guns in America. Of course they are commonly used across the pond and at shows such as Safari Club.
Naturally guns of all sorts are on display at the show. The younger crowd typically hovers to those with long-range tactical hunting rifles on display while the English booths are surrounded by gray hair. Rightfully so, in some aspects, as the English guns are a fair jump more in cost! However, there is nothing like them. The look, the feel, the finish, and the history. You just can't feel warm holding a fiberglass rifle called "Chey-Tac."
Walking around the booths I noticed another commonality: the companies either had guns or they didn't. Some English makers had droves of "new" guns on display and available for immediate sale. I write "new" hesitantly, because it appears these guns have been around the block a few times and have the handling marks to prove it. If I were paying $50,000 or more on a new gun – I wouldn't want it to appear already used! I was also a bit confused by some makers who would place half-finished guns on display. At least for me, this was very unattractive. Why not display the pinnacle of your work? It's almost as if they just don't understand. Is there a reason these companies aren't selling guns?
All of the English booths had a certain aire to them. Although, some were stuffy when compared to others. Most of these people didn't know me – especially those owned by the large companies – and it was like pulling teeth to get them to acknowledge my standing there! Although, I noticed, I wasn't the only one! This is of course a frustrating battle to fight; especially for the younger generation. For all they know, they just missed a sale for $250,000 to a dot-com millionaire! Others welcomed me with warm arms, encouraged questions, and seemed genuinely interested to have a young body nearby. I think these are the companies of the future.
While at the show, I had one person ask me – What will it take to bring the younger generations into this trade? Honestly, I don't think it takes a lot (other than a massive checkbook, of course!). Once you hold these guns, see the details, and understand the massive amount of time and energy it took to create these – it's quite easy to fall in love. Like anything else, it has to do with taste. Some might teeter back and forth describing their taste. For me, it's quite easy: the best