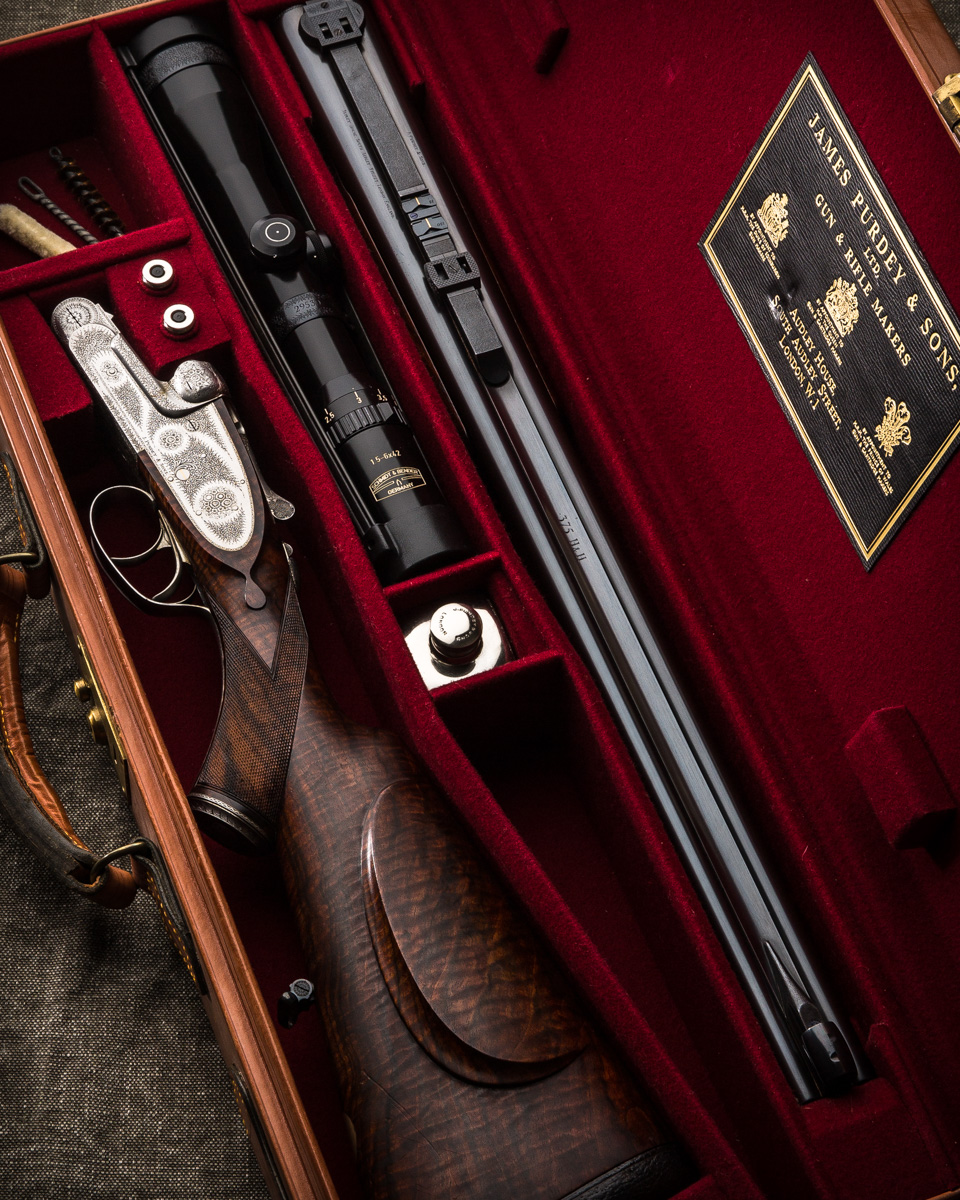 Currently for sale at the Westley Richards U.S. Agency is a J. Purdey & Sons Beesley Patent Self Opening Sidelock Ejector Double Rifle chambered in .375 H&H Rimless Magnum. Completed in the early 2000's, this relatively rare London Best double rifle is in both a practical configuration for a hunter as well as having all the hallmark Purdey features collectors look for.
The Beesley Patent Self Opener is the heart and soul of Purdey's side by side shotguns and double rifles. The closing of the barrels compresses a set of "lifters" that protrude from the action's water table, thus compressing the main springs of the actions and cocking the tumblers. Upon opening, the pressure from the main springs pushes on the barrel flats and the barrels spring open. My personal experience is that the heavy, large bore rifles such as .500 NE or the .577 NE can be quite cumbersome to close on the self-opening design. However, this .375 caliber rifle closes effortlessly, yet opens smoothly with very positive ejection and quicker reload; the same benefits to a big game hunter as it is a for a wing shooter in a shotgun. This rifle handles more like a small bore shotgun than a heavy express rifle, yet the 10 lbs. 9 oz. weight handles recoil well when the rifle is shot from shooting sticks or a rest.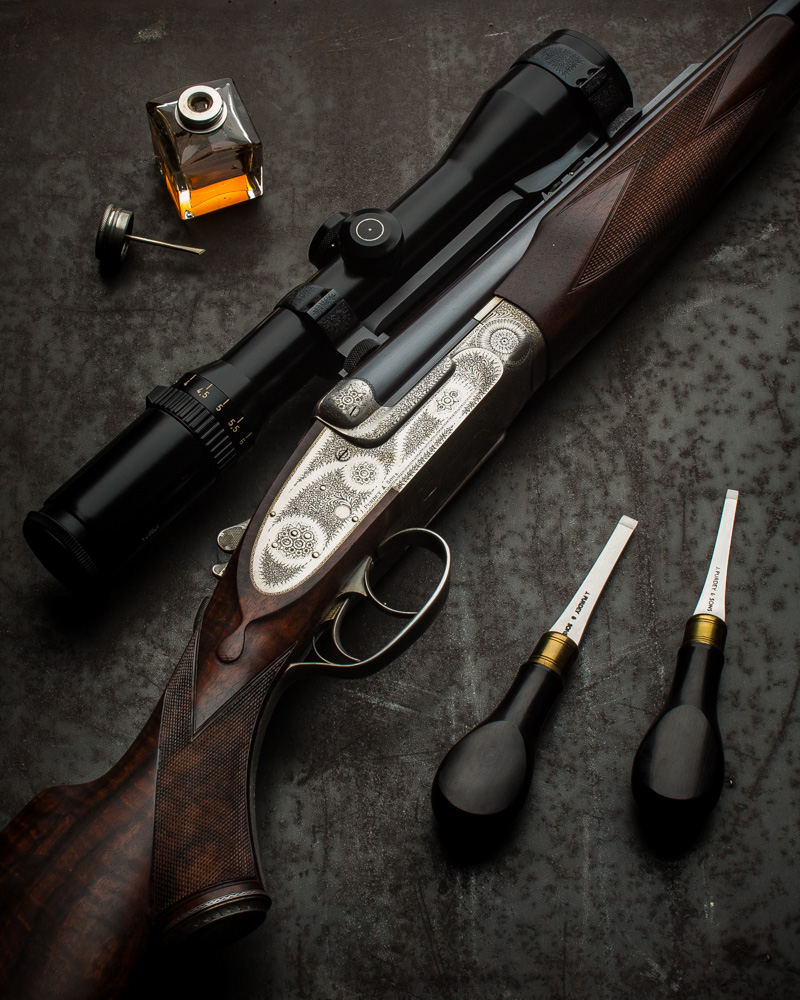 Proofed in 2002, and coincidentally featured in Donald Dallas' "Purdey Gun & Rifle Makers The Definitive History" (2000 Quiller & Sons Ltd.) this rifle includes Purdey's easily recognizable bolstered frame, incorporates Purdey's third grip rib extension and has sideclips, all classic reinforcements found on Purdey rifles. In addition, one finds all the features to be expected on a Best quality gun such as a bolted safety and gold lined cocking indicators, rolled trigger guard and hinged front trigger, a trap grip cap, an extended bottom tang and a strap over the comb. The stock has a right hand cheekpiece, full pistol grip, and is finished in a leather pad and the forend, Purdey's very distinctly shaped beavertail, has a push rod forend latch. Finally, the action is brushed and the clean finish showcases the house Rose & Scroll engraving nicely.
The 23" chopper lump barrels have a quarter rib with two folding leaf sights regulated for 100 yds and 200 yds respectively and factory installed claw mounts and a Schmidt & Bender scope which is complemented with a ramp front sight with a flip up moon bead and Purdey's unmistakable "clam shell" front sight protector.
Complete in the maker's leather case, this rifle is in the classic Purdey double rifle configuration and combines a quick release scope and the versatile .375 H&H with the added benefits and attributes of a double rifle. A rifle that incorporates all the hallmarks of this great maker in a gun that is relevant and desirable to today's hunter.
Find this rifle and many others like it available on our used gun website at: www.westleyrichards.com//wrusedguns